December 2015
Lexus RC F
The RC F is more adventurous in its design than most of the Lexus range
December 2015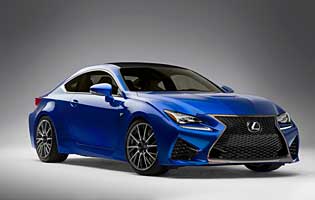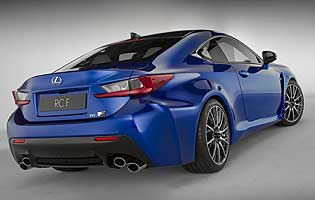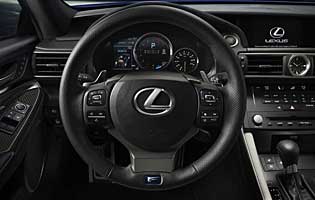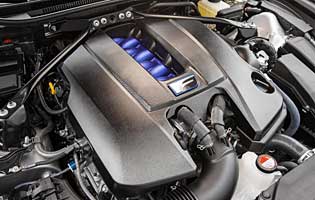 Overall rating

Likes:
Responsive and sonorous engine
Built to a very high standard throughout
Very high level of specification
Fun to drive near the limit
Gripes:
Firm ride can be disconcerting in town
Engine needs to be worked hard for rapid progress
Automatic gearbox has occasionally hiccups in brisk driving
Other rivals offer a more rounded high performance experience
The Lexus brand has reached its 25th anniversary in the UK, but rather than resting on its laurels the Japanese premium manufacturer is embarking on a programme of new model launches with a bold new look. The NX SUV was the first example and this has quickly been followed by the RC F, a new coupe model released initially in high performance guise only.
Since its first introduction into the UK Lexus has concentrated its efforts largely on saloons and SUVs as the core of its range. However its key German rivals have some of the most diverse ranges anywhere in the industry, so it comes as no surprise that it is now looking to build more niche cars as well as boost its performance credentials.
More conventionally powered RC models will appear in the coming months but at launch it is the range-topping F model that appears first. In many ways it is a natural successor to the IS F saloon, and its engine is derived from the same naturally aspirated powerplant. Lexus claims that the RC F builds on the knowledge gained from building the spectacular LFA supercar.
The exterior of the RC F is heavily influenced by the LF-LC concept car and wears the new 'spindle' grille that is featuring on Lexus's latest models. It has very pronounced wheelarches and bonnet bulges, creating quite an aggressive look at one that hints at the performance available. The RC F is available in standard and Carbon models, the latter fitted with carbonfibre panels that reduce kerb weight by 10kg.
Under the bonnet the RC F is fitted with a 5.0-litre V8 naturally aspirated engine, making it almost unique in a segment which is now relying on turbocharging. This is matched to an eight-speed automatic gearbox which offers a paddleshift option, as well as either a mechanical limited slip differential or an electronic version with selectable modes depending on the model chosen.
Our verdict on the Lexus RC F
The RC F is a significant step forward for Lexus as it is best attempt to date at producing a car with a strong emotional appeal to back up its more sober qualities. Huge fun when driven with vigour and surprisingly comfortable when cruising, it is the RC F's binary nature that is its biggest drawback. Even so, it is a satisfying car to drive and would make a refreshing change from the default German options.
Costs
Although Lexus has worked hard to make the RC F efficient, it is inevitably more thirsty than turbocharged rivals. Insurance costs are also likely to be high and running costs likewise, although Lexus does have an enviable reputation for reliability.
Space and practicality
The RC F makes good use of its footprint, offering respectable space efficiency. Front seat passengers have good space, only slightly marred by the wide transmission tunnel. Those in the rear have a little less space to play with as headroom is reduced by the sloping roof, although sticking to two dedicated seats rather than a bench at least provides good elbow room. The boot is a good size however, and is well shaped as well as offering the option of cargo nets.
Controls and display
Lexus has gone to great lengths to make the cabin of the RC F special, and one of the highlights is the instrument pack which has taken influences from the extraordinary LFA supercar. Switching between driving modes brings up a different display within the instrument panel, bringing up the appropriate information. Also the RC F uses the latest touchpad system to navigate the multiple menus, which works well although may require a little familiarisation.
Comfort
For the most part the RC F is very comfortable. The standard sports seats are excellent, noise levels are very well controlled and the engine is quiet and smooth when used with restraint. The only demerit is the ride, as the dampers are set quite firm and are non-adjustable; sharper bumps are felt in the cabin.
Car security
All versions of the RC F are fitted with an engine immobiliser and alarm system with a tilt and glass-break sensor, remote central locking and VIN etching throughout.
Car safety
The RC F is packed with safety equipment as well as being built to a high standard. Although primarily designed to give better handling performance, the RC F has additional stiffening sections added to its body and uses cold-formed steels in crucial places. On the electronic side it has a vast suite of safety systems, with Automatic Cruise Control being the only option.
Driver appeal
While the performance of cars in this segment has risen ever higher they have also become more relaxing and easier to drive when used in normal conditions. The RC F does a good job of normal driving; with the gearbox in automatic and the drive mode in Normal or Eco it is quiet and comfortable, although the non-adjustable suspension is firm. Turn everything up to the maximum and the RC F is a pleasure to drive, with a responsive and exciting engine, secure but fun handling and good composure. However when driven at a moderate pace the engine lacks torque and the gearbox occasionally fumbles on downchanges.
Family car appeal
Access to the rear and the lack of a third seat in the rear are the biggest hurdles to the RC F being used as family transport, but for families with two older children it could provide reasonably useful service. The boot is certainly large enough to swallow buggies for small children and babies, although installing them in a rear-mounted car seat may be a struggle.
First car appeal
The RC F is too expensive, too fast and quite possibly too complex for an inexperienced driver, although when in Normal or Eco mode and with the transmission in auto mode it is a relatively easy car to drive.
Quality and image
Lexus has achieved much of its success thanks to very high standards of quality, and the RC F continues that good work. Both inside and out it is very well built and the material quality is generally very good. Lexus's image has previously been one built on good quality but also as a sensible choice. However the more stylised NX and the sporty RC F should help to lift the brand's kerb appeal.
Accessibility
Currently available only in two-door coupe form, access is via the single long door on each side. Getting into the front seats is no problem at all, especially with the facility for the steering wheel to automatically move out of the way. Access to the rear is a little less straightforward, although the front seats do tilt and slide well out of the way. The boot is easy to access, with the bootlid opening high and well out of the way.
Stereo and ICE (In car entertainment)
As standard the RC F comes with an impressive audio system including satellite navigation DVD player and DAB audio. It also operates using the latest touchpad control which is intuitive to use. Optionally and standard on the RC F Carbon is the Mark Levinson audio system for higher quality reproduction.
Colours and trim
The RC F is available in a surprisingly broad range of exterior colours ranging from the sober to a quite lurid orange. Because of its heavily sculpted exterior the chosen colour can affect its appearance quite significantly so care should be taken. On the inside the RC F mixes high quality leather and plastics to good effect, and there is an option for red leather as well as more traditional dark hues.
Parking
Thanks to its sporty design the RC F has relatively slim windows all round and with large alloy wheels care must be taken when getting parked. However it is fitted with parking sensors front and rear, and the power steering is helpfully light at low speed.
Spare wheel
Tyre inflation kit fitted as standard.
Range information
Petrol engine options - 5.0-litre (471bhp). Transmission options: Eight-speed transmission as standard. Trim levels: RC F, RC F Carbon.
Alternative cars
BMW M4 Cleaner, faster and more responsive but also a little artificial
Audi RS5 Impressive naturally aspirated engine and impressive grip, less involving to drive
Mercedes-Benz C63 AMG 6.2-litre V8 model is still huge fun if thirsty
Maserati GranTurismo Off the pace in terms of performance and considerably more expensive