October 2014
Lexus NX 300h Premier
The NX's styling is the most extreme of any mainstream Lexus
October 2014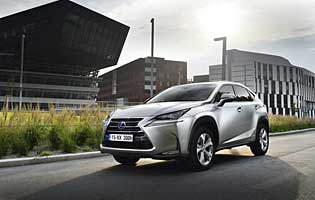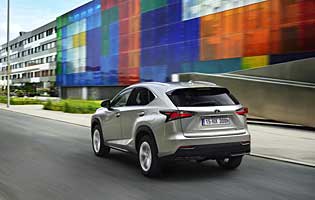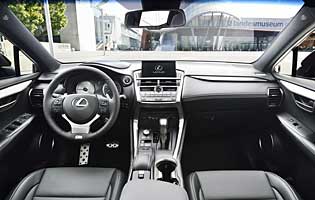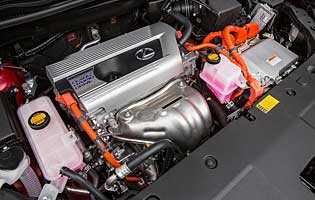 Overall rating

Likes:
Striking design is bold and attractive
Proven hybrid drivetrain is smooth, efficient and luxurious
High-quality leathers and dashboard trim add to stylish console
Well specified for a competitive price
Gripes:
CVT transmission blunts drivetrain of any feeling of performance
Several desirable equipment items reserved for top trim grade only
Transmission can lead to engine droning under acceleration
Anti-whiplash headrests can potentially interfere with driving comfort
Lexus has one of the smallest car ranges in Europe, and has a lot of room to expand if it so chooses. Wisely, it has picked the fastest-growing sector of them all: the compact SUV field. There is stiff competition from a good number of rivals, but Lexus has stuck to its strengths and delivered something instantly different.
The NX joins Lexus' range at a critical time for the brand's European and British future history. The CT 200h hatchback has already opened many more people's eyes to the merits of the brand, and the NX adds height, which is fast-becoming an essential ingredient for all sorts of buyers.
It sticks to the Lexus philosophy that quietness, comfort and smoothness are paramount, so from launch the only engine option is the same petrol-electric hybrid system found in the IS 300h. As an enclosed hybrid system electric power can only carry it for a mile or two at a time, but the ability to use it is almost always there.
Sharp, distinctive styling successfully differentiates the NX from its chief German rivals, and while interior trim colours need to be chosen carefully, the traditional Lexus Japanese feel has flexed slightly to allow more of a European slant. It immediately feels like it was built for our markets, which is a good thing.
While the purchase price is no lower than those of its rival cars, Lexus doesn't want the NX to be a 'cheap' option. Instead, the firm has filled it with technology and driving aids to a level typically much higher than the competition. Business users are being targeted, too, with attractive tax benefits on top of the smooth driving experience.
Our verdict on the Lexus NX 300h Premier
The NX is Lexus' most convincing car to date. Its design and engineering was led by Europeans, and it shows in a product that fits more naturally with British tastes. The hybrid drivetrain works especially well around town, using electric power wherever possible below 40mph, and the general interior materials quality is high. The NX is an impressive all-rounder that should significantly expand the company's market share.
Costs
As a conventional hybrid the NX doesn't qualify for the Government's cash incentive towards its purchase price, and while the entry-level model looks admirably affordable, the range-topper seems expensive. A mid-range model has the best balance of luxury and value. Resale values are expected to be good for the NX, and running costs can be kept low with careful driving.
Space and practicality
The only negative factor to speak of is that the load lip is quite high, thanks to the four-wheel drive technology that partly resides beneath the boot floor. The batteries are placed beneath the rear bench seat and are not so large that they intrude on the boot. That means the NX has ample boot space and more than enough to cope with everyday demands for most people. Inside the cabin area are multiple storage bins, pockets and compartments that are all useful.
Controls and display
Lexus gives the chief engineer on each of its products the freedom to choose their favourite driver interface, which does lead to inconsistencies between models. In the NX there is a touch pad, like those found on laptops. It's difficult to get used to at first, but soon becomes unexpectedly intuitive. The main screen is high-resolution and clear, and the sharp digital dials change purpose when switching driving modes. As an option, iPads can be added to the front seat backs to provide entertainment for passengers.
Comfort
Wide and well-padded seats are an excellent basis for comfort, and on this trim grade there are a multiple electrically-controlled adjustments that can be made to seat base angles and lumbar support, alongside the usual movement axes. The rear seats can also recline slightly for increased comfort. Well-judged suspension settings avoid aggressive harshness and provide a supple but tautly controlled ride. It's not as smooth as its larger RX cousin, but it's good.
Car security
Remote central locking and keyless entry are standard on this grade, so the key never has to leave your pocket unless you choose to use the remote. Lexus has finally removed the visible manual key slot in the door handles, having hidden it in the handle mechanism instead, and deadlocking is a standard feature. Two clicks of the remote's 'lock' button and thieves will not be able to open doors from the inside if they were to smash a window.
Car safety
An extremely long list of safety equipment includes blind spot monitoring, lane-keeping assist, pre-crash safety and both audible and visual seatbelt reminders for all seats. Eight airbags is above average for the class, while heavily angled front seat headrests minimise whiplash. A neat additional feature is a high-friction base in both of the front centre cup holders. By pressing down a little a driver can open a twist-cap bottle with one hand, removing the temptation to remove both hands from the wheel.
Driver appeal
If used gently on a mix of roads, the NX 300h, with its petrol-electric drivetrain and plentiful sound insulation is a quiet, smooth and relaxing environment. The motor will power the car as much as it can below 40mph if the driver is restrained with the accelerator. If used roughly, the CVT gearbox spoils the experience by allowing the engine revs to skyrocket for as long as you keep accelerating.
Family car appeal
Family life is the NX's secret heartland. Behind its sharp lines is a car built for transporting children in luxury thanks to a spacious cabin, big boot and relatively smooth ride. Interior quietness is also a benefit, as kids may be lulled to sleep by the distant roar of road noise, making for a serene journey. International standard child seat mounts are present. The only real problem is the quality of the materials. While leather can be easier to clean than cloth, it is soft, supple and vulnerable.
First car appeal
A compact SUV like the NX 300h is likely to be out of a first-time car buyer's sphere of awareness, because it's endowed with neither the right price, cute enough styling nor the right sort of dimensions. Lexus doesn't market its cars to the young market and its cars haven't acquired the level of desirability to transcend age barriers yet.
Quality and image
Lexus frequently tops reliability and ownership satisfaction surveys, so benefits from a peerless record in terms of dependability. It has struggled to match its German rivals for outright desirability, though, and its sales are modest by comparison. The NX's tangible quality is high, and even the previously cheap-feeling plastic areas on previous cars have been improved significantly. The smooth hybrid drivetrain enhances the feeling of quality, especially when rolling through urban areas in near-silence.
Accessibility
Getting into the NX involves a small step up, but the high roof and chunky seat give good headroom and gripping points respectively. Rear passengers will find the doors just as large as the front ones, minus the cut-away corner where the wheel is, and there is enough space behind the front seats to provide a good platform to step into. The tailgate on high-spec models is electrically powered, to make it easier to open and shut. It's especially useful when carrying shopping bags or a child.
Stereo and ICE (In car entertainment)
Premier grade, the top trim level for the NX, is the only one to benefit from the Mark Levinson stereo, which uses special software to enhance compressed digital audio files. The system features a wide spread of speakers all over the cabin, including a subwoofer. Music input can be via CD, digital radio, Bluetooth, SD card or USB, but the sound quality-improving system does not work with wirelessly transmitted audio.
Colours and trim
Lexus has not strained too hard to design a colour palette, with the majority of options being variations of black, silver and grey. A bold red and a surprisingly bright blue are the two more energetic hues, but classic silver softens and flatters the sharp lines best. Inside, the striking centre console has been designed to mimic the shape of the car's front grille, and the ambiance is far more European than in previous Lexus cars.
Parking
What relatively little glass the NX has around its rear quarters is placed high up, so visibility towards the corners isn't great. That said, an impressive raft of technologies including a simulated live bird's eye view can help drivers position the car with precision. Parking sensors are also included, and drivers can cycle through live views from a selection of cameras around the outside of the car.
Spare wheel
Space-saver spare wheel supplied as standard.
Range information
Petrol engine options - 2.5-litre (192bhp). Transmission options: continually-variable transmission only. Trim levels: S, SE, Luxury, F Sport and Premier.
Alternative cars
BMW X3 Competent driving experience and a well-organised and comfortable interior
Audi Q5 Solid all-rounder with good diesel engines, but lacks personality
Mercedes-Benz GLA More of a traditional hatchback than an SUV, but is comfortable and different
Seat Leon X-Perience Interesting choice with lots of technology and light off-road ability plus much cheaper