November 2005
Lexus IS 250 SE-L
Look is shared with larger GS
November 2005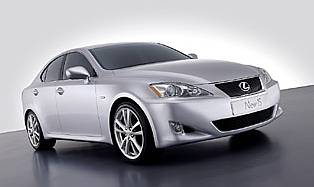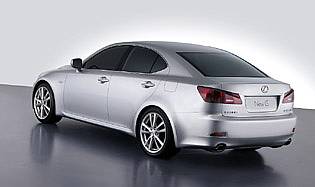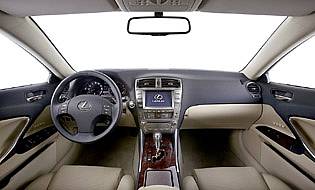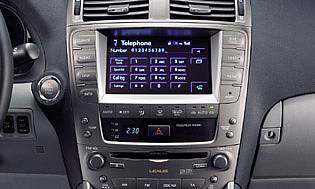 Overall rating

Likes:
Subtle, understated styling
Smooth-shifting automatic gearbox
Extremely quiet at cruising speeds
Lots of equipment provided
Gripes:
Lack of rear legroom and bootspace
Sat nav only possible as part of stereo upgrade
Interior is rather bland
Diesel noisy from outside car
The first generation of the Lexus IS made luxury executive motoring affordable where it had previously been unobtainable. With the second generation, that proposition is extended further so that the IS appeals in its own right, not just as a way of getting maximum value. The introduction of a diesel engine for the first time has the potential to place it on many fleet managers' and private buyers' lists.
As the Japanese alternative to premium European products such as the BMW 3 Series, Audi A4 and Jaguar X-Type, the Lexus IS competes against some impressive rivals. While it still lacks some of the driving sharpness of those models, it is not far behind and comes equipped with features that would cost thousands if selected individually.
The external styling is ingenious, giving the impression of a large vehicle while retaining practical, compact dimensions. Adopting the so-called 'L-finesse' styling first seen on the larger GS model, the IS looks classy and sophisticated. In profile it is particularly attractive; its high waistline and subtle surfacing details combining to fine effect.
Interior treatment is a bit less surprising though happily some of the previous generation's rather contrived dials and plasticky gearshift have been replaced with more attractive modern units. Some innovation is present though, with LED interior reading lights providing nice illumination and even sound-absorbing sun visors. Front seat passengers enjoy high levels of comfort. In contrast, the rear seats are only suitable for occasional use, though this is what is expected of most junior executive motors.
The diesel IS is likely to become a firm fleet favourite, though the smoother 2.5-litre petrol model offers a superior drive. As well as its objective charms, the attractions of the Lexus ownership experience should not be underestimated either. The company seems to be a permanent fixture at the top of customer satisfaction ratings and its dealers and engineers have a hard-won reputation for excellence and attention to detail.
Our verdict on the Lexus IS 250 SE-L
The pitch remains essentially the same as it always was - a car that is just as good as established premium brands but costs less, is better equipped and is less stressful to own. There may no longer be a sense of novelty in owning what Alan Partridge described as the Japanese Mercedes, but when the advantages of ownership are that obvious, there doesn't need to be.
Costs
On a value for money basis, the Lexus scores highly. List prices undercut German rivals by a significant margin whilst retaining all that extra kit. But pricing is only part of the equation. Very long service intervals and the famed Lexus reliability should ensure running costs compare favourably. Insurance groupings are class leading, though fuel economy is no better than average. Perhaps some shrewd buyers might consider a top of the range Toyota Avensis rather than an entry-level Lexus, but the premium associations of the Lexus badge are likely to prove decisive in the executive car park.
Space and practicality
Front passengers are well catered for but rear seat passengers are considerably more cramped with very limited legroom. The boot is also surprisingly small, with large intrusions on each side caused by the positioning of the wheels. If large loads need to be carried regularly, a Jaguar X-Type estate or Volvo V50 would be a better bet.
Controls and display
Though far superior to the quickly dated chronograph-style dials of the first generation IS, the latest Lexus displays still fail to match up to the likes of Audi, BMW and Volvo. Switchgear isn't particularly pleasant to the touch. Some cabin plastics, such as the central dashboard surround and the overhead light console look like they are more Toyota than Lexus.
Comfort
Noise and vibration suppression is superb. Driver and passenger can converse in little more than a whisper. Diesel models lack the pollution sensor that petrol models have, which can automatically recirculate the air inside the cabin when you're stuck in heavy traffic. The cost saving is part of the reason the entry-level diesel is the cheapest car in the range.
Car security
Entry-level IS models fare just as well as range-toppers for security features - part of the reason why the car boasts such low insurance groupings. Keyless entry and start plus an alarm are both on the standard kit list. The smart key can even be programmed to open one, two or all four doors at a time, a simple but effective extra security measure. Lexus locks are renowned for their thief-frustrating ability.
Car safety
The IS doesn't stint on airbags, with eight provided including knee airbags for driver and front passenger. Perhaps even more importantly, a raft of electronic safety systems are on board to avoid calling on the services of the airbags in the first place. Every car has ABS, brake assist, EBD, vehicle stability control and traction control. One day, Lexus' impressive pre-crash safety system will find its way into vehicles as a piece of standard kit. It detects an imminent collision and braces the car and passengers for impact in milliseconds. Unfortunately for now it remains a costly option as part of the adaptive cruise control system.
Driver appeal
Though it does not immediately seem as compelling as a BMW or Audi, the Lexus driving experience has much to recommend it. On long journeys in particular, the IS' smoothness is likely to deliver you to your destination with fewer aches and pains than other cars. Cars with the optional automatic gearbox do come with steering wheel-mounted paddles, but after a few minutes you're likely to revert to full automatic mode as it is so much less hassle. Driven hard the IS responds well, but it seems somehow out of keeping with its sensible demeanour.
Family car appeal
Compact executive saloons make passable but far from ideal family vehicles. There is simply not enough space and details such as leather seats are largely wasted. A compact estate or well-specified midi-MPV would make much more sense. At least the IS will play child-pacifying DVDs in an emergency.
First car appeal
Though technically an entry-level vehicle, the IS is still way out of most first time buyers' league. Add the relative unpopularity of the saloon body style in the UK and the last vestiges of Alan Partridge naffness and there's little to attract the newly qualified motorist.
Quality and image
Once, Lexus was something of a cult brand known only to savvy initiates, but today pretty much everyone knows what it represents. The ongoing popularity of the RX300 SUV has proven key to creating mainstream awareness, but it remains the case that many people would still prefer to be seen in a BMW or Mercedes even if it costs them more. Build quality remains impressive, though one or two of the cabin materials are questionable.
Accessibility
Access to the rear seats is a problem. The shape of the doors mean that at floor level there is only a small gap to get through. Climbing back out again is even more difficult, so if your boss has enjoyed a few too many corporate lunches, think twice before offering him a lift. The saloon boot unlocks from the key fob but does not open or close automatically and possesses a very un-Lexus tinny clang when shut.
Stereo and ICE (In car entertainment)
Lexus has developed something of a reputation for providing fine sound systems, aware that buyers in the executive sector tend to be techno-savvy and demanding. Consequently a 13-speaker sound system with in-dash six-disc CD autochanger is fitted as standard with MP3 compatibility. This can be upgraded to a 14-speaker Mark Levinson system which includes a DVD multichanger, satellite navigation and a reversing camera, but it's a costly extra that can only be bought as a complete module.
Colours and trim
Lacking leather trim, entry-level cars look rather cheap compared to SE and SE-L counterparts. In contrast the ventilated leather seats of the SE-L are magnificent, able to warm you in winter and cool you in summer. Metallic or mica external paints are both fairly expensive options but worth it and will help preserve resale values.
Parking
Thanks to its relatively compact dimensions, the IS is easier to park than its big-car look might suggest. The rear parking camera that is only available as part of the upgraded stereo is useful but far from essential. SE-L and Sport models do have front and rear parking sensors, which are perfectly adequate.
Spare wheel
Space saver spare wheel located under the boot floor.
Range information
Two engine options - 2.5-litre V6 petrol (204bhp) petrol and 2.2-litre (175bhp) diesel. Six speed manual transmission as standard with optional six speed automatic (petrol models only). Sport models feature revised gear ratios for slightly sportier feel. Trim designations are IS 250 or IS 220d followed by SE, SE-L and Sport.
Alternative cars
BMW 3 Series Great to drive and still the car most would opt for given the chance
Audi A4 Class-leading interior. Options list can be costly though
Jaguar X-Type Unlovely looks encase a smooth, competent performer
Honda Accord Badge aside, is it really inferior to so-called prestige motors?