November 2006
Kia Sorento 2.5 CRDi XT
Facelift gives the Sorento a touch of Volvo XC90
November 2006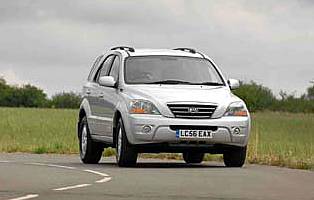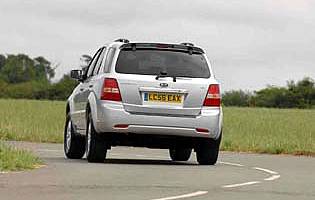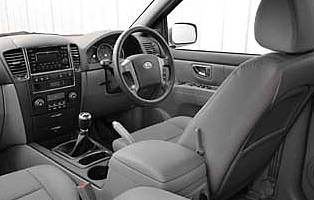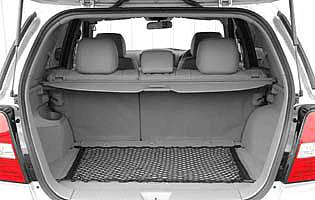 Overall rating

Likes:
Much better to drive than older version
Facelift keeps it looking very fresh
Represents good value for money
Highly recommended as a towing vehicle
Gripes:
Telescopic aerial is an anachronism
May fall victim to anti-SUV legislation
Some cabin elements feel cheap
More old-school than modern crossover vehicles
When Kia introduced the Sorento, it took people by surprise. A carmaker known for its cheap but poor quality hatchbacks was suddenly selling a good quality, full-size SUV. Kia has since proven that it was no fluke, to the extent that now it's time for even the Sorento to get a facelift in order to keep up with its stablemates.
Both the 2.5-litre turbodiesel and 3.3-litre petrol engines deliver improved performance while maintaining previous levels of fuel economy; suspension modifications provide noticeably better balance and less body roll and safety is enhanced with new accident-avoidance features.
Most obvious though is a contemporary new look that makes the Sorento look even more like the Mercedes ML-Class than it did heretofore. The revised model uses the same body panels as the original car, but new front and rear bumpers, grille projection-style headlamps, tail lights and body mouldings give it a more elegant and modern appearance while increasing the overall length by 20mm.
The interior remains recognisable with a few quality improvements in evidence. A new centre stack and floor console, a neater control layout and better-quality materials are all welcome, though there is still no alternative to the rather drab grey colouring unless you're prepared to pay extra for a new premium black leather and wood effect trim available on the XT model. And the telescopic radio aerial looks even more anomalous than ever as it rises from the front wing.
On the road the Sorento is just as good as any comparable vehicle and off-road it is surprisingly capable, making it perfectly possible to climb aboard and head for anywhere between the Arctic and Sahara with complete confidence. Legislation may be starting to target 4x4s but the public shows little sign of ending its love affair with the SUV, and of those currently available the Sorento makes more sense than most.
Our verdict on the Kia Sorento 2.5 CRDi XT
While the Sorento still can't be classed as a genuinely premium offering, it's much closer to the mark than makers of posh SUVs would like to admit. Think of it this way - you can buy one Mercedes ML-Class or two Sorentos for roughly the same amount of money. Unless you're a complete badge slave, that should make your choice of purchase completely obvious.
Costs
Like all Kias, the Sorento is competitively priced. However, it sells on more than price alone, and towards the top of the range they have plenty of kit but price tags to match. Running costs are par for the course in this sector, though Kia's very reassuring warranty is worth factoring into your calculations. The only cloud on the horizon is future anti-SUV legislation which could hit cars like the Sorento disproportionately hard.
Space and practicality
This large vehicle offers up plenty of space for passengers and other cargo. Under-seat storage boxes are a nice touch and split-fold rear seats mean even oddly-shaped items can be accommodated
Controls and display
Kia still lags some way behind in its treatment of driver interfaces. The dials are extremely workaday and most of the controls are no more than functional. The one exception is the enjoyable roof-mounted display telling the driver which direction they are heading in, the altitude and other largely useless but fun information.
Comfort
Reshaped backrests on the front seats and multi-adjustable rear backrests increase legroom and comfort for passengers travelling in the rear. Combined with better roll suppression, a simple air conditioning system and low noise levels, it's possible to spend all day driving the Sorento in absolute comfort.
Car security
Lifestyle SUVs are a regular target for opportunistic thieves who tend to assume that owners have plenty of money and are likely to have left valuables inside. Expensive Sorentos do come with an alarm, cheaper ones do not.
Car safety
While the Sorento can't match the more expensive Volvo XC90 or Land Rover Discovery 3 on safety features, it does feel solid and should fare well in an accident. Twin front and full-length curtain airbags are present in all models. Sadly, entry-level models lack the valuable ESP programme, which should really be regarded as essential.
Driver appeal
The Sorento's fatal flaw used to be its horribly wafty ride and tendency to list when cornering. Kia's engineers have evidently been busy tightening various nuts and bolts, as this tendency has been greatly suppressed, if not completely eliminated. The ability to swallow speed bumps and ramps with barely a twitch is enjoyable in the modern motoring environment. Off-road the Sorento is more capable than most rivals and it is excellent for towing a trailer or caravan.
Family car appeal
It may be politically incorrect to view a large 4x4 as a suitable family vehicle, but there is no denying that the Sorento ticks most of the necessary boxes in this respect. It is robust, spacious, safe and even cool enough to avoid the upturned noses of teenage fashion victims.
First car appeal
Kia is able to offer a perfect first-time car to buyers - in the form of the Picanto. The Sorento makes no sense as a novice's choice unless the first thing they want to do is tow a caravan.
Quality and image
Once a byword for poor quality, Kia has really sharpened up its act in the last few years. The Sorento doesn't achieve genuine premium SUV status but gives a pretty good imitation of a much more expensive vehicle despite the occasionally cheap cabin materials. The black leather treatment of the XT model gives welcome relief from uniform grey.
Accessibility
A definite step up is required when accessing the cabin, which will prove too much for some users. But this does mean that, once inside, you obtain a commanding view in all directions. The boot has lots of assistance from its struts and is easy to open. It's vertical rather than horizontal, if rather narrow, and the glass section can open on its own.
Stereo and ICE (In car entertainment)
The standard issue CD player is surprisingly good - a double-DIN JVC CD player with MP3 compatibility and a trip computer - so there is no real need to upgrade. For family use, an optional DVD system may be a worthwhile investment.
Colours and trim
Silver may not be fashionable any more, but it still suits the Sorento, flattering its considerable bulk, with basic black a close second. Avoid bright colours, which make it look lumpy. All models are well equipped, but it's worth stretching to XT trim if possible to gain plenty of toys including an electric sunroof, rear parking sensors, alarm, satellite navigation and ESP.
Parking
This is a large vehicle with a fairly wide turning circle, so parking sensors are a real boon. They only come as standard on more expensive models, so should be considered as optional extras unless the vehicle will only ever be parked on a roomy driveway. Steering lightens up well at low speeds.
Spare wheel
Full size steel spare fitted as standard on all models.
Range information
Engine options - 2.5-litre (168bhp) diesel; 3.3-litre (240bhp) petrol. Five-speed manual or five-speed automatic gearbox, according to exact specification. Trim levels: XE, XS and top spec XT.
Alternative cars
Honda CR-V King of the soft roaders is well built but rather urban
Hyundai Santa Fe Looks great, comes with outstanding five year warranty
Nissan Pathfinder Could be regarded as a poor man's Discovery
SsangYong Rexton Ugly exterior hides Mercedes engine and gearbox