April 2004
Kia Sorento 2.5 CRDi XS Auto
The Sorento has the looks to appeal to modern buyers
April 2004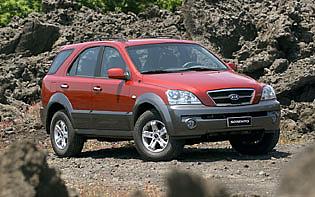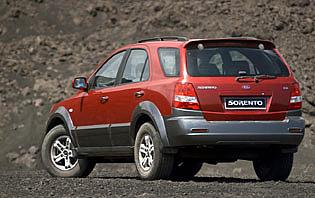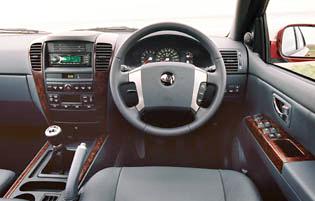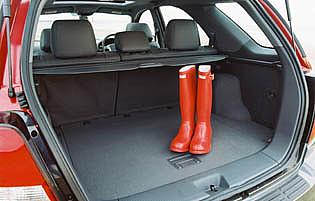 Overall rating

Likes:
Distinctive, stylish and modern
No shortage of genuine off-road ability
Plenty of kit comes as standard
Confidence-inspiring warranty
Gripes:
Expensive - for a Kia, at least
Some interior elements lack quality
Diesel engine is noisy
V6 petrol is nice but thirsty with it
With a reputation for making cheap, competent but ultimately unexceptional cars, no-one was really expecting much of Kia when it announced its intention to launch a new off-roader. After all, memories of the Sportage were still fresh. So it came as a hugely pleasant surprise to discover what is undoubtedly one of the best 4x4s out there.
For a start, the Sorento looks the part. Comparisons with the Honda CR-V, Toyota Land Cruiser and even Mercedes M-Class are not fanciful dreams. The design strikes an effective balance between the muscularity required to appeal to men and the clean modern lines appreciated by women. It manages to look tough without being rough.
It's a similar story inside, with a well-equipped and laid-out cabin and excellent available space. Kia's cost cutting does occasionally show through in some of the more inaccessible plastics and some unconvincing imitation wood trim in more expensive variants, but by and large these minor flaws pass unnoticed.
Crucially, the Sorento has the performance to back up its claim to be taken seriously as a premium off-roader rather than a budget option. Both engines have much to recommend them. The 2.5 diesel is the better everyday workhorse, and while the 3.5-litre V6 petrol unit is far more expensive to run, it means customers can mix it with BMW and Mercedes without paying a badge-related premium.
One of the Sorento's few weaknesses - a rather sluggish four-speed automatic gearbox - has been replaced with a far more capable five-speed unit. Manual transmission comes as standard, but automatics make more and more sense, particularly in such a large and heavy vehicle, so is well worth investigating.
But don't imagine the Sorento is simply aimed at the so-called 'soft roader' market of vehicles that rarely venture away from asphalt. Remarkably, it is an excellent off-road vehicle as well, capable of coping with the severest conditions in a manner that wouldn't shame a Mitsubishi Shogun. Having a full-on ladder-frame chassis instead of the car-like platforms of some rivals gives it a feeling of solidity at all times, though it causes the on-road demeanour to seem slightly heavy.
Our verdict on the Kia Sorento 2.5 CRDi XS Auto
The Sorento is a natural choice for anyone anxious to join the 4x4 clan without wanting to look like a fashion victim. It has done much to get Kia taken seriously, though admittedly badge snobs are still unlikely to give it a second glance. That's to their detriment - this is a super vehicle and a whole lot of 4x4 for the money.
Costs
Purchase prices are high by traditional Kia standards. The Sorento must stake its claim in a fiercely competitive market place. Running costs are reduced with the relatively frugal diesel engine. With fuel economy of around 22mpg, the V6 petrol will need frequent visits to the forecourt, and buyers with that amount of money are likely to be looking at more prestigious brands. To an extent it is caught between two stools - too expensive to be a bargain but too cheap for people to believe it is as good as it claims. Very cheap 4x4s should always be treated with suspicion. The Sorento isn't cheap but it is good value for money and an extremely capable vehicle.
Space and practicality
This is a big vehicle, so space is not in short supply. With rear seats folded, the Sorento can ably double as a go-anywhere van and it's tough enough to withstand pretty much any conditions. Certainly, it would make an ideal vehicle for anyone living in a rural location or who regularly needs to ford streams, climb mountains and take part in outdoorsy activities. It should also find plenty of utility as a tower, whether of caravans, boats of scrambler bikes. Despite Kia's desire to market it against trendy urban 4x4s, the Sorento's size and slightly agricultural on-road demeanour counts against it in the city.
Controls and display
In its controls and displays the Sorento seems furthest away from the premium brands to which it aspires. Dials are clear enough but lacking in any sort of character and the pale LED emitted by the overhead multimeter seems prehistoric compared to the flat screens and backlit displays of BMW and Audi. That said, compared to any other Kia ever produced - even the well-made Magentis - the Sorento's cabin is streets ahead and doesn't feel lightweight or likely to be shaken to bits in the near future.
Comfort
Apart from some noise from the diesel engine, the Sorento bowls along in a classy, quiet manner, unless it's being worked hard. Air conditioning is a standard feature while seats are big and chunky so that larger passengers will have no problem parking their behinds. Five adults can sit in relative comfort. The leather in the XS-spec car is worth the extra outlay, but the more modest cloth seats of the XE are perfectly adequate in their own right. Numerous stowage areas ensure there should be nothing rolling around in the footwells while headroom is excellent. Smaller drivers may face some problems getting comfy as the steering wheel only adjusts for tilt, not reach.
Car security
Even though it's unlikely to be a prime target for joyriders, there is a thriving market for robust 4x4s of doubtful provenance, so good security standards are a must. The Sorento is fitted with deadlocks and an immobiliser as well as a driver-operated switch to lock windows and doors, but an alarm is a notable omission. Other security features include security window etching, locking wheel nuts and a rear load cargo cover to keep prying eyes at bay.
Car safety
Again, the Sorento scores highly. All models come with ABS (with EBD), driver, and passenger airbags and side airbags front and rear. All rear seats have adjustable headrests. The Sorento's ladder-frame platform is inherently strong while side impact bars and a heavy-duty roll bar help keep the passenger compartment secure. Seatbelts feature pre-tensioners and load limiters. As a package this is no worse than many more expensive cars and rather better than most at a similar price point.
Driver appeal
At its best in off-road conditions (even while wearing normal road tyres), the Sorento will inevitably spend most of its time firmly planted on-road. There's its size and weight start to count against it. Acceleration is fairly pedestrian (V6 excepted) but there's less body roll around corners than might be imagined. Steering is light (in fact probably too light for some tastes) and prevents longer journeys from becoming too tiring for the driver. To call it a plodder would be unfair. Suffice it to say that the Sorento values torque over raw power, making it especially suitable for carrying heavy loads or towing duties. Off-road, the Sorento is tremendous fun, as surefooted and unstoppable as they come.
Family car appeal
The Sorento makes a surprisingly convincing case for itself as a family vehicle. It feels solid with a good safety rating. There's loads of space and it will give families access to forest car parks and muddy fields where MPVs fear to tread. Storage areas abound, all three rear seats have three-point seatbelts and rear doors feature childproof locks. It's also the sort of big, reassuring car kids love to be seen in, peering down at the world from a great height. It's a fair bet that they'll find the built-in barometer and altimeter a source of endless amusement, too.
First car appeal
Few fresh-faced drivers choose a full-scale 4x4 as their first car, for obvious reasons. The Sorento is unlikely to change their minds.
Quality and image
Kia's desire to be compared to premium German brands has some merit, but in reality it's not going to happen. Kia is still associated with budget-priced cars that sacrifice some quality for economy and it will still take a good while to dispel that image. Ironically, the Sorento's keenest competitor is likely to be the Terracan made by sister company Hyundai - hardly an ideal way to expand market share. For similar money, buyers can get offerings from Land Rover or Jeep, both of which have all sorts of longstanding associations with off-roading that Kia can't hope to compete with.
Accessibility
Drivers and passengers need to undertake a definite climb up into the cabin, but once there, they will discover an airy, light compartment that is helped by pale-coloured surfaces and large, comfortable seats. The tailgate is quite heavy, even for a 4x4, but because it also features a flip-up window, it's rarely necessary to use the whole door - shopping bags or kids' toys can easily be dropped through the window. Rear seats need to have their headrests removed before they can fold flat and there is some intrusion into the loadspace from suspension mounting points, but there's nothing wrong with the volume available.
Stereo and ICE (In car entertainment)
Forget your fears of a cassette player and some tinny speakers. A single-slot CD player with RDS radio, eight speakers and a detachable security panel is standard equipment on all models. In the unlikely event that you want to upgrade, you'll have to look to the aftermarket. Satellite navigation is a dealer-fit option, but it's much more fun to pretend that you're finding your way using the onboard compass and altimeter.
Colours and trim
Metallic or mica paint comes as a cost option on all variants, but apart from that, the Sorento is packed full of equipment. The range is divided into entry level XE and higher-spec XS. Even XE models have alloy wheels, roof rack, air conditioning, electric windows all round and a 'multimeter' comprising compass, barometer and altimeter. XS models gain permanent four-wheel drive and leather upholstery as well as other comfort and styling features. Basic spec cars look attractive too though, as they are upholstered in natural-feeling cotton fabric rather than the unattractive synthetic fibres of some past Kias.
Parking
Surprisingly, the king-sized Kia is relatively easy to park. An elevated driving position affords top-notch visibility and the steering is extremely light at very low speeds, which is a definite boon when it comes to parking. Supermarket car park spaces are likely to be a tight squeeze. Because of the Sorento's width, owners of the XE will need to remember to fold their wing mirrors in after parallel parking. The XS comes with powered mirrors.
Spare wheel
Because this is a full-scale 4x4 vehicle, for safety reasons all models come with a full size spare alloy wheel.
Range information
Two engine options - 2.5-litre CRDi (138bhp) diesel; 3.5-litre (193bhp) V6 petrol. Choice of five-speed manual or five-speed automatic transmission (formerly 4-speed) on diesel models. Petrol model is auto only. XE models have part time 4-wheel drive; XS models have permanent four-wheel drive. All have limited slip rear differential.
Alternative cars
Hyundai Terracan Huge and hard to beat on value for money
Land Rover Freelander Shows its age but the badge counts for a lot
Nissan X-Trail More of an on-roader with excellent image
Jeep Cherokee Excels as a towing vehicle