Jan 2016
Kia Sorento 2.2 CRDi KX-3 Eco
New generation Sorento looks modern and attractive
December 2015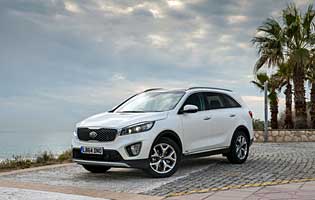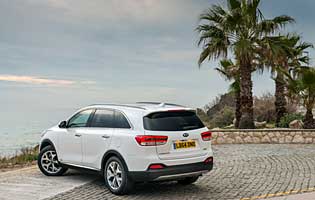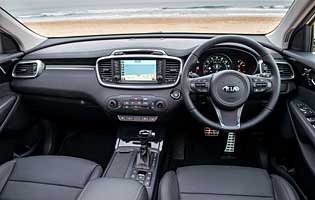 Overall rating

Likes:
Handsome exterior gives the Sorento real presence
Spacious and flexible interior
High level of standard equipment
Efficient diesel engine offers useful performance
Gripes:
Some cabin trim feels a little cheap
Large dimensions can make tight car parks more difficult
Remote tailgate operation can be too eager
Interior storage solutions could be improved
The process of evolution at Kia continues apace as the Korean firm moves further away from its humble origins and ever closer to its goal of competing on equals terms with the best European opposition. Kia's larger offerings have been amongst the most popular so this third generation is eagerly anticipated and essentially an all-new design.
Previous generations of Sorento have majored on space and versatility as well as good value, but this latest model attempts to go one further by increasing quality and technology to broaden its appeal. This is apparent from the outset, as the new Sorento has a more stylised exterior with a bolder grille and more prominent headlights
Underpinning the Sorento is an all-new platform incorporating an increase in wheelbase, length and width, although changes to the exterior design mean it is lower than the previous model. The expansion means more space in all three rows of seats plus additional boot space over the outgoing Sorento, Kia also claims the new platform is stiffer to improve crash performance.
Mechanically the Sorento is offered with a single diesel engine option, similar to the previous 2.2-litre unit. However a series of detail changes including a plastic inlet manifold and thinner cylinder walls have helped to reduce weight, while modifications to the intake and exhaust recirculation systems have improved consumption and emissions whilst also delivering a modest increase in power and torque.
The new Sorento also adopts the sophisticated Dynamax four-wheel-drive system already seen in the Sportage, which has the benefit of powering just the front wheels unless the system detects a loss of grip. As well as maximising traction this helps to reduce fuel consumtption, with drive diverted to the rear only when necessary.
Our verdict on the Kia Sorento 2.2 CRDi KX-3 Eco
There's a great deal to like about the new Sorento. Right from the first glance the smarter exterior is indicative of an improvement in quality throughout. The driving experience is undemanding and relaxed, while the improvements in efficiency are welcome. It's good value, and while not without its faults it makes for an attractive package for the private buyer.
Costs
For a car of this size the Sorento should be relatively cost-effective to run. When driven sensibly the efficient 2.2-litre diesel has the potential for impressive fuel consumption, while Kia's commitment to good value means a strong specification compared to key rivals and solid residual values.
Space and practicality
The Sorento makes the most of its footprint, offering up generous space for both passengers and luggage. Five adults can be accommodated with ease, seven at a stretch, while the luggage area is both well-shaped and large. There's a good deal of storage space too, with large door bins and a huge centre console bin.
Controls and display
From the driver's seat it is easy to see that the Sorento has taken a new approach to the cabin layout, with a pleasingly clear and attractive design. The dashboard itself is relatively low set, with the major controls grouped logically on the centre console and dashboard. The instruments are quite busy with lots of small markings, but are easy to understand after brief familiarisation.
Comfort
Clearly a high priority in the Sorento's design, comfort for all occupants is impressively high. Up front there are large and comfortable seats with multiple electric adjustment, while the second row also offers a broad range of adjustment. The third row of seats are understandably the least comfortable but children will have no problem. Noise levels are kept well in check too, the diesel engine only become vocal when worked to its maximum.
Car security
Potentially a very secure vehicle, all Sorento models come with remote central locking, an alarm system and locking wheel nuts amongst other features. The Sorento also offers automatic 'drive-away' locking which is particularly useful in a family car.
Car safety
The safety provision on all Sorentos is high, with every model benefitting from ESC with Trailer Stability Assist and Hill Start Assist. On the passive safety front all models come with six airbags and impact-sensing door unlocking, while the structure itself is stiffer than before thanks to the increased use of high-strength steels.
Driver appeal
Designed to be comfortable and practical rather than an engaging drive, the Sorento demands little from the driver. The 2.2-litre diesel has strong torque so it is not necessary to stir the six-speed manual gearbox often, although it is no chore to do so. The electronically adjustable power steering system is little more than a gimmick however and adds little to the driving experience.
Family car appeal
Few cars are as well suited to family life as the Sorento. It has the potential to carry up to six children, including the ability to accommodate many child seats, while the boot can easily swallow the grandest of pushchairs. Leather trim is also standard on KX-2 models and upwards, which tends to be better at resisting wear and tear than the cloth alternative.
First car appeal
It might be more outwardly attractive than the last generation but the Sorento's qualities are unlikely to suit the needs or wants of a new driver. Its physical size means a little care is required and although good value it is unlikely to be within the budgets of most new drivers.
Quality and image
It's a mark of progress that the quality expectations for Kias are now as high as some of the most respected European brands, and in the Sorento the quality on offer is impressive. Although not at a premium level the cabin is finished to a good standard, with just a few areas where penny-pinching is in evidence. The same goes for the Sorento's image; Kia's image has come a long way in a short space of time and in particular the Sorento's smart exterior is a boost to its image.
Accessibility
The Sorento's size means access is very simple, with large doors front and rear and a short step up into the seats. Access to the third row is achieved by sliding and folding the second row although this will be easier for children than for adults. The remote tailgate is also a useful feature although it can operate inadvertently which could cause damage to the bootlid.
Stereo and ICE (In car entertainment)
On KX-3 models the infortainment provision is substantial, with an eight-inch touchscreen including satellite navigation plus upgraded audio with 10 speakers and a sub-woofer. The touchscreen operates reliably and with the back-up of controls mounted on the steering wheel it is easy to use.
Colours and trim
The standard trim inside the Sorento is a dark black, which can make things a little sombre although the quality of the trim itself is a help. On the outside the new design means the Sorento can successfully carry-off brighter shades although it remains best suited to moderate tones.
Parking
There's no avoiding the fact that the Sorento is a large vehicle but it does a great deal to make life easier for the driver. All Sorentos are fitted with parking sensors, while each step up in trim level adds further assistance. KX-3 models have a reversing camera, while the top-spec KX-4 adds automated parking systems and a 360-degree camera.
Spare wheel
All Sorentos are fitted with a full-size spare tyre mounted on an alloy wheel.
Range information
No petrol engine options. Diesel engine options - 2.2-litre (197bhp). Transmission options: six-speed manual or six-speed automatic. Trim levels: KX-1, KX-2, KX-2 Sat Nav, KX-3, KX-4.
Alternative cars
Hyundai Sante Fe Sister brand offering brings same impressive blend of value and quality
Mazda CX-5 Five-seat only but good to drive and handsome too
Mitsubishi Outlander Practical with diesel and hybrid options, good value and seven seats available
Volkwagen Touareg Impressive comfort and quality, significant price premium