August 2011
Kia Rio 1.4 2
Stylish design aims to win buyers' hearts as well as minds
August 2011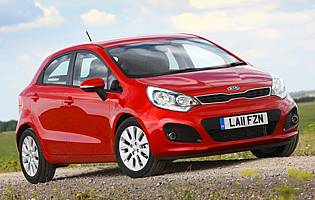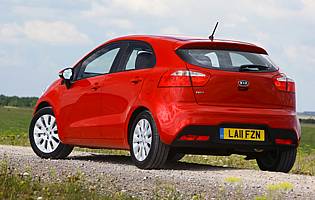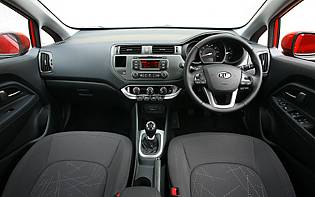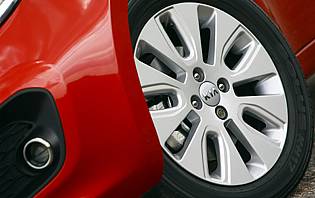 Overall rating

Likes:
Modern, fresh styling is a huge improvement over the previous model
Increased efficiency means excellent economy from all four engines
Good value compared to its rivals
Large glove box and well thought out storage options
Gripes:
Suspension can thump uncomfortably over larger bumps or potholes
Visibility is a little restricted by thick pillars and a high dashboard
No standard spare wheel supplied
Steering wheel doesn't pull out far enough for longer-legged drivers
This generation Rio is a major departure from the previous car, representing a step change in Kia's attempt to gain ground in the lucrative B-segment against established European and Japanese rivals. With aggressive styling, a higher quality interior and better fuel economy than the previous model, it's proof that Kia means business.
Aiming to appeal both to buyers' hearts and minds, Kia has made the Rio more stylish, while fitting new, more efficient engines. Launched with a choice of three key trim levels from '1' to '3' the mid-range '2' option is likely to be the biggest seller. It's worth noting that Rio 3 cars offer significant extra luxury for a reasonable extra cost.
Standard kit on the Rio 2 includes all the essential conveniences that drivers and passengers are likely to want and need. It's not a luxurious car, but nor does it lack anything it needs to fulfil its purpose. Visibility, however, is restricted by thick front and rear pillars and a high dashboard.
Buyers can specify a Rio 2 with any one of the four engines available through the range. There are 1.25 and 1.4 petrol engines alongside 1.1 and 1.4 diesels. The 1.1-litre diesel grabs the headlines with petrol-electric rivalling fuel economy in the most basic Rio, but it's expected most buyers will still choose petrol, and while both the 1.25 and 1.4 can achieve good average fuel economy, the 1.25 sits in a lower road tax group.
The Rio is well-mannered on the road, with plenty of grip and stability providing a secure and reassuring feel. Its suspension is well controlled over smoother bumps in the road, but manhole covers and potholes can send an uncomfortable thump through the cabin. The petrol engines are quiet around town and powerful enough to keep up with the flow of traffic, but there isn't much left in reserve for overtaking.
Our verdict on the Kia Rio 1.4 2
A good spread of talents is crucial to a car like this, and the Rio has a lot of strengths. It's good looking, has enough equipment and plenty of safety features. It's also cheap to run, with most variants either tax free or very cheap to tax. It ticks all the key boxes, and its minor faults don't take much away from its overall ability.
Costs
For buyers looking for the cheapest running costs possible, the 1.1-litre diesel Rio 1 achieves superb fuel economy and emits very low amounts of CO2. Petrol models cost a little more to run, but are cheaper to buy and can work out significantly cheaper to own over three years, especially for relatively low mileage drivers.
Space and practicality
The car's boot is quite deep and the amount of space available is deceptive. There's room for several small cases plus additional soft baggage before the 60/40 split rear bench seat needs to be lowered. However, the boot's load lip is quite high, meaning heavy loads can become awkward to get in and out. Rear legroom is fine for young teenagers, but is a little tight for larger adults.
Controls and display
The main dashboard display is very clear, with illuminated white digits on a black background. The needles have a red line in the centre to add a little colour and better define their position at a glance. There is also a centre console-mounted LCD screen that does a good job of helping users to navigate the audio unit's various features.
Comfort
The Rio 2's seats appear slightly sporty, with noticeable support on the sides of the seat back. They are also rather firm, which will suit some people more than others. Those that like them will be able to drive long distances in complete comfort. The ride is neither overly hard nor soft, and while the quality of the Tarmac definitely matters, the Rio copes well enough with most surfaces.
Car security
Remote central locking, an alarm and an immobiliser are the essentials, but there are also speed-sensitive door locks to stop anybody opening the doors from the outside once the car is in motion.
Car safety
With dual front, side and curtain airbags in conjunction with Electronic Stability Control and Vehicle Stability Management, the Rio has the basics covered as well or better than any of its rivals. There is also a range of systems to ensure safe braking, which makes the Rio at least as well-equipped for safety as its competition.
Driver appeal
Smooth steering and pedal inputs are rewarded in the Rio, and in that way it can be good fun to drive. The relatively powerful 1.4 petrol engine is not strong enough to trouble the chassis, which generates a lot of grip. The steering is lacks feel but is something only keen drivers will notice, because the steering is otherwise well weighted.
Family car appeal
The five-door variant has plenty of space in the back for child seats or young children, but the thickness of the rear roof pillars makes the rear passenger space quite dimly lit, and it feels too enclosed to be carrying adolescent children in total comfort.
First car appeal
For young buyers who are confident they won't want to swap their car every couple of years, the Rio makes a lot of sense. The long warranty gives peace of mind, the affordable list price makes it a realistic option and the low running costs, particularly of the diesel models, make it an attractive car to buy and keep for many years.
Quality and image
The interior plastics feel solid, and there are no rattles or squeaks. The leather trim on the steering wheel and gear knob adds a touch of quality. Kia's warranty is better than its rivals, lasting seven years or 100,000 miles, and the company's new styling direction will certainly help upgrade its image.
Accessibility
The Rio range is affordable even by the standards of the small car sector. For that reason, combined with its good looks, it will appeal to a broad range of potential buyers. It's not a budget buy, but given its relatively low purchase price and running costs combined with its breadth of ability, it's a realistic option for a large number of people.
Stereo and ICE (In car entertainment)
The Rio 2 has a four-speaker stereo system that's an upgrade from that in the basic model. It suits contemporary music, emphasising the higher treble frequencies and only really doing the bass frequencies justice at higher volumes. There is a USB port to plug MP3 players into, and the track information is displayed on the centre console.
Colours and trim
There is the predictable range of colours on offer for the Rio, including standard flat finishes and optional metallic ones. The trim levels are quite different from basic to luxurious, and while the Rio 1 doesn't look so smart with its steel wheels, the interiors are broadly similar across the range; simple and stylish.
Parking
Variable assistance power steering automatically makes the steering light at low speeds. As a result, car parks and parallel parking are made easy, but visibility is partially restricted because of a small rear windscreen and thick pillars at the front and back of the car. A high dashboard also means it's difficult to see the front corners.
Spare wheel
Emergency tyre sealant kit supplied.
Range information
Petrol engine options - 1.25-litre (83bhp); 1.4-litre (107bhp). Diesel engine options - 1.1-litre (74bhp, 89bhp). Transmission options: 6-speed manual or 4-speed auto (1.4 2 only). Trim levels: 1, 1 Air, 2, 3.
Alternative cars
Renault Clio Not as good looking as the Rio, but fun to drive and affordable
Peugeot 207 No longer a brand new car, but an excellent all-round choice
Toyota Yaris Well built, cute and reliable, but not as much fun as some rivals
Ford Fiesta The most enjoyable car in the segment with the best driving dynamics