December 2012
Jeep Patriot 2.0 CRD Limited
The Patriot is instantly recognisable as a Jeep
July 2007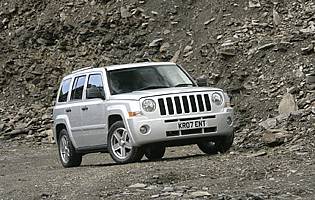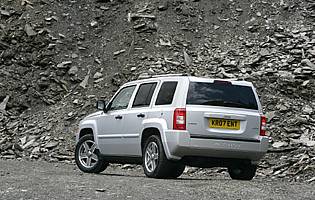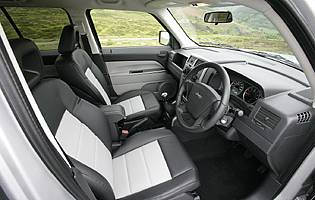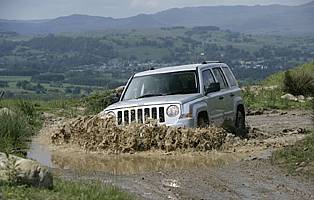 Overall rating

Likes:
Classic Jeep looks
Features some useful innovations
Genuine off-road performance
Stable handling for a large vehicle
Gripes:
Not as roomy inside as its size suggests
Interior materials feel cheap
Limited storage for a family SUV
No automatic option for diesel engine
The newest addition to the Jeep line-up is the smallest of the family, but it's big in spirit and has been designed to take the rough with the smooth. Entering into the competitive compact SUV market the Patriot is aimed at families who demand more from their family car. It will also appeal to those who appreciate a bargain.
The Jeep name is synonymous with rugged off-roader vehicles. Whether that's a positive in a world where the majority of off-roading that takes place involves bouncing over pavements is disputable. Regardless, Jeep has made sure it has done what it does best with the new Patriot model and built a vehicle that has the off-roading credentials to match the manufacturer's tough reputation.
In the increasingly competitive compact SUV market having a model that can hang with the best of them off road is only half the battle. Small 4x4s primarily need to be able to carry the can as a family vehicle - in many ways the harder of the two tasks. As with the competition, Jeep has fused the benefits of a higher driving position with the comforting and familiar layout of a regular family hatchback. A great deal of attention has also been paid to the Patriot's various safety features including using the 4x4 system to improve the stability as well as traction.
Keeping the driving experience as car-like as possible is clearly an important part of Jeep's approach. As well as appealing to those already won over by compact SUV attributes, Jeep wants to encourage families who would previously have opted for a regular hatchback as the primary option to consider the upwards, or sideways, move to a compact SUV instead.
The final piece of the puzzle is pricing, and Jeep has pulled out all the stops to ensure the Patriot is not only priced competitively against the direct compact SUV opposition but also lines up favourably alongside staunchly road-going opposition. To use a suitably American phrase; Jeep really does seem to have all the bases covered.
Our verdict on the Jeep Patriot 2.0 CRD Limited
The Patriot is unquestionably an enticing proposition for families wanting to upgrade from a regular small car and join the compact SUV revolution. It does everything it sets out do very well, and does it for an extremely reasonable price. The only question mark hangs over the interior, but it's still an improvement over Jeeps of old and fails to detract from an excellent overall package.
Costs
The Patriot range starts at around the same price as a well-specified family hatch, with the diesel Patriot attracting a modest premium. The diesel engined car also returns an impressive 42.2mpg on a combined economy cycle, putting it on the same footing as smaller, less capable family motors. Insurance costs are modest by modern standards, and with proven mechanicals the Patriot should prove economical to service.
Space and practicality
The Patriot should provide all of the room a small family is likely to need with ease. Its boxy shape means there is little wasted space and leg and headroom is ample for front and rear passengers. It's pleasingly practical too, not least because of its admirable off-road ability. A low ride height will prevent full-bore mud-plugging but the four-wheel drive system can cope with pretty much anything else. Clever touches like a snap-out interior light that can be used as a torch also add to its practicality.
Controls and display
There's nothing flamboyant about the Patriot's interior design, which means all of the dials are plain and easy to read and the switchgear is where you would expect to find it. The gear lever position in particular appears to have been carefully considered and is mounted further forward in the centre console. This makes the Patriot feel much more like a car to drive than the long floor mounted levers present in some off-roaders.
Comfort
There are no complaints regarding the Patriot's comfort levels. The adjustable seats are supportive and well shaped and air-con, rear vents, electric windows, grab handles and an adjustable steering wheel as standard across the range with leather, window tints and cruise control added to the Limited model.
Car security
Remote keyless entry is standard on the Patriot and will lock, unlock and alarm the vehicle automatically. Speed sensitive locks will secure the doors once the car is in motion and an engine immobiliser will only allow the engine to run if the correct key is present. An alarm is also fitted standard.
Car safety
The Freedom Drive four-wheel-drive system present on the Patriot offers four-wheel traction when required by monitoring the cars various electronic driving aids. Jeep has designed the system to offer improved stability as well as extra grip and the Patriot uses its rear wheels to aid cornering between 25mph and 65mph. ESP, ABS and electronic roll mitigation, which helps prevent the car toppling in extreme circumstances, is also present. When locked in permanent four-wheel drive, the ABS switches to a different mode that allows material to build up under the wheels to cut stopping distances.
Driver appeal
The Patriot's driving position is excellent, and tuneable thanks to a height adjustable drivers' seat. The steering is sensibly weighted too and feels firm although it doesn't offer a huge amount of feedback. For a sizeable vehicle the handling is neat and nimble and although body roll is present in the bends it's not alarmingly spongy. The motorway ride is hard to fault.
Family car appeal
Jeep's target market include families seeking to upgrade from a hatchback or small family car. Clearly, the Patriot hits all the right spots in terms of practicality, safety and diesel economy so should prove a worthy family vehicle. An exceptionally reasonable asking price could seal the deal.
First car appeal
An unlikely choice for a first car, but the Patriot is Jeep's entry-level model and is priced similarly to a medium sized hatchback. It's more likely that the Patriot will appear on the customer radar as a first family car.
Quality and image
Although the Patriot is impressively tough, it's let down by the quality of the interior materials. Granted, it's not an expensive vehicle and easy wipe down plastics are the order of the day for a genuine off-road vehicle, but some of the plastics used feel a little thin and cheap and would be easily scratched or gouged. It is stuck together well though, with no creaks or rattles on the move.
Accessibility
The Patriot doesn't have a particularly high ride-height, so access is much like that of a car with the additional benefit of a higher roofline. Stubby doors mean easy access in tight parking spaces and grab handles are included on all models as standard.
Stereo and ICE (In car entertainment)
A four speaker, single slot CD and radio unit comes as standard kit, but music lovers and picnic goers will want to opt for the premium system with a six-disc CD changer, eight-channel amplifier, nine speakers and articulating liftgate speakers that fold from the boot door to provide a makeshift PA system on location.
Colours and trim
Purchase the Patriot in Black Clear Coat and your neighbours will think you're the FBI. If you prefer to be less conspicuous red, green, silver and blue are also available. The Limited models come with two-tone leather as standard. Entry-level Sports have Yes Essentials easy-clean cloth. All versions feature plastic dash and centre console designs.
Parking
Huge mirrors and a boxy shape make the Patriot relatively easy to reverse for a car of its size. It's manoeuvrable too, thanks to nicely weighted power steering. Unfortunately, parking sensors do not appear to be available.
Spare wheel
Space saver fitted as standard on Sport models, full size spare as standard on Limited models.
Range information
Petrol engine options - 2.4-litre (168bhp). Diesel engine options - 2.0-litre (138bhp). Transmission options: five-speed manual gearbox with 2.4-litre petrol engine, six-speed manual gearbox with 2.0-litre diesel engine, CVT automatic transmission with 2.4-litre petrol in Limited trim. Trim levels: Sport, Limited.
Alternative cars
Toyota RAV4 Family favourite SUV now in its third generation
Honda CR-V Another practical and bullet proof Japanese contender
Nissan Qashqai New kid on the block is roomy and nimble
Mitsubishi Outlander An extra row of seats helps the Outlander to go a long way