May 2007
Jaguar XJ XJ 2.7D Sport Premium
Chunky front spoiler with revised grille and side vents are more aggressive than the previous design
May 2007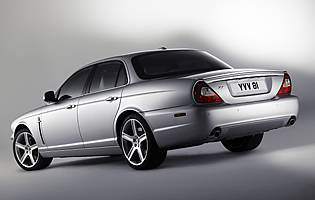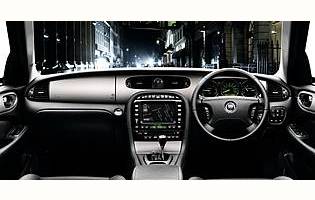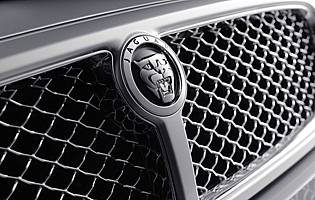 Overall rating

Likes:
Very quiet, with minimal road and engine noise
Wonderfully smooth transmission
Beefier looks are more eye-catching
Excellent handling for a car of its size
Gripes:
Armrest is not much use for shorter drivers
Huge wheels and low profile tyres make sharper potholes more noticeable
High boot floor limits space
Lack of a footrest for redundant left leg
The aluminium body, impressive engines and sumptuous interiors remain but the 2008 model year XJ has been restyled to ensure it still gets noticed among increasingly modern looking opposition. Jaguar's flagship executive saloon has always had plenty of presence and an aggressive facelift ensures it retains its grandeur without becoming stodgy or old.
The XJ has been the quintessential British executive saloon since 1968 and despite being in its seventh generation has never really seen big advances in the styling department. Sure, it's become progressively more modern as the decades have passed but the basic lines have always remained with redesigns moving forward in small steps, rather than giant leaps.
It's no accident; the Jaguar name is as much about heritage as it is the quality of the company's current models and its customers continue to love the steadfastly traditional space, grace and pace values. Despite that, the cars still need to look and feel modern, which is where this car comes into its own.
In the XJ, Jaguar manages to mix leather interiors and classic lines with aluminium and electronic toys as successfully as Star Wars mixed sword fighting with spaceships. The refreshed car's basic shape is the same as that of the new XJ first introduced in 2003, itself very similar to the previous generation, but now features chunkier front and rear bumpers, aggressively styled front grilles, XK-style vents behind the front wheels, turn indicators relocated to the door mirrors and a stylish full length signature blade beneath the new boot lip spoiler.
Once again Jaguar has made a few alterations go a long way and the face-lifted XJ is instantly recognisable as such, making the previous version look dated. The excellent range of engines is carried over including the world-beating diesel that's as refined as any of its petrol contemporaries, the interiors are as well equipped and luxurious as ever and the handling, aided by the all aluminium body, as nimble as a car half its size.
Our verdict on the Jaguar XJ XJ 2.7D Sport Premium
It was hard to fault the new XJ when it was launched in 2003 and it's hard to fault it in 2007. Undercutting most of the competition in price it now boasts sharper looks that make it less of a conservative choice. With an engine line-up ranging from the frugal diesel to the fantastic supercharged V8 it should not be dismissed as the old man of the premium sector.
Costs
Significantly undercutting the opposition on price is a Jaguar forte, and the company claims the XJ's residual values are stronger than BMW's and only slightly behind Mercedes' too. No XJ is cheap to run but the diesel offers decent fuel economy coupled to good performance and even the XJR keeps its nose above 20mpg on the combined cycle, thanks in-part to its lightweight aluminium construction.
Space and practicality
There's no shortage of room inside the XJ, especially as the redesigned front seats afford more space for rear passengers to stretch into, but it doesn't feel as big inside as it looks from the outside and loses out to the premium Audi in spaciousness. Likewise the boot is big enough for a weekend away but without the high floor and strange shape would have taken an extra suitcase or two.
Controls and display
With so many toys there's no escaping the myriad of buttons but they're mostly well placed and easy to decipher - those on the centre console are particularly well suited to podgy fingers. The small cluster above the right knee requires you to take your eyes of the road to use though, being slightly angled away from your line of sight. Dials are clear and easily read, while the steering features variable power assistance to firm it up at speed. The much loved J-Gate shifter will be second nature to Jag fans and slips into gear with practiced fluidity.
Comfort
As you'd expect the XJ's comfort levels surpass the norm. The interior is decadently plush with heated seats as standard and features like air-cooled front seats adding to the stately ambience. Extra legroom has also been found for the rear passengers while headroom is copious all-round. Shorter drivers might be annoyed to find their elbows in the cup holder rather than on the armrest however, and the lack of a place to rest your left foot is a minor irritant. Air suspension makes for a wonderfully cushioned ride and road noise is minimal, but large wheels and low profile tyres occasionally pick up on the harsher bumps.
Car security
Naturally, remote central locking alarm and immobiliser are present to watch over your investment. The standard security features also include ultrasonic glass breakage and intrusion sensors and automatic locking of the boot and doors once on the move. JaguarWatch is also an option; the system will track stolen vehicles across Europe by satellite.
Car safety
The basics are there: huge brakes capable of hauling the XJ's considerable bulk to a halt with ease and a rigid aluminium monocoque. Standard electronic aids include Dynamic Stability Control, Emergency Brake Assist, Computer Active Technology Suspension, Advanced Restraint Technology System, Whiplash Reduction System, a full compliment of airbags and rain sensing wipers. A Tyre Pressure Monitoring System is also available as is Adaptive Cruise Control that will maintain a safe distance from the car in front.
Driver appeal
All of the engines are excellent performers, with the XJR's 4.2-litre supercharged effort leading the charge for outright grunt. The diesel is the real star of the show with plenty of get up and go and tremendous torque. Thanks to electronic engine mounts that vibrate to counter the engines own movements it is as smooth and refined as any petrol unit. Cornering stability is excellent and the XJ feels as surefooted, nimble and quick on the twisty stuff as it does in a straight line.
Family car appeal
While the XJ would certainly make comfortable the act of shifting the family across continents on holiday, it would look more at home parked on the gravel outside a manor hotel than the gravel in a zoo car park. Limited boot space and expensive, easily marked leather would put most parents off.
First car appeal
The XJ is unlikely to be on the shopping lists of young drivers. Anyone wealthy enough to consider one at an early driving age is likely to want something more Porsche shaped. Super-rich teenage glitterati might consider a long wheel base version for arriving, chauffer driven, at film premieres, though.
Quality and image
The XJ's near perfect kerb appeal could only be tainted by a slightly fuddy-duddy image. The macho redesign should address that and ensure the big cat also appeals to the younger executive. There's little doubting the quality - enough years in production has allowed Jaguar to iron out any niggles from the platform.
Accessibility
Big doors, lowered sills and plenty of headroom make the XJ a breeze to get in and out of. The front seats have been redesigned with slimmer backs to afford the rear passengers even more legroom, so the less limber will enter and exit with ease.
Stereo and ICE (In car entertainment)
Touch screen sat-nav, independent headrest video screens for the rear passengers, JaguarVoice voice control for the sound system, telephone and sat-nav, a twelve-speaker 320watt sound system with CD changer and Bluetooth connectivity for up to five phones are all present or available as options depending on the trim level. Neither driver nor passengers should have an excuse to be lost, bored or out of the loop.
Colours and trim
Garish simply isn't an option with the flagship Jag, the most outrageous colour available is probably the BRG variant Emerald Fire - other, mostly metallic options ooze fine breeding. Likewise, interior choices are classy but luxurious. Two shades of wood trim are accompanied by a more modern aluminium variant, the leather can be had in three subtle shades and the finishing trim also comes in three colours.
Parking
The XJ is a big car but a boxy shape and lack of flares means it's simple to slot into a space assuming you can find one big enough to begin with. Reversing sensors come as standard on all models for those who don't want to crane their necks while front sensors are also standard on the Sport Premium model tested. Variable assist power steering is super light for low speed manoeuvring.
Spare wheel
Space saver fitted as standard.
Range information
Petrol engine options - 3.0-litre V6 (240bhp); 4.2-litre V8 (300bhp); 4.2-litre supercharged V8 (400bhp). Diesel engine option - 2.7-litre twin-turbo V6 (204bhp). Transmission options: six-speed automatic gearbox. Trim levels: Executive, Sport Premium, Sovereign, XJR, Daimler Super 8. Long wheel base models also available.
Alternative cars
Audi A8 Smart and functional but lacking in charm
BMW 7 Series Flashy and well-built but with lower residuals
Mercedes S-Class Not short on toys, much higher asking prices
Lexus LS Newcomer is pricey but exclusive and pretty