December 2015
Jaguar XJ LWB Autobiography 3.0 V6 300
Updated styling differs little from the 2015 model
December 2015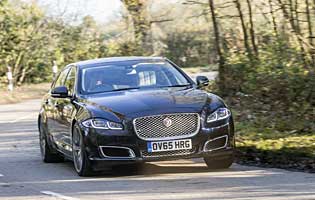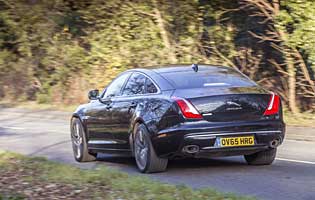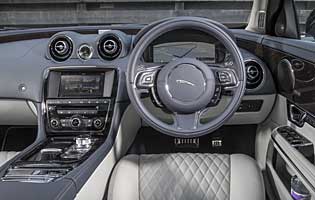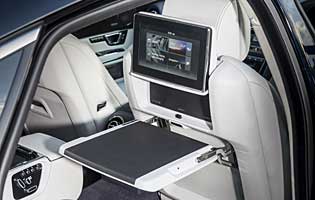 Overall rating

Likes:
Strong engine gives powerful and smooth progress
Sublime seats give high levels of comfort
New media interface is easy to use and clear
Dynamic handling rivals the class best
Gripes:
Large wheels are necessary for looks but detract from ride quality
Front seats have no gaps beneath for rear passengers' feet
Difficult to match official fuel economy
General Jaguar reliability still in question
Jaguar felt that its XJ range needed a new flagship trim level; something that could rival the most luxurious options from its German and Japanese rivals. Taking a name already used by high-end Range Rovers in the firm's sister brand Land Rover, the XJ Autobiography was a natural fit. Comfort and luxury are priorities here.
Jaguar is doing well with its newest models and to keep pace it had become plain that the XJ needed some mid-life upgrades. While its dynamism and performance have never been anything other than at the top level for the class, its infotainment interface, including the screens through which music is displayed, was sub-standard.
This has been addressed with a new colour touch-screen with Jaguar's latest InControl Touch Pro software, combining navigation, music playback and more into a very up-to-date package that's easy to use on the move. Meridian Audio still supplies the speakers, amplifier and digital music handling software that helps make the XJ an outstanding listening space.
Few changes have been made to the exterior other than to further bring the XJ into line with Jaguar's evolving but distinct family styling. Likewise little has been altered for the engine range, which still runs from a 3.0-litre diesel V6 to a supercharged 5.0-litre V8 petrol. There is ample performance at both ends of the scale.
Autobiography trim, in long-wheelbase only, is for those buyers who place creature comforts above outright speed, though. Screens behind the front headrests offer a directly controllable interface for rear passengers, and there are Jaguar-branded wireless headphones that sync to each screen so that two people can watch or listen to different things without disturbing each other or the driver.
Our verdict on the Jaguar XJ LWB Autobiography 3.0 V6 300
The XJ is a lovely environment to be in, regardless of which seat. It has a remarkable combination of relaxed, wafty power and highly comfortable seats. The new infotainment systems add a touch of the here and now to the car without fundamentally changing the ownership or driving experiences. While there are one or two niggles with parts of the car's interior design, it's excellent to drive.
Costs
The XJ is priced to compete directly with its rivals, but the Autobiography version in particular sees few expenses spared in pursuit of greater luxury. As such there are cheaper ways to buy into the model. The 3.0-litre diesel should be the most economical engine choice but in practice it is difficult to get anywhere close to the official fuel efficiency figure. The XJ will lose a lot of money in depreciation, but should stay desirable in the UK.
Space and practicality
There is a big boot, as expected for a car of this length, but it has a step half way back along its length to accommodate the drivetrain to the rear wheels. That makes pushing heavy bags to the rear of the boot difficult at times. The rear wheel arches also intrude quite heavily on the width of the load bay, but this is par for the course in this class. There are useful cupholders for all seats in the cabin.
Controls and display
The main story here is the new InControl Touch Pro infotainment screen in the upper centre console. Its home screen is divided into four clear sections that allow easy navigation to any given feature. As with all such systems it takes a little time to become fully familiar with it, but it works well. The rotary gear selector rises from the lower console and acts to switch between park, neutral, reverse and drive. There is a button behind it to change the driving mode.
Comfort
The driver and front passenger have a very good deal, with chunky and comfortable seats that boast multi-way electrical adjustment and large side bolsters that keep sitters stable through bends. The leather upholstery is supple and almost delicate to the touch. While there is more rear passenger space in this long-wheelbase Autobiography model, the front seats have no gaps beneath them for shoes to slide forwards into, effectively reducing legroom.
Car security
Although the XJ is a fantastically expensive car, its security measures are mainstream even for a car a fifth of its price. An alarm and immobiliser are standard, the remote central locking can be activated either from the key or with keyless entry, via a button on the door. Deadlocks can be activated with a double-press and the doors can be programmed to lock automatically when setting off on a journey.
Car safety
For 2016 the XJ moves to full LED headlights, with a smoother beam pattern a more natural light colour that allows objects to be recognised more quickly. The car's multimedia systems include SOS Emergency Call, which, unless deactivated manually, sends an alert to the emergency services immediately after a crash. Cleverly, the front seat belts also have technology to mitigate the restraint applied in a crash, reducing the chances of whiplash.
Driver appeal
Jaguar claims the 3.0-litre diesel V6 produces more torque than the supercharged petrol V8, and while it doesn't quite feel that strong on the road its rapid response and remarkably linear power delivery provides impressive performance - more than most potential owners will need. It turns into corners accurately and with poise, proving itself to have a natural, forgiving and enjoyable handling balance.
Family car appeal
Although it's only a four-seater, the XJ Autobiography could make a handsome choice as a family car for anyone whose drive is large enough. A small step in the boot could become an irritation for getting buggies in and out, and only quite compact pushchairs are likely to fit both between the wheel arches and within the available height with ease. The XJ is hardly budget-friendly, though, and the high-end leather materials are vulnerable to damage.
First car appeal
As Jaguar's largest car it would be tough to make any case for the XJ as a first car. It is a great deal longer than the cars learners will have practised in, too, and would be overwhelmingly so without spending plenty of time in large family cars first. There is also the purchase price and insurance costs, both of which would be prohibitive for young or inexperienced drivers.
Quality and image
From the first moment of stepping into the XJ the perception of quality speaks for itself. High-quality leathers cover many of the larger surfaces, with wood veneers and lush carpets taking care of the rest. There is a little plastic to be found here and there, but it's nice enough not to worry about. Jaguar's image is, for obvious reasons, very strong in the UK and its cars stay desirable even well into their used lives.
Accessibility
A long body means long doors, which on one hand give a broad aperture through which to step and on the other hand makes it difficult to open any of the doors to open to a resting point before hitting adjacent objects. The seats are on the low side, especially for anyone used to crossovers or SUVs, but not so much as to cause big problems for mobility-restricted occupants.
Stereo and ICE (In car entertainment)
With speakers placed all around the cabin in the most ideal positions according to the acoustics experts at Meridian Audio, the standard stereo does an ample job of filling the car with high-quality sound. There is an expensive upgrade with full surround-sound capability and more power if desired. Bluetooth, CD, USB and DAB inputs are all standard-fit.
Colours and trim
Sobriety is the theme for the XJ's paint colour palette, with only muted colours available alongside the traditional black and silver favourites. At least there is a good selection of shades at no extra cost. The interior trim can be switched between pale and dark; black and beige, with light creamy grey among the other options. The sense of quality is very high throughout.
Parking
The XJ is a long car and its expansive footprint quickly makes itself felt in car parks. Some turns simply aren't possible in a single bite so tighter multi-storeys might be off-limits. Visibility is not great unless a driver lifts the seat up a long way, which in turn negates some of the sporty, dynamic feel unique to the XJ, and the partnership of proximity sensors and a reversing camera is much-needed.
Spare wheel
Emergency tyre repair kit supplied as standard.
Range information
Petrol engine options - 3.0-litre (336bhp); 5.0-litre (543bhp). Diesel engine options - 3.0-litre (296bhp). Transmission options: Eight-speed automatic gearbox. Trim levels: Luxury, Premium Luxury, Portfolio, R-Sport, Autobiography, XJR.
Alternative cars
BMW 7 Series Class-leading in corners and with cutting-edge technology
Mercedes-Benz S-Class Broad variety of engine options with highly advanced safety kit
Lexus LS Supremely quiet and precisely made, but less engaging for the driver
Audi A8 Technically excellent but feels less special than rivals