December 2006
Jaguar S-Type R
It might not look it but the S-Type R is a potent performance car
December 2006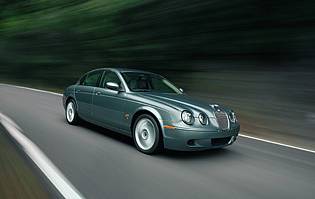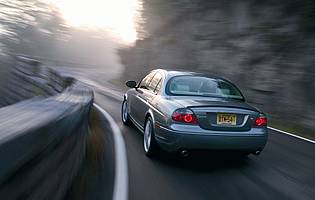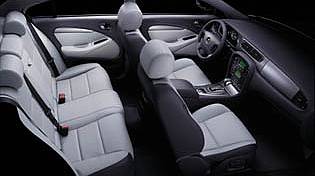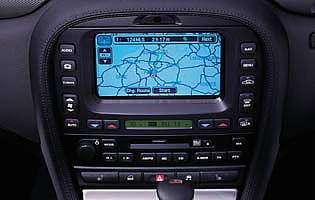 Overall rating

Likes:
Subtle exterior styling belies the range-topping R's performance
Power and torque of supercharged V8 is smooth but potent
Quiet cabin ambience makes for a relaxing ride
After a series of year-on-year improvements, ride and handling now rival the competition
Gripes:
Shallow rear screen and raised tail can make reversing tricky
Low boot height can hinder abilty to load bulky items
V8 thirst is considerable when driving hard
Thick A-pillar and large wing mirror can obscure front side view
Jaguar's S-Type R is something of a dark horse. From a distance it looks like a regular S-Type and even up close there are few clues as to its abilities. However, that's the way buyers appear to like it - subtle yet powerful.
Most people have a soft spot for the Jaguar marque because of its history and heritage. However, several years of over-weight and uninspiring models meant that the Big Cat's reputation took a severe denting. With that in mind, the S-Type R is considered as something of a halo model for the brand, a car that attracts attention by way of its performance even it remains unaffordable to most buyers.
But the R-spec car is anything but a raw experience. With the current S-Type there is a quality feel to this car that was sadly lacking in the cars at the original launch
In high performance form this Jag certainly has the competition a little worried, as its combination of speed and refinement make it a good compromise for executives seeking a thrilling executive saloon. Over the years since the car's launch, subtle improvements both inside and out have helped to further enhance the experience. As such, cars like the BMW M5 and AMG-powered Mercedes models are often mentioned in the same breath as the S-Type, which has to be the highest compliment available.
For all the car's wood and leather, it does have a serious, hard edge when driven enthusiastically. And it's this character that often surprises buyers new to the S-Type experience. It might be available only with an auto gearbox, but it's acknowledged to be one of the smoothest around. The same is true of the car's supercharged V8 engine, which boasts enough power to get you into trouble if you're not careful.
Our verdict on the Jaguar S-Type R
Don't be deceived by this Jaguar's sobre exterior. Underneath its smooth curves lies the heart of a sports car, albeit once boasting comfortable leather-covered seats and a decent sound system. One minute you can pootling around town, the next you can be attacking corners on a trackday. Okay so a circuit drive might be a rare event, be the very fact that the car can cope - even entertain you - speaks volumes for its abilities. And it does so without the need for fancy semi-auto gearboxes or frustrating iDrive-like cabin controls.
Costs
You don't buy a 400 horespower Jaguar then complain about the running costs, which is why it's not really worth discussing the car's modest fuel economy and potential high insurance costs. However, you should be pleased to hear that servicing should be no more than routine and, given the R model's relative rarity, future resale prospects are good.
Space and practicality
With a boot capacity of 400 litres, the Jag offers more than enough space to store shopping and suitcases, although a narrow opening does limit practicality somewhat.However, with the rear seats folded space is increased to a useful 810 litres. Inside, the S-Type's isn't the largest in this class but should prove more than adequate for for people of average build. Rear legroom could be better, though.
Controls and display
The S-Type's fascia is logical in its presentation, with much of the switchgear housed in the central console. The steering wheel-mounted controls for the stereo and in-car telephone are discreetly tucked away on either side of the central hub. The wheel is also electrically adjustable for both rake and reach. The well regarded central touch screen is as good as people say it is - logical, clear and intuitive, and the sat-nav function is easy to programme and responds quickly to route changes.
Comfort
You don't need to be a fan of the marque to know that Jaguar has a reputation for building refined and comfortable cars. The S-Type shames many rivals with its ability to tune out annoying noises from outside, and the Jag's cabin ambience is up there with cars costing six figures.
Car security
All cars come with an alarm, immobiliser and remote control central locking as standard, which should be enough to protect your purchase. Although the R looks like any other S-Type, it might pay to sign up for a tracking device for added peace of mind.
Car safety
As you would expect on a car like this, there are enough airbags in the cabin to protect, within reason, occupants from the hardest of impacts. Electronic aids like ABS and stabilty controls are also present, and they do a good job of reigning in the car's power but without spoiling the driving experience.
Driver appeal
With the S Type-R covering the 0-62mph sprint in a supercar-like 5.3 seconds, it's easy to understand its appeal. Rapid acceleration is accompanied by the dominant whine of the supercharger and the smooth changes of the six-speed auto gearbox. For a car capable of such high speeds, ride comfort is, well, very Jag-like, which means day-to-day driving feels relaxed. But when you want to have some fun the R will always oblige, in a manner that neither intimidates the noive or punishes the advanced driver.
Family car appeal
If you're careful, the S-Type can be a decent family car. It does favour the more grown up family, as the prospect of letting toddlers and even family pets loose in a cabin full of nice leather is best avoided. The boot is fine for the family shopping but it might struggle swalling a pushchair if only because the loading aperture is on the small side.
First car appeal
There will be no shortage of young people drooling over pictures of the S-Type (particularly the R) thanks to, among other things, those big alloy wheels and gorgeous callipers. However, high purchasing costs and group 19 insurance will put paid to many a young heart's desire.
Quality and image
Despite the brand's image, it still has the unenviable task of pinching customers from the likes of BMW and Mercedes, which is no mean feat. And in the executive high performance saloon market, perhaps more so than any other, the big German boys are masters of status. That said, Jaguar's S-Type R is highly regarded by those who value discretion over the hype that surrounds cars like BMW's M5.
Accessibility
Access to the cabin is extremely easy for both front and rear passengers. The large doors and high floor level mean that it is neither too much of a step up or down to gain entry. As is expected from a car in this class, the S-Type R's boot space is ample, although the loading aperature is a little shallow.
Stereo and ICE (In car entertainment)
A decent quality CD player and stereo system, featuring automatic volume control, graces the Jaguar's interior and is located centrally for ease of use. The much praised touch screen Jaguar satellite navigation system continues to impress with its simple controls and large, easy to read screen. An in-car phone is also available on the S-Type's options list as part of the luxury package.
Colours and trim
While the S and SE trim levels make-up the bulk of the S-Type range with their usual array of quality woods, cloths and leathers, the R variant adds a more contemporary feel with different colours and metal trim finishes. The result is a sportier feel to the cabin, but with no loss of refinement. Dark exterior colours (particularly green and black) suit the Jag's retro curves and lines well.
Parking
Parking assist sensors do much to make the experience a straightforward one. You can getaway without their help after a little practice, but the car's nose does slope down dramatically and the view rearwards is hampered by a modest rear window. Thankfully the car's steering boasts plenty of assistance.
Spare wheel
Space saver wheel fitted as standard.
Range information
Engine range: 3.0-litre V6 petrol (240PS); 2.7-litre V6 diesel (206PS); 4.2-litre V8 petrol (300PS); supercharged 4.2-litre V8 (400PS). Transmissions: five and six-speed manual depending on variant, plus option of six-speed auto - standard on V8 models. Trim levels: base, S, SE, Sport, R.
Alternative cars
Audi S6 Conservative-looking Audi is rapid and luxurious in equal measure
BMW M5 Quick 5 Series is a car for the serious enthusiast. Gadget overkill can spoil the experience though
Mercedes-Benz E 63 AMG E 63 successfully blends pace wth grace - a dark horse in this company
Porsche Cayenne Turbo A different type of performance car. Ridiculously quick but surprisingly car-like to drive