April 2007
Isuzu Rodeo Denver Max
In high-spec trim Isuzu's Rodeo is an attractive lifestyle pick up
April 2007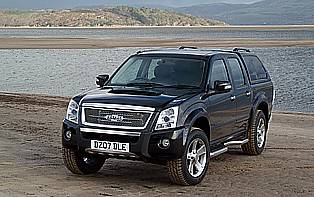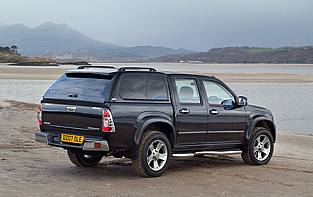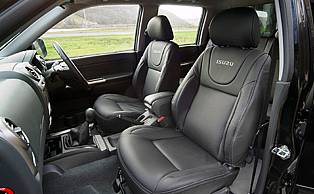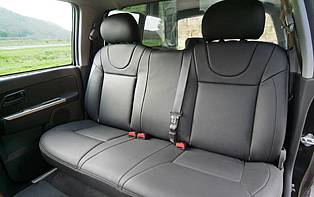 Overall rating

Likes:
Good value for money and thoughtfully well equipped
Exterior styling is pleasant, and not aggressive in the usual 4x4 manner
Cabin offers family hatch levels of storage space
New diesel engine is powerful, flexible and more noticeably more refined than its predecessor
Gripes:
Aftermarket audio units could be more intuitive
Rear seat legroom is modest for large adults
If used as a lifestyle pick up, the Rodeo's open load bay could prove impractical
Ride quality is better when the Rodeo is loaded, and steering can't match the precision of a family car
The lifestyle pick up market has exploded in recent years, thanks in part to an uncharacteristically sensible tax policy and a quantum leap in terms of vehicle refinement. Yet for many these vehicles still need to be able to work for a living. Isuzu's latest generation Rodeo boasts acceptable levels of refinement, space for a growing family and a surprisingly refined diesel engine.
The vehicle that most people credit with kick-starting interest in the lifestyle pick up sector is Mitsubishi's L200. Although a good choice, its success was as much about being in the right place at the right time - a distinct lack of competition certainly helped.
Relatively speaking the sector is now a crowded one, and with a number of largely similar vehicles to choose from it's the details that usually make the difference. Isuzu's Rodeo comes with a spacious load area, decent cabin and is generously equipped. It's not the most sophisticated in terms of ride and handling, but it does now come with a refined and powerful diesel engine.
And it's this inclusion that puts the Rodeo above some of its rivals. Quieter than the previous engine, this unit delivers a lot of its power from low down the rev range, ensuring you're not constantly grappling with the admittedly slow gearshift.
Another not immediately obvious benefit of opting for the Rodeo is Isuzu's reputation. The dealer network might not be the largest, but customer service is very good. In an age where such service isn't always easy to come by this is refreshing. It's also essential if you intend to press the Rodeo into service as a working vehicle.
Our verdict on the Isuzu Rodeo Denver Max
You'd think that if you've driven one pick up you've driven them all, right? That's not actually the case, and Isuzu's Rodeo is a good example. It's not the most car-like, neither is it the most refined, but it does feel capable whatever you throw at it. From a lifestyle perspective it will accommodate a growing family without complaint. While not perfect - like so many by default the load space isn't covered - if circumstances dictated you could only have one vehicle on your drive, this Rodeo is a decent compromise.
Costs
With the tax structure applied to pick ups a less aggressive one than that applied to passenger cars, it's easier and less costly to indulge and spec-up your chosen vehicle. With only a diesel variant offered, there's no chance of wasting money on a thirsty petrol option. Isuzu has a reputation for building solid, reliable products, and it's fair to assume the Rodeo will require only scheduled servicing.
Space and practicality
Leaving the obvious attraction of the Rodeo's considerable load area aside, cabin space is reasonable and there are plenty of storage areas for your belongings. For most people the facilities easily rival that of a conventional family hatchback. The double cab makes the Rodeo more suitable as a family car substitute, and there's much to be said for a hard top to cover the load area on both practical and security grounds.
Controls and display
The main dials in the Rodeo are clear and easy to understand, while the vehicle's minor switchgear is all logically placed and intuitive. The manual gearshift is a little long and slow. The decision to supply a choice of aftermarket audio units hasn't been that successful. Sound quality is hard to fault, but ergonomics and looks are disappointing.
Comfort
Despite the Rodeo's obvious role in life, it can be used every day without much in the way of compromise. Once installed in the cabin, space is not at a premium and the road noise is modest by commercial vehicle standards. The front seats are supportive, while those in the back are unlikely to feel inconvenienced.
Car security
Given that the Rodeo will be a working vehicle for some, it's good to know that your investment will be protected. An immobiliser plus an alarm is standard, along with remote central locking. A hard top cover for the rear might be a useful investment if you need to leave valuable items in the Rodeo when it's unattended.
Car safety
By commercial vehicle standards the Rodeo is well equipped. Twin front airbags are standard, as are anti-lock brakes complete with electronic brake distribution (EBD). Of course, the standard switchable four-wheel drive can't be ignored, whether you use it to traverse challenging terrain or to give you added peace of mind on wet roads.
Driver appeal
As a working tool the Rodeo commits itself well to most tasks. If you're going to be driving it all day, refinement and combating fatigue will be the biggest factors. Thankfully the inclusion of the new engine has improved refinement enormously, with the knock on effect that fatigue is reduced. Ride comfort is reasonable for such an unsophisticated vehicle, with the quality improving when it's loaded. The Rodeo's manual gearshift is a little long and ponderous, but the steering is surprisingly responsive, as are the brakes. All in all, the Rodeo requires little effort to drive, which should please both business and pleasure drivers.
Family car appeal
If you need a pick up for work and can't justify another vehicle for family duties, the Rodeo is a reasonable compromise. The double cab is, obviously, a must. Space in the back will be fine for children, but some adults might baulk at being in the back for long journeys. With family hatch levels of cabin storage space and a decent audio system - in terms of sound if not ergonomics - the overall package is a good one.
First car appeal
While not an obvious first car contender, if presented with a Rodeo to use as part of a work assignment it shouldn't pose too many problems. Judging its size when parking and positioning it on the road shouldn't take long, and it's not as if the vehicle is especially quick - thus further reducing any potentially embarrassing mishaps.
Quality and image
Isuzu's Rodeo enjoys a loyal following, and with good reason. A durable product, the Rodeo is good value for money, reasonably refined and well equipped. Dealer service is noted to be very good, which is an important consideration if the vehicle is an integral part of your business.
Accessibility
Predictably for a vehicle of this type, you need to be reasonably agile to get in and out of the Rodeo's cabin, as its ground clearance is understandably high. At the rear, the Rodeo's load bay is accessed via a flip down tailgate. Again, you'll need to be agile if you want to load and unload items - especially from the area nearest the cab.
Stereo and ICE (In car entertainment)
Standard fare is a perfectly serviceable audio unit, in so much that sound quality is good. Isuzu UK policy is to source aftermarket units, with the result that some look out of place in the Rodeo's fascia. Also, some options boast poor ergonomics, while the sat-nav unit could be more intuitive.
Colours and trim
Wearing its lifestyle hat, the Rodeo looks good in Isuzu's selection of exterior colours. The various chrome trim elements also work well, and the overall look is neither gaudy nor offensive. Inside, the Rodeo is a little more utilitarian, which is to be expected given its role in life. Disappointingly, the leather option isn't terribly convincing but it does look durable.
Parking
With its lofty driving position, forward visibility in the Rodeo is good. You're helped further by the generous size of the rear view mirrors. Reverse parking does require some practice though, as the Rodeo's considerable rear overhang must be taken into account. Thankfully the vehicle's steering is light and responsive at low speeds.
Spare wheel
Spare wheel is slung underneath the rear of the vehicle.
Range information
Engine option: 2.5-litre (134bhp) diesel. Five-speed manual gearbox is standard, plus switchable four-wheel drive. Trim levels: Rodeo, Denver Max.
Alternative cars
Ford Ranger Rugged and tough performer is good value but powerful engine can sometimes overwhelm the chassis
Nissan Navara Refined and capacious pick up is good to drive but a little on the large side
Mitsubishi L200 Popular L200 is good value in this company but isn't the most refined in this class
Toyota Hilux Refined, well-developed pick up comes with powerful diesel engines. Toyota's reputation a major plus point