September 2004
Hyundai Tucson 2.7 V6 CDX
Design is tidy but lacking individual character
September 2004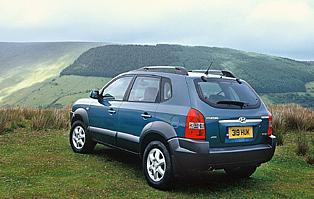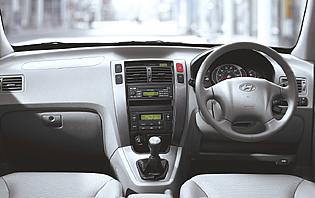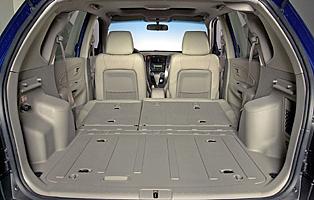 Overall rating

Likes:
Extremely well equipped as standard
Rear seats fold completely flat
Unbeatable five year warranty
Full size spare wheel provided
Gripes:
Interior build quality questionable
Styling tidy but quite bland
Lacks clout of premium badges
Load cover poorly designed
Having scored big hits with its mid-sized Santa Fe and full-sized Terracan off-roaders, Hyundai hopes it can capture a large slice of the entry-level 4x4 market with the Tucson.
On paper, Hyundai has every chance of succeeding. As well as being competitively priced and offering a small but clever spread of engines, the Tucson comes complete with Hyundai's major attraction - a five year warranty that is far longer than the industry norm.
Though it fulfils its stated purpose of off-roader status at an affordable price, the Tucson is not a particularly original or exciting vehicle. Stylistically it owes a great deal to Toyota's seminal RAV4, the car that created a new market niche but is hardly in the first flush of youth. The Tucson's main aim seems to be to give the RAV4 experience while saving a few pounds.
However, the Tucson's cabin fails to match Toyota build standards, and borders on the bland. It is well equipped though, and buyers do get a decent amount of car for their money. They can park next to a Land Rover Freelander or Nissan X-Trail on the school run without fear of being laughed at. The role of 4x4s as status symbols should not be underestimated.
The Tucson does possess a modicum of off-road ability and has more generous ground clearance than might be expected, though it is no gritty rock hopper, lacking a low range gearbox and other driver aids. On the road it is reasonable, and 2.7 V6 petrol units are even quite rapid, but unlikely to be popular in the UK market which should be dominated by the 2.0-litre diesel model.
Our verdict on the Hyundai Tucson 2.7 V6 CDX
Hyundai's Tucson offers nothing new when compared to its rivals - other than improved value for money. And that is more than enough to make it worth a test drive for anyone looking for a low-cost off-roader.
Costs
There's no question that the Tucson offers good value for money, particularly when the five-year warranty is taken into account. That said, it's not much cheaper than the slightly larger but much more distinctive Santa Fe, so buyers may like to consider that model, too. Hyundais are generally reliable and servicing costs are low. It is also worth noting that the fuel consumption of the petrol engines isn't hugely inferior to that of the diesel.
Space and practicality
Rear seats fold completely flat and the Tucson's count of useful storage areas and pockets is high, with the frontal underseat drawers, cargo net and overhead console particularly useful. With seats collapsed, a large load area is created, though the floor is partly formed by a flimsy-feeling plastic panel. A clip-on rear load cover split down the middle is very unsatisfactory and is a poor piece of design.
Controls and display
Looking like they have been transposed from a cheap saloon car, there is a distinct lack of appeal as far as instruments and switchgear are concerned. Made from brittle-feeling plastics they are easy but uninspiring to operate and fail to give any of the roughty-toughty feel that SUVs traditionally aspire to. The gearstick is symptomatic, with a non-tactile plastic cap and a plastic surround that wobbles when pressed.
Comfort
Happily, the driver's seat is adjustable for height - an important but often overlooked feature in cars of this type. It should also be noted that like all brand new Hyundais, the Tucson exudes an overpowering and unpleasant smell of plastics and polymers. Road and wind noise is suppressed effectively. The cabin is laid out intelligently with lots of leg and headroom for all occupants.
Car security
Remote central locking is backed up by an alarm and immobiliser - a fairly standard package, in other words. Despite the provision of a rear load cover, it is so poorly designed that thieves could easily peer into the boot.
Car safety
The Tucson is the first Hyundai to gain six airbags: front bags for driver and passenger, side airbags in the front and side curtain airbags which deploy from the roof trim. This is a more comprehensive arrangement than many more expensive 4x4s. All five seats feature three-point belts and electronic safety aids include anti-lock brakes, traction control, electronic brakeforce distribution and childproof door locks. Unexpectedly there's also an underbody skid plate protector - good news when on off-road or speed bump duty.
Driver appeal
Most of the time, the Tucson operates in 2WD mode, but automatically switches to 4WD when it detects worsening conditions. The driver can manually select permanent 4WD via a dashboard switch, a useful tool in wet or icy conditions. On the road the Tucson feels larger than it actually is - which is either good or bad, according to taste - and has a solid, dependable and completely unexciting demeanour. The 2.7 V6 makes a great sound and feels classy, the 2.0 diesel makes most sense and the 2.0 petrol feels slightly ill at ease in the Tucson.
Family car appeal
Inevitably, most Tucsons will find homes on the driveways of suburban families, for whom it fits the bill very well. It will look the part on the school run, on the playing field and on a weekend away in the mountains or at the beach. The interior might suffer over the years, but at least the kids will only be crayoning cheap plastic instead of expensive alcantara.
First car appeal
A new driver with a yearning for a 4x4 could do worse than invest in a Tucson, given its lengthy warranty and low cost price. However, it's not a car in which to learn off-roading skills or indeed subtler driving skills of any kind.
Quality and image
Few areas of the market are as image conscious as the world of 4x4s. Hyundai is most famous as a value-for-money maker, and the badge lacks the clout of Land Rover or Jeep but it does have a certain honest appeal and the Tucson doesn't look crude. The imprecise mouldings and occasionally flimsy plastics of the interior are the clearest indication that the Tucson isn't actually the high-quality product that it appears to be.
Accessibility
With five doors that open wide and aren't too heavy, the Tucson offers excellent accessibility. The tailgate has similar virtues, plus the ability to open either the whole door or just the glass panel, in true SUV fashion.
Stereo and ICE (In car entertainment)
All models have an RDS radio/CD with four speakers. A DVD multimedia system can be selected from the optional extra list, as can SmartNav satellite navigation.
Colours and trim
Two trim levels divide the range; basic-spec GSI and more luxurious CDX. The level of equipment provided is impressive with even entry-level models arriving with alloy wheels, air conditioning, roof rails, mud flaps, electric mirrors and windows, electric tilt and slide sunroof, load cover and luggage net. Metallic or mica paint does not come as standard, but that's not such a drawback as basic black is perhaps the most attractive colour for the Tucson.
Parking
SUVs are rarely easy to park, but because it is one of the smaller examples on the road, the Tucson doesn't fare too badly. Rearward visibility is problematic as a result of the enormously thick rear pillars. Parking sensors are not offered.
Spare wheel
Full size spare wheel is provided.
Range information
Tucson buyers have the choice of three engine types; 2.0-litre petrol (140bhp); 2.0-litre diesel (111bhp) and 2.7-litre V6 petrol (173bhp). Transmission choice is limited to five-speed manual for the 2.0 petrol, four-speed automatic for the 2.7 V6 petrol and either for the 2.0 diesel.
Alternative cars
Kia Sportage Similar formula based on same chassis as Tucson
Toyota RAV4 Ubiquitous and ageing yet still a strong package
Honda CR-V High quality at lowish price. Minimal off-road ability
Subaru Forester Underrated, though looks more like estate than SUV