August 2004
Hyundai Terracan 2.9 CRTD Manual
The Hyundai Terracan offers an affordable entry to the large 4x4 market
August 2004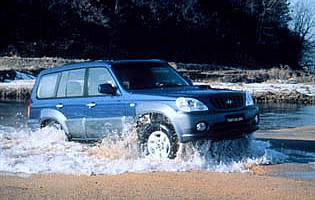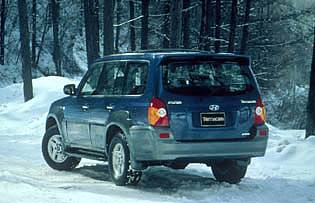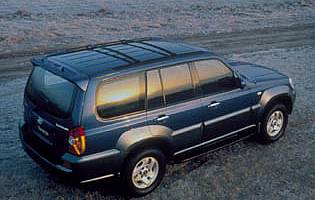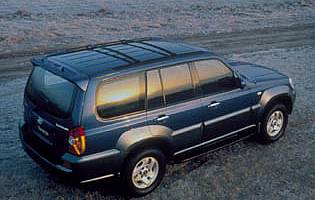 Overall rating

Likes:
Unexpected extras for free thanks to generous specification
Engine ideally suited to this sort of vehicle
Terrific value for money
Warranty marks it ahead of comparable rivals
Gripes:
Auto gearbox has tendency to 'search' for gears
Low ratio mode quickly empties fuel tanks
Rear axle impairs off-roading ability
Comes complete with headache-inducing smell when new
If getting the maximum amount of metal for your money is an attractive proposition, you'll fall in love with the Hyundai Terracan. Its appeal is obvious; it's big, tough and comparatively cheap.
Rather than complicate matters, Hyundai has kept things simple with the Terracan. The only available engine is a 2.9-litre turbodiesel, and happily it is more than adequate, combining the requisite muscle needed to move this heavy vehicle in a convincing manner with respectable fuel economy. Traditional body-on-frame construction ensures it has enough backbone to cope with rough treatment on uneven surfaces.
There's no quibbling about specification levels either, as every Terracan shares the same trim level. What the Terracan lacks in premium grade interior materials it more than makes up for by providing a long list of standard equipment that is strong on lifestyle features. The interior feels like it will not quickly become shabby.
Forget about messing around with 'soft-roader' styling here. The Jeep-like front grille and Shogun-like bonnet mounted air intake signal that the Terracan is a brawny bully of a vehicle that expects to be worked hard. It's imposing but far from ugly and the exterior design stands comparison with much more expensive models such as the Toyota Land Cruiser Amazon and Mercedes ML-Class.
Interior space is huge in all dimensions and rear seats are easy to fold. Once they're down - which is frequently be the case with working vehicles like this - an adult can lie on the loadbed without getting his feet guillotined by the vertically opening tailgate. Numerous mooring points allow awkward loads to be safely secured.
Only the low positioning of the rear axle impairs the Terracan's off-road ability. Inevitably its size and particularly height count against it on the open road, but it is a long way from being the worst-driving 4x4 currently available.
Our verdict on the Hyundai Terracan 2.9 CRTD Manual
As a no-nonsense four-wheel-drive car for a working environment, the Terracan is an excellent proposition made even better by its warranty. It will never attract the fashion-conscious customer, but it's not supposed to.
Costs
Hyundai's famous five-year warranty is an important factor in attracting buyers to its cars, and an even more crucial in the 4x4 market. The Terracan is likely to be worked pretty hard, so having five years' worth of cover is hugely reassuring. Fuel consumption is better than might be expected at around 32mpg, though automatic models are four mpg thirstier. For such a large and heavy vehicle, that's not bad at all and rather better than some more compact competitors. Given the robust, straightforward construction model used, reliability shouldn't be a major concern.
Space and practicality
Available space is enormous. Just as importantly, it's virtually all easily utilised, from the well-proportioned storage bins surrounding the front seats to the absolutely cavernous boot, with minimal intrusion from what are substantial suspension struts. Rear seats fold easily enough and even if they don't go completely flat, this is unlikely to be a major impediment to lugging a large load.
Controls and display
Though easy to read and operate, it must be admitted that dials, switches and instruments are hardly a feast for the eyes. Cheapish plastic dominates the cabin, enlivened only by a central panel of particularly unconvincing fake wood. Still, elegance and aesthetic appeal is unlikely to be high on the list of priorities for owners. The simple fact that they have chosen a Terracan proves that they value function over form, so they can get the interior as muddy as they like, confident that it will wipe clean with no problems. The standard black fabric interior as arguably easier on the eye than the grey leather upgrade.
Comfort
Upholstery may not be of the highest standard but is adequate. Seats could do with a bit more lateral support and firmness. Space is not a problem in the front or the back. Noise and vibration levels are reasonable considering the large diesel lump up front and the stresses placed on body panels. As with some other Hyundais, new vehicles do seem to possess an unpleasant 'plasticky' smell that could make the first few months of ownership irritating.
Car security
Remote central locking, alarm and immobiliser are all standard, but that's your lot. In truth few thieves are going to try and sneak away with such a noticeable low-cost vehicle, so the main risk is probably from opportunists who may see something they fancy in the load area. A useful retractable load cover helps to keep temptation at bay.
Car safety
The Terracan's size can be either a help or a hindrance when it comes to safety. It is certainly tough and should stand up to an impact quite well, but whatever it hits may not be so lucky and it lacks the manoeuvrability of some rivals. Anti-lock brakes with Electonic Brakeforce Distribution help counter momentum. Driver and front passenger airbags are standard, but there are no head or side bags. In the back two three point seatbelts are provided along with one less satisfactory central lap belt.
Driver appeal
Though at its best in off-road situations, the Terracan is far from crude on asphalt. At speeds of up to 50mph, the driver can switch between economical two-wheel-drive (rear wheels) and grippy four-wheel-drive by means of a dash-mounted switch. Inevitably the Terracan exhibits a slight roll through fast corners, but it's nothing to get worked up about and the vehicle feels stable. Off road the Terracan is impressive even with road tyres on. The low ratio box mates well with the torquey engine so that ruts and potholes offer few challenges. However, ground clearance isn't as generous as might be assumed from the Terracan's size and the underfloor skid plates are called into use a little too often for complete confidence.
Family car appeal
A farm-dwelling family could make good use of a Terracan as a working vehicle and a people mover for people who have to move over rocks and ruts on a daily basis. There's even room for a couple of sheepdogs in the back - and a dog guard is among the short list of optional extras.
First car appeal
Few first-timers will value the Terracan's size and spaciousness. It's a far from ideal introduction to road driving though it could usefully serve to instruct a novice in the arcane mysteries of off-roading.
Quality and image
Hyundai is regarded as a value for money brand, and it's as a value for money purchase that the Terracan makes its play. It completely lacks the 'pose factor' of big 4x4s like the BMW X5 and Mercedes ML and fails to match the Land Rover Discovery and Toyota Land Cruiser for clout among the 4x4 fraternity. Yet in its own way, the Terracan's salt-of-the-earth honesty is rather appealing.
Accessibility
Not everyone will find it easy to get into a Terracan, as driver and passengers genuinely do need to climb up into the cab using the side steps. Grab handles are provided to assist and need to be used. Similarly, lifting heavy items into the boot could be a back-straining exercise. Further injury is possible when using the rear tailgate. The gas struts on the tested car offered too much assistance, so that the whole door shot up very quickly. Catch it on the chin and you'll be out cold.
Stereo and ICE (In car entertainment)
All Terracans come with an RDS stereo CD player/radio with six speakers. It may not be a particularly impressive one, and is difficult to use with numerous fiddly buttons that are impossible to press when on the move, but it's a fine performer for when you slog through forests and swamps in a backwoods fashion. If you want something more serious, you'll have to go aftermarket.
Colours and trim
External colour options are extremely limited, running to just three choices: standard black, and optional metallic silver or blue. At a glance the Terracan may look a little Spartan, but in fact it is well equipped with unexpected items such as front foglamps, leather steering wheel, driver height and lumbar adjustment, roof rails, climate control and heated door mirrors coming as standard. Build quality is good despite the bland interior styling.
Parking
Reverse parking sensors are an optional extra. If the Terracan is to spend much time in the city - or reversing in forests - then they could make a sound investment, but the vehicle's straight-backed design means that judging where the rear bumper is located doesn't involve too much guesswork. Steering is light, so as long as you can find a space big enough, parking needn't be as much of a problem as might be imagined.
Spare wheel
A full size alloy spare is slung beneath the rear of the Terracan. While it helps reduce the external dimensions of the vehicle, it doesn't help the limited ground clearance.
Range information
Only one engine and one trim level are available. The 2.9-litre turbo diesel unit produces 148bhp and has plenty of torque. Transmission choice consists of a five-speed manual gearbox or four-speed automatic, both with selectable low ratio settings for off-road use.
Alternative cars
Kia Sorento Marginally more stylish with equally impressive equipment list
Nissan Terrano Worthy, reliable and cheap, though very dated these days
SsangYong Rexton Even more imposing than Terracan. 270 auto model is worth a look
Suzuki Grand Vitara Not as large as name would suggest but undeniably cheap