May 2012
Hyundai i30 Style 1.6CRDi 128PS Blue Drive
The i30 is well proportioned and stylishly angular
May 2012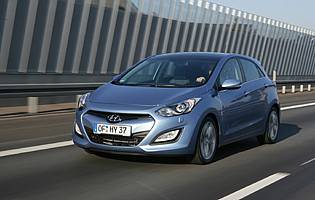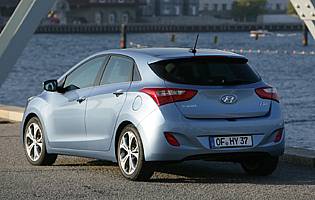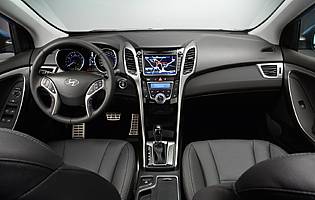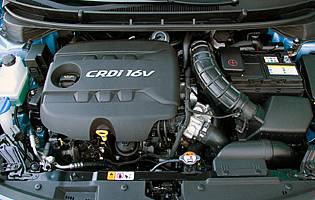 Overall rating

Likes:
Stylish both inside and out, the i30 is one of the best-looking in the sector
Good levels of standard key equipment in mid-range models
Engine choice offers financial flexibility for low- and high-mileage drivers
Raised build quality gives consumer confidence and ownership satisfaction
Gripes:
Small wheels on all but the highest-spec models cheapen the car's look
Ventilation controls still feel a little lightweight
The car's ride is sometimes a little rough on poorly surfaced roads
Petrol engines lag behind advanced alternatives from other brands
The 2012 i30 marks a significant milestone for Hyundai in that it's the fist all-new 'i' model to replace an earlier one. After a number of model launches that have established the brand as a major contender in the mainstream car market, this i30 represents the start of Hyundai's next drive to increase quality, value and desirability.
The previous generation i30 was the first i-branded car Hyundai released, and it began to banish memories of the cheap old things the company used to make. Again it has been chosen as the figurehead of a new era for Hyundai cars, with better driving dynamics alongside higher-quality interior materials and much more emphasis on style.
In a generally simple range to understand, the i30 sits above the i20 and below the i40 and is available as a hatchback or an estate. It's 58mm shorter and 43mm narrower than a 2012 Ford Focus, but the same height. It's packaged cleverly to avoid paying a significant interior space penalty against its larger rival.
As Hyundai begins its next phase of moving its cars upmarket in both perception and reality, the i30 needs to justify a significant price increase compared with the old car. Considering its compact dimensions the i30's prices are no longer temptingly cheap, and buyers are not likely to see it as a 'value' option as clearly as they once did.
There are a range of petrol and diesel engines available, with manual and automatic gearboxes catering for drivers of all sorts. As a middle-of-the-road hatchback the i30 needs to have broad appeal and a wide spread of talents, and it generally fits the bill very well. Its engines are in certain cases very efficient and will add financial appeal.
Our verdict on the Hyundai i30 Style 1.6CRDi 128PS Blue Drive
With considerable improvements having been made in many areas of the i30's design and build, it's easy to see it troubling car manufacturers that have been established for much longer. It offers a lot of standard equipment and potentially low running costs, so it still represents good value against the competition, if perhaps less so than it used to. A solid warranty backs up a promising overall ownership experience.
Costs
While the i30 can't be considered a cheap car any more, it's marketed at those seeking value for money and with an impressive kit list it manages to remain good value. It has the potential for very low running costs, including for fuel, insurance, road tax and benefit-in-kind tax for business users. Its residual values are predicted to be better than the old i30's as well, thanks to all the improvements made to the car.
Space and practicality
The i30 has a large boot, despite giving a little away in terms of overall size to some competitors. Its 378-litre capacity makes it among the biggest in the sector, and being particularly deep it's good for stacking items. It's deceptively large and if used to its fullest potential this is a very practical car. Cabin storage solutions are plentiful and varied in shape and size. Legroom is more than adequate for all occupants, but trying to place three adults across the rear bench seat is asking too much.
Controls and display
The instrument cluster is excellent, with an attractive cowling around the clocks themselves and a splash of colour to lift display. A digital LCD panel in between the main dials offers clear information in a nicely modern way. On the centre console panel the buttons are larger than some in other cars, making them easy to locate and use. Most of the controls are exactly as most people would expect to find them.
Comfort
The seats strike a relatively good balance between support and depth, although they could use a little more padding at the lower portion of the back. Leather upholstery is available on some models although it's not of the very highest quality. The only particularly noticeable flaw is that even with small wheels and tall tyres the i30 tends to crash uncomfortably over sharp bumps.
Car security
Every i30 has remote central locking, an alarm and deadlocks to ensure basic security is taken care of. However, the basic Classic trim level lacks locking wheel nuts. There is also speed-sensitive door-locking that can reduce the chances of any car-jacking occurring. A Thatcham-approved immobiliser makes it as difficult as possible to steal an i30 without the key. A sliding lid on a storage compartment in the lower centre console allows small things to be kept out of sight.
Car safety
As standard the i30 has six airbags providing some measure of increased safety for front and outer rear passengers. A driver's knee airbag is optional. Active safety systems apply assistance to the brakes and steering if they need to, and will reduce engine power if wheelspin is detected. Electronic Stability Programme can also brake individual wheels if needed. The brake lights and hazard warning indicators are designed to flash in very obvious ways in an emergency stop scenario, warning following traffic.
Driver appeal
It's clear from a few miles behind the wheel of the i30 that it was designed to appeal to the middle ground of car buyers; people who like a car to be stable, easy to drive and predictable, or in other words people who like a car to do its job with no fuss and to feel safe. The i30 ticks all those boxes, with variable-assistance power steering making it easy to manoeuvre at all speeds.
Family car appeal
Small families should take a close look at the i30, with its Isofix child seat mounts and large boot. It's a stylish runabout that children won't be ashamed of at the school gates, and despite the interior looking great it's generally quite tough, hard plastic that will stand up well to the inevitable knocks and scrapes that are a fact of any family car's life. It's also well equipped with gadgets that make everyday life easier.
First car appeal
As an impressively well rounded end product, the i30 has everything that a first-time buyer is likely to want. It's stylish, easy to drive, secure enough to qualify for low insurance ratings, cheap to own with the right engine choice and not intimidating at all. The comparatively low-power engines are novice-friendly, and Hyundai's five-year 'Triple Care' warranty provides peace of mind when budgets are tight. It's not the cheapest of choices though.
Quality and image
Hyundai is a company on the up, performing extremely well in most world markets. It may still be viewed by some in Britain as a second-rate brand, but little about its actual products would reinforce such a negative view. The second-generation i30's further improved build and materials quality, along with a longer, wider and lower stance give a combined give matching boosts to the actual and perceived quality of both the car and the brand.
Accessibility
The driver and front seat passenger will find no problems in getting in and out of the i30. The seats are not too low and it's a very comfortable process. Things are slightly different at the rear, where the doors are noticeably shorter. They can potentially open wider for any given amount of space beside the car, but the actual aperture is smaller and people with longer legs may find getting through it a bit of a squeeze.
Stereo and ICE (In car entertainment)
The stereo functionality changes slightly between the top trim level and the rest of the range. Style Nav models have a touch-screen satellite navigation that acts as a clearer interface for music, which can come from CDs, the radio or either of the auxiliary input ports for 3.5mm jacks and USB cables. It's mostly operated using the touch-screen but some functions involve buttons beside the screen. The more basic system in the lower models uses a traditional and intuitive combination of buttons and dials.
Colours and trim
The number and variation of colours is modest, but even if more were available the majority of potential buyers would probably go for subdued shades on offer so it's not really a problem. The i30 suits silver particularly well. The interior is heavily styled for European tastes, with design flourishes that show a real interest in making the car desirable. It's a very attractive environment all around.
Parking
As part of an impressive standard kit list, all models except the basic Classic have rear parking sensors, with Style and Style Nav models adding front sensors as well. Being slightly narrower than some of its rivals as well, the i30 is among the easiest in the class to park. Visibility is somewhat restricted by the relatively steeply-raked shoulder line and narrow rear windscreen, but the parking sensors help to compensate.
Spare wheel
Spare wheel or emergency repair kit depending on the model.
Range information
Petrol engine options - 1.4-litre (99bhp); 1.6-litre (118bhp). Diesel engine options - 1.4-litre (89bhp); 1.6-litre (109bhp, 126bhp). Transmission options: six-speed manual gearbox, plus six-speed auto gearbox (1.6-litre 118bhp petrol and 1.6-litre 126bhp diesel engines only). Trim levels: Classic, Active, Style, Style Nav.
Alternative cars
Ford Focus Excellent all-rounder but a large car relative to the i30
Vauxhall Astra Underrated but lacks the design 'wow factor' of some rivals
Kia Cee'd Sharing a platform with the i30, the Cee'd is another excellent choice
Chevrolet Cruze Surprisingly good build and materials quality with a decent drive