October 2013
Hyundai i10 SE 1.0 BlueDrive
The i10's new look is sure to be a big hit with customers
October 2013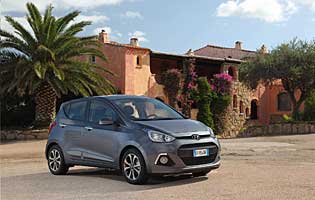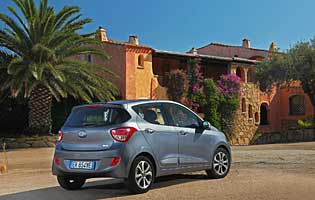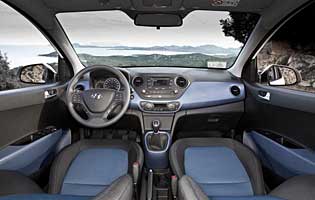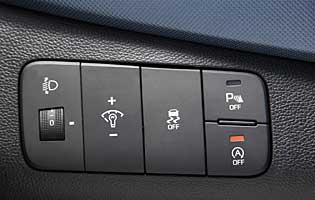 Overall rating

Likes:
Characterful and flexible new three-cylinder engine
Broad boot floor with a shallow load lip
Excellent ride quality and body control for the class
Relaxed driving behaviour makes for a comfortable journey
Gripes:
Poor visibility at the rear corners thanks to broad C-pillars
Relatively long front overhang concedes parking ability versus rivals
Only one dedicated low-CO2 model restricts choice
A-pillar can often present block line of sight around corners
Without the i10 Hyundai wouldn't be the force in Europe and the UK that it is today. When it first launched during the recession it was a huge hit thanks to the government's scrappage trade-in scheme, and with Hyundai owners being more brand-loyal than the average British buyer, that has helped create a strong foundation for the i10's replacement.
There are huge changes throughout the car, in every department from the chassis to the engines and the dashboard to the boot. First of all its dimensions are very different, having lost a good deal of height but grown significantly in length and width to become the largest car in the A-segment, even bordering on B-segment territory.
Hyundai sees other so-called 'city cars' as a compromise, and that statement has to include the old i10, which was far better than it looked. The company wants to inject a high-quality feel and an essence of that which Hyundai says separates B-segment cars like the Ford Fiesta from A-segment cars like the Volkswagen Up.
The 1.2-litre 'Kappa' series engine has been carried over as the range-topping choice, but a flexible new three-cylinder unit derived from the same technology slots in below it, in place of the old Indian-built 1.1-litre unit in the previous i10. Priced significantly lower than the 1.2-litre but in some ways better, it's likely to be the biggest seller.
Compared to its best rivals, the parts-sharing trio of the Volkswagen Up, Skoda Citigo and Seat Mii, the i10 gains a little cabin space but loses a degree of urban capability thanks to its extra length and shorter wheelbase. The i10's chief purpose is to feel as mature and capable as possible; a goal that it achieves comprehensively.
Our verdict on the Hyundai i10 SE 1.0 BlueDrive
The i10 isn't as impressive a design feat as the Volkswagen Up, which boasts better overall packaging, but the smallest Hyundai possesses a mix of style, composure and ride quality that few, if any, of its direct rivals can match. Hyundai has made itself clear in what it believes makes a great city car, and it's now down to buyers to say whether or not they agree.
Costs
Running costs must be low for a car like the i10, and this model does dip into the lowest road tax bracket at the time of its launch. Evidence from behind the wheel suggests that achieving high fuel efficiency figures isn't at all difficult, either, while buyers can't lose much money on a car as affordable as this. This BlueDrive version is comfortably the most tax-friendly for business users, and Hyundai expects there to be plenty of them.
Space and practicality
Hyundai is quick to boast about the i10's class-leading boot capacity, but while the statement is true it's only by a single litre from the Volkswagen Up and its siblings. The i10's real advantage is that its boot is longer and wider than the Up's, which relies on depth. A medium-size travel case will lie flat in the i10's boot. Inside the cabin are an impressive number of practical spaces, with up to eight cup or bottle holders including in the rear passenger doors.
Controls and display
At first glance the main dials look rather basic and uninspiring, but as night falls they benefit from a stylish and subtle illumination. There is a more basic and familiar LCD screen in the centre console that displays radio station choice and other readouts. A multi-function trip computer in the instrument cluster displays a useful array of time, distance and fuel consumption data.
Comfort
Some drivers will prefer slimmer seats than the i10 offers, but those of a larger build will find them extremely comfortable. A particular highlight is the shape of the lower front seat backs, which offer a very impressive level of comfort and lumbar support without the need for adjustment. Generally the suspension does a good job of smoothing out the road, but it can thud harshly over sharper bumps. The i10's cabin is also extremely quiet, with engine, road and wind noise all kept at bay.
Car security
Only SE models and upwards get remote central locking, but the entry-level S does at least have basic central locking. Security is not one of the i10's prime directives though, and its anti-theft measures are otherwise limited to an engine immobiliser that requires the correct, manufacturer-supplied key in order to allow the car to start.
Car safety
The basic active and passive safety needs are met by all versions of the i10, with a good spread of airbags and a strong construction that makes use of the latest high-strength materials to give maximum protection for the class. The highest trim levels benefit from steering wheel-mounted audio controls, a driver's 'safety window', side indicators mounted higher, in the door mirrors, and an emergency stop signal to warn following drivers.
Driver appeal
The previous i10 charmed drivers with its cheeky small-car feel and eager attitude to forward motion. Its replacement is a much more grown-up affair, and from behind the wheel it becomes clear just how much work Hyundai has done to its ride and handling. It's composed, stable and doesn't roll too much, and with the new 1.0-litre engine under the bonnet the car is willing and tractable at all typical speeds.
Family car appeal
Families looking to downsize their second car are among the groups being targeted by Hyundai. Sizing the i10 between existing A-segment rivals and B-segment cars like the Vauxhall Corsa should allow the firm to position it as a genuine, financially attractive alternative. There's enough room on the back seats for young children, and Isofix child seat mounts are standard on the outer rear seats - although this BlueDrive model has no middle rear seat anyway.
First car appeal
The i10 is a perfect contender for first-time buyers, with an affordable price tag, manageable insurance groupings and great style. It's also easy to drive with lightly weighted controls, a comfortable driving position and a spacious cabin, which helps to inspire confidence. Either engine would be a good choice, but the cheaper, more frugal and slightly harder to stall 1.0-litre is the best bet.
Quality and image
Hyundai has done its best to introduce as much B-segment quality into the new i10 as possible, and in the main the car does a sterling job of feeling more expensive than it really is. Only by rapping your knuckles on some of the hard, hollow door trim and dashboard finishes do you see how costs have been managed, but arguably the i10 is streets ahead of some of the competition. Hyundai's brand image, boosted as ever by its five-year, unlimited-mileage warranty, is growing ever stronger.
Accessibility
The new i10's considerable extra length doesn't afford it much longer doors, as its wheelbase is actually only fractionally longer than before. Additionally the roof line is several centimetres lower, so occupants will need to duck down slightly more than before. The boot is excellent, though, thanks to a relatively shallow load lip that makes getting heavy bags in and out easier than it could be. While the tailgate is far from paper-light it can easily be opened and closed with one hand.
Stereo and ICE (In car entertainment)
There's nothing too complex going on behind the dashboard, with a simple stereo controlled by buttons and dials. An essential modern touch is a collection of connectivity ports hidden in the covered storage bin ahead of the gear stick. USB and auxiliary inputs are installed. Higher models can also be specified with Bluetooth connectivity for cable-free audio playback.
Colours and trim
Hyundai has coordinated the available colour and trim choices on the interior and exterior. This SE model comes in a spectrum of flattering colours with unusual names, like Morning Glory, Silky Beige and Star Dust. On the inside there is a deep, full-width coloured dashboard panel in either beige (S model only), orange, blue or red, the latter of which is restricted to Premium cars. Many combinations end up strikingly different, and will turn heads.
Parking
This should be one of the first priorities for any company developing a city car. Many urban drivers need to parallel park much of the time, so additional length and width can be counter-productive. So it inevitably proves in the i10, but its turning circle is still impressive enough to satisfy the majority of buyers' needs. Parking sensors are an optional extra should customers want them, and given the i10's restricted rear corner visibility some people may feel they need them.
Spare wheel
Tyre repair kit or space saver spare wheel fitted according to trim level.
Range information
Petrol engine options - 1.0-litre (65bhp); 1.2-litre (87bhp). Transmission options: five-speed manual gearbox or five-speed automated manual (1.2-litre engine only). Trim levels: S, SE, Premium.
Alternative cars
Skoda Citigo Best value and best thought-out of the three identical VW Group triplets
Toyota Aygo The small Toyota has aged well and still possesses a cheeky charm
Kia Picanto Keenly priced and styled to excite, the Kia is a good option
Fiat 500 Style-focused Italian hit is popular but compromised in practicality