Honda NSX V6
Comfortable ride quality
August 2016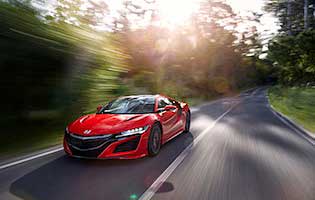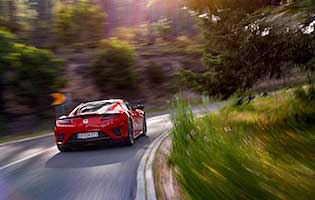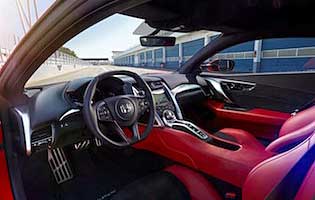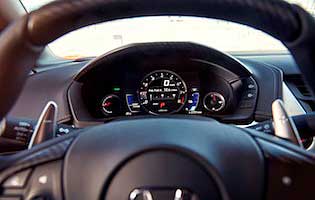 Overall rating

Likes:
Powerful brakes, even in standard form
Impressive powertrain
Usable daily performance
Comfortable ride quality
Decent-size boot
Gripes:
No storage space within cabin
Sub-par infotainment system
Poor interior plastics used in some places
Boot does get hot thanks to placement over exhaust
Poor rear visibility
After a long wait, Honda's reimagined NSX is finally here. It's been some time since the original concept car was revealed, but despite many setbacks it has, at last, arrived. With it comes all manner of technology, as well as a hefty amount of power – more than 500bhp from a twin-turbocharged V6
The new NSX is a mightily complex car. Mid-engined, it features not just one but four electric motors. However, whereas electric motors in other cars are used for economy, in the NSX they're brought on board for something slightly different – performance. There's also torque vectoring and four driving modes all designed to make the NSX as capable as possible.
Honda is hoping that the NSX will live up to the legacy left behind by its predecessor. It still retains some hallmarks of the original car, and if you view it from the side it even has similar lines. The old NSX used the latest technology at the time, and this is relevant too for the new car.
As a two-seater sports car, the NSX goes up against such hard-hitters as the Porsche 911 Turbo and Audi R8. With a price tag of GBP130,000 it undercuts these, while still providing ample performance and driving experience. It also has decent levels of in-car technology and a boot that is of a usable size.
The NSX is only available with the twin-turbo V6, and only a hard top can be specified. There's likely to be a convertible version, but that won't be along for some time. For now, the NSX is a car that Honda says is easy to drive on both road and track, as well as being a comfortable daily driver that you could use to go to the shops in.
Where the Honda falters is in badge appeal. Most people who are willing to pay more than GBP100,000 for a car are looking for something with prestige, and not a company that is mostly known for producing hatchbacks. Naysayers shouldn't be put off though, as the NSX has just as much right to be in the performance stakes as others.
Our verdict on the Honda NSX V6
The NSX is a truly accomplished sports car. It offers the speed, thrills and excitement usually associated with a high-end performance vehicle, but with the daily usability of a hatchback. Utilising some of the most up-to-date technology, the NSX is very easy to drive quickly and rewarding when pushed harder. Thanks to clever damping, it's also a comfortable long-distance cruiser, and certainly takes the fight to more premium rivals.
---
Costs
The NSX isn't going to be cheap to run, but it should be better for the wallet than other sports cars. Honda's legendary reliability should also be helpful, meaning fewer trips to the garage. There's a good chance that consumables such as tyres and brakes will wear out faster, though.
Space and practicality
Inside space is limited, but then the NSX is a two-seat sports car. That said, the interior never feels claustrophobic. This is mainly down to large side windows and excellent forward visibility. There are very few storage areas within the cabin, and there's not even a cup holder. It must be remembered that the NSX is a sports car, not a people carrier. The boot is of a decent size, and is easily accessible via a lid that isn't too heavy or difficult to lift.
Controls and display
All of the main displays within the NSX are extremely clear and easy to read. The binnacle display shows the driver speed, revs and also states of battery charge. It also gives an indication of which driving mode has been selected. The large infotainment system is clear, but is slightly clunky and tricky to use. A main rotary dial sits in the centre of the main console, and while looking like a volume control, is in fact the drive mode selector.
Comfort
Thanks to dampers that have been perfectly set up for road and track, the NSX manages to remain firm but never crashy. That means potholes don't unsettle it, and for the most part it rides like a very good GT car. The driving position is spot-on, with plenty of adjustment available from both the seat itself and the steering wheel. Those seats have plenty of support, but not too much to make them uncomfortable. With air conditioning and heated seats, it's easy to find a good interior temperature, too.
Car security
The NSX has a conventional alarm, with a locking boot and windows. There's very little storage space inside, which means that there won't be too many places to leave valuables on display.
Car safety
The NSX has a revolutionary safety cell, which has allowed engineers to create a car that has smaller pillars that are just as strong as regularly sized ones. The front end of the car has also been designed to crumple in a concertina fashion, which means that high-speed front-end collisions can occur without any intrusions into the main cockpit. Airbags come as standard, and various levels of autonomous braking systems are included, too.
Driver appeal
This is where the NSX makes its mark. With more 500bhp on tap, the NSX is supremely fast, reaching 62mph in under three seconds and topping out at 191mph. Of course, that's not useful in day-to-day driving, but it's the way that the NSX applies power that is truly amazing. There's very little lag from the turbochargers, which makes power delivery instantaneous. In short, it's a car whose keys you'll never want to part with.
Family car appeal
With just two seats, it's unlikely that the NSX will appeal to families. With a GBP130,000 price tag, it's certainly out of the reach of most, and limited boot space would make it a tricky car to transport larger items. Also, thanks to a combined consumption figure of around 20mpg, it isn't the most economical car either, and therefore not ideal for those looking to take numerous people for longer distances.
First car appeal
With more than 500bhp on tap and rear wheel-drive bias, this isn't the ideal first time car. It'll certainly appeal to younger drivers, but there's very little chance of a first-time driver being able to afford the running costs of a car such as the NSX. Insurance and running prices will be sky-high, and the poor rear visibility will make it a nightmare for younger drivers to park.
Quality and image
This is where the NSX will struggle. Many people at this price point will opt for more premium rivals that offer the all-important brand image. However, the NSX offers just as much character as these rivals. That said, some elements of the interior could have been improved to bring it up to premium sports car standard, and this may put off some. The NSX does bring with it a supreme amount of heritage though, which will win over the die-hard sports car fans.
Accessibility
Thanks to large, conventionally opening doors, the NSX is an easy car to get in and out of. It's also surprisingly comfortable, making for a relaxed ride on the road. Although the engine is placed in the middle, there isn't any storage space in the front of the car – this is taken up with electrical components. However, the boot is large enough for a set of golf clubs or two decent-sized weekend bags. For the most part, the NSX is ideal for those looking for supercar performance, without the restriction of space.
Stereo and ICE (In car entertainment)
With the technology driving the NSX forward, you could be forgiven for thinking that the interior would be just as high tech. However, the car's infotainment system simply isn't up to the standard you'd expect for a GBP130,000 car. Entering place names is difficult, although pairing a phone is relatively straightforward. The sound produced by the speakers is also of a good quality, with plenty of bass felt throughout the car.
Colours and trim
There are various colours to choose from, but only one specification. Various options can be specified, such as carbon ceramic brakes. Inside, there's either part leather or full leather bucket seats. On the outside you'll find LED lights at the front and rear of the car. Some of the interior materials aren't up to standard, with a few squeaks and rattles heard during our test drive. For the most part though, it's a pleasant place to be.
Parking
The NSX thankfully isn't that difficult to park. Although rear visibility is heavily restricted by the engine cover, the large wing mirrors and narrow A pillars allow plenty of forward and side vision. There's also a reversing camera, which is invaluable with a car of this size. Parking sensors aren't included however, which means you have to pay even greater attention to the camera. The NSX is quite wide though, making parallel parking a little trickier than usual.
Spare wheel
No spare wheel
Range information
Twin-turbocharged V6, with electric motor support. Transmission: Nine-speed, dual-clutch automatic
---
Alternative cars
Audi R8 The first name in everyday performance
Porsche 911 Turbo One of the most powerful sports cars on the market
Ferrari 458 Italia Honda engineers bought a 458 to compare steering feel
BMW i8 Also uses a combination of electric and petrol power