Honda Clarity Fuel Cell
Smooth and relaxing ride
April 2017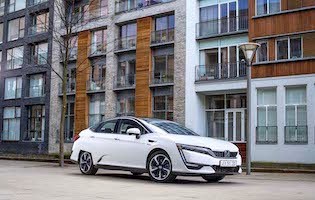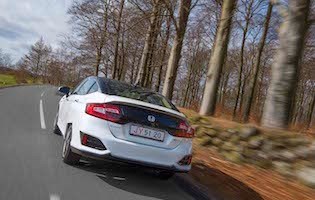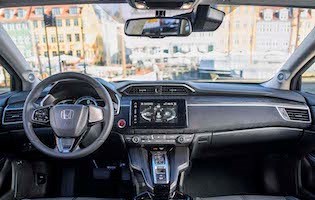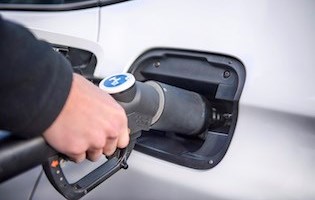 Overall rating

Likes:
Quiet and refined power plant
Ride is smooth and relaxing
Plenty of space in the cabin
Blind spot camera is a great touch
Gripes:
Styling proportions are awkward and fussy
Infrastructure is currently non-existent
Only a handful of carefully selected customers can have one
Futuristic mechanicals but infotainment system is still ancient
While most manufacturers are pushing plug-in hybrids and pure electric technology as the world's low-emission future, a few rogue manufacturers are investing heavily in hydrogen fuel cell cars. Honda is one of them, and the new Clarity range, which will also feature electric and plug-in versions, has just been revealed.
One of the biggest hurdles Honda has had to overcome is packaging. In the previous version of this car – which was available in very limited numbers in America – much of the powertrain was beneath the cabin, limiting space. However, the fuel cell and drive unit have now been made smaller and fit beneath the bonnet.
That means interior space is improved, resulting in loads of room up front and plenty of legroom for rear passengers. There are two hydrogen storage tanks – one behind the rear seats and one beneath – with the larger of the two intruding into boot space. The boot volume is okay, but it leaves an odd, impractically shaped space.
The car runs by feeding hydrogen to the fuel cells, which make electricity to power the drive unit. Traditional batteries, which sit beneath the car, also provide power under acceleration to aid performance. It's almost totally silent, with Honda engineering out the whirring sound that often accompanies hydrogen-powered vehicles.
The car itself is quite large, about the size of a BMW 5 Series, and it rides very much like a premium executive saloon should – that is to stay it's smooth and refined. Perhaps the only bugbear is the handling – the wheel is nicely weighted but the car rolls quite a bit in a turn.
Our verdict on the Honda Clarity Fuel Cell
The likes of Honda, Hyundai and Toyota have a long way to go before hydrogen could be considered a viable alternative fuel. But Honda for one is working on improving infrastructure, and if it's successful a hydrogen future could be bright. The Clarity drives just like any high-end electric car, but comes with better range – all of the benefits of electric but fewer compromises.
---
Costs
It's difficult to compare fuel costs because hydrogen is stored by weight rather than volume, meaning miles per gallon figures can't be applied. However, in the long run it should cost less than a typical petrol-powered car.
Space and practicality
Traditionally, hydrogen cars have struggled to offer competitive space because the hydrogen storage tanks and drive unit have taken up so much room. However, because Honda has made the powertrain small enough to fit under the bonnet, the cabin is as spacious as any other car in this segment.
The only problem is the boot, which is an odd shape because of the aforementioned tanks. With 408 litres – compared to 520 in the BMW 5 Series – it's quite a bit down on capacity, but it's the odd shape that will restrict what you can fit in there. However, Honda claims it'll swallow three golf bags.
Controls and display
Honda's infotainment system is clunky and looks quite outdated – especially when used in a futuristic hydrogen car. It's mostly quick and easy to use, but the graphics are hopelessly out of date and the satellite navigation system is in desperate need of a new skin.
However, on the plus side, the touchscreen is very responsive and menus load quickly.
Comfort
The Clarity is an incredibly relaxing car to travel in. Because there's no internal combustion engine it's very quiet, and Honda has done a good job of filtering out the road noise.
The seats are large and comfortable, while the ride is nicely sorted so that even the roughest road surfaces are ironed out.
Car security
The Clarity comes with all the modern security technology you could want, including central locking, a perimeter alarm and immobiliser.
Car safety
A major hydrogen concern for many consumers is whether it's safe. With this in mind, Honda has gone to great lengths to protect the hydrogen tanks in the event of a collision, aided by the fact the Clarity was built from the ground up for alternative fuels.
There are a number of sensors built into the exterior of the car that can detect hydrogen leaks and shut necessary systems down to minimise risks, while special vents dissipate any lingering hydrogen quickly.
The car will also cut off both the hydrogen supply and the electrical current in the event it detects a crash, minimising the risk of combustion.
Driver appeal
The Honda Clarity is a large executive saloon with relatively low power, so there's little expectation for it to be fun to drive. However, despite this it's generally quite relaxing – particularly around town.
Out on the motorway it's fairly lethargic to get up to speed, but once you're cruising there's no trouble calling on some extra performance for overtaking manoeuvres. Where it struggles a little is on a twisty country lane, where its weight shows.
Family car appeal
The Honda Clarity is the ideal family car because there's excellent cabin space. Kids and adults can sit comfortably in the rear, while the quiet interior will help keep drivers relaxed even if youngsters are making a racket.
First car appeal
For first drivers, the Honda Clarity would be something of a double-edged sword. While the low running costs would be mighty appealing, the sheer size of it would be off-putting. Once the technology has advanced to the point where smaller city cars and hatchbacks can take hydrogen technology, it will be an excellent choice for new drivers.
Quality and image
Honda has made a name for itself building mainstream cars and so high quality, premium fixtures and fittings aren't really its forte. However, with the Clarity it has stepped up its game impressively. Sure, it's far from the likes of a BMW 5 Series, but the materials are soft to the touch, the suede exudes class and everything feels well put together.
Honda tells us that a number of high-end chauffeur services have shown an interest in the Clarity Fuel Cell, tempted by its green credentials and high quality interior. On that evidence, it would appear Honda has done a fantastic job appointing it as a viable alternative to established, traditionally powered rivals.
Accessibility
Typically, accessibility hasn't been great in hydrogen cars. However, by moving all of the power unit parts to beneath the bonnet, it has freed up plenty of space in the cabin. Coupled with the large doors it's easy to get in and out.
The driving position is also spot on, with plenty of reach and rake for the steering wheel and eight-way adjustable seats.
Stereo and ICE (In car entertainment)
While the technology underpinning the Clarity Fuel Cell Vehicle might be rooted in the future, the technology in the infotainment system couldn't be further from it. The graphics throughout feel outdated, while the Garmin-based sat nav looks like it hasn't been updated in a decade.
It works well enough though, with menus logically laid out and the touchscreen quick to react to inputs.
Colours and trim
As the Clarity Fuel Cell isn't on general sale yet, Honda hasn't revealed what colours will be available. However, there have been two colours in press documents so far – a deep red as well as the bright white of the car we tested. The latter accentuates the odd proportions, while the red gives a more subtle, classier look.
Inside, there are plenty of expensive-feeling, soft-touch materials. And as befitting a premium executive saloon, there's also decent kit on offer, including heated seats, half-leather seating trim, full-leather steering wheel and suede and wood on the dashboard.
Parking
Parking such a large car is never easy, but the Clarity does come with a reversing camera to reduce the risk of misjudging the car's length. It also has well-sized mirrors so it's fairly easy to see if you're parking too close to the car or wall next to you.
Spare wheel
Emergency tyre repair kit supplied as standard.
Range information
Engine option: Fuel cell stack with electric drive unit. Transmission option: Single-speed automatic. Trim level: Fuel Cell.
---
Alternative cars
Toyota Mirai Similar size but less interior space.
Hyundai ix35 Fuel Cell Vehicle Crossover shape means space is less compromised by size of hydrogen technology.