Honda Civic Type R
Great combination of civility and speed
May 2017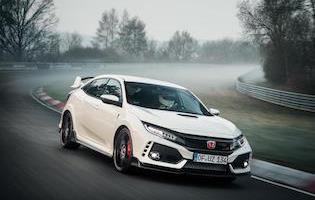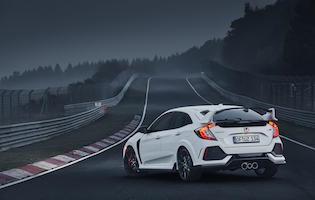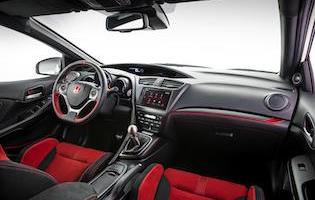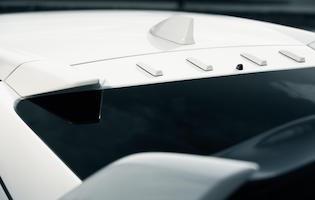 Overall rating
Likes:
Great combination of civility and speed
Ride has massively improved over previous generation
Rev matching technology works flawlessly
Front-wheel-drive helps it feel light and agile
Gripes:
+R mode could do with being slightly more frenetic
It's so approachable it's not quite as fun on the road as before
Divisive styling might put some off
Body kit feels cheap to the touch
The Honda Civic Type R is one of the best-loved hot hatches among car enthusiasts, though it's never quite managed to topple the best in class for sheer ability. The previous generation car was a case in point – with polarising looks and no compromise performance, it was a Marmite car. Honda hopes that'll change this time around.
Previously, Honda would build the standard Civic, then the Type R engineers would be let loose to improve what was given to them. This time around the standard car was built with the hot hatch in mind, and the new multi-link rear suspension is just one of the improvements this brought about.
It contributes to a superb ride, addressing the biggest criticism of its predecessor, which would shake your fillings loose around town. There are also now three drive modes instead of two, meaning the car's character can change between soft and sporty more readily.
The ostentatious styling remains, though. The new saloon-like shape is easier on the eye, though the dramatic aerodynamic devices such as the rear wing and various winglets and intakes dotted around the car will continue to divide opinion. The fact that they actually contribute to generating downforce is impressive, though.
Under the bonnet, the engine is the same unit found in the old Type R, but it's been given a refresh that bumps power up to 316bhp from 306bhp. It's a small increase but helps keep the Civic relevant as rivals chase 350bhp-plus. As the car is front-wheel-drive, the fact this figure doesn't lead to disastrous torque steer is testament to Honda's engineers.
Our verdict on the Honda Civic Type R
Honda was serious about making this the best Civic Type R yet, and there's no denying it has succeeded. It rides better and goes faster than its predecessor, while the fact it has resisted many rivals' decision to go to all-wheel-drive makes it light and agile. This is up there with the best front-wheel-drive cars ever made.
---
Costs
There are two trims available in the form of the standard Type R and Type R GT. The former starts from £30,995 and the latter will cost from £32,995.
The 2.0-litre engine might be performance tuned, but take it easy in comfort mode and it's not as thirsty as you might expect. It officially manages 36.7mpg on the combined cycle and emits 176g/km of CO2.
Space and practicality
With 420 litres of boot space with the seats up and 786 with them down the Civic's luggage space is decent without being remarkable. The fact that it has more than enough space for a family to carry a week's worth of food shopping, holiday baggage or even the occasional piece of flat-pack furniture is part of the hot hatch appeal – and the Type R passes this test.
Controls and display
The Civic Type R comes with a seven-inch touchscreen, which comes with Garmin navigation, DAB radio, Apple CarPlay and Android Auto, and internet radio all as standard.
However, while it's not the worst car system out there it's not the best either, feeling out of date. Meanwhile, the touch sensitive buttons on the side of the screen are a constant annoyance.
Comfort
Mercifully, Honda has addressed the biggest complaint with this car's predecessor – the ride. It would shimmy and shake across poor road surfaces, to the point where a bad UK road would actually leave you massively frustrated. Now, this car actually irons out creases in the road much better, making it a far better proposition as a car you could use for all jobs.
Car security
With its big wings and fearsome reputation, the Civic Type R will stand out in a car park. Therefore, Honda has equipped it with a variety of security systems including an alarm, immobiliser, proximity sensor and super locking for added peace of mind.
Car safety
With any performance car, safety is an important consideration as the chances are you could be going quite fast if things go wrong. The Civic comes with a wide variety of driver assistance systems, including a collision mitigation system, forward collision warning, lane keep assistance and road departure mitigation.
Driver appeal
The old Civic Type R was an animal – even in its standard mode it was stiff and ferocious. The new car feels much more mature on the road thanks to its improved ride, but the animal still lurks within.
Flick the switch to +R mode and the car comes alive, with improved throttle response, stiffer suspension and sharper steering. We tested it on road and track and its capabilities are mind-blowing – up there with the best in class, if not the best in class – though if you enjoyed the edge-of-your-seat performance of its predecessor you might be left a little disappointed. Better isn't necessarily more fun.
Family car appeal
As a five-door hatchback with plenty of cabin space and more than enough luggage space, the Type R could easily fit into the life of a typical young family. Youngsters in the back will have plenty of space, while the parents will be happy in the knowledge that they haven't had to give up on a fun car at the expense of practicalities.
First car appeal
As far as performance cars go, the Civic Type R is a relatively safe bet for a first car as far as performance motors go, though its ability might lure an inexperienced driver into a false sense of security. If you're considering a circa-£30,000 hot hatch as a first car then money may not be an issue, but it's worth noting that running costs will be quite high, while insurance for such a car if you're a young or new motorist will be sky high.
Quality and image
The interior feels like a big step up for the Civic, particularly in the Type R where the materials feel of high quality, while the Japanese manufacturer's reputation for building cars that last that should continue here.
However, the exterior isn't quite so impressive, with much of the aerodynamic addendum fitted to the car feeling quite cheap and plastic. It's not the end of the world, particularly as the Civic is quite affordable for what it is, but it will no doubt irk some buyers coming from German marques.
Accessibility
The move to a more saloon-like shape hasn't just helped aesthetics, it means Honda was able to extend the wheelbase and therefore increase cabin space. It means there's more room for passengers inside and the car is easy to get into and out of.
The driving position is also spot on as repackaging means you now sit much lower in the car. The wheel adjusts for reach and rake too, meaning that no matter your shape and size you should be able to get comfortable.
Stereo and ICE (In car entertainment)
The Honda infotainment system feels quite out of date at this point, though it's a fairly typical offering for the market. The Garmin-sourced satnav graphics could do with updating, though on the plus side it's a relatively easy system to use and all features are available as standard on both trims.
Beside the main screen are touch sensitive buttons, which are incredibly difficult to use quickly on the move. Meanwhile, the audio quality from the 11-speaker system is fine unless playing bass-heavy music at high volumes.
Colours and trim
The Honda Civic Type R comes in Rallye Red as standard, and it looks fantastic in this colour – in fact, the brighter colours typically work better to accentuate the bold styling. Black, white, grey and blue are all available for £525 extra.
Perhaps the most intriguing colour is Sonic Grey Pearl, which looks grey from a distance but has a lovely green metallic flake incorporated, which shows up in bright sunlight.
Parking
The advantage of a hot hatch is that it's based on a typical family hatchback that's got to be easy to use, so the Civic is an easy car to park. The rear wing does limit the view through the rear window somewhat, but for the most part it's no more difficult to place than the standard car.
Any visibility issues are negated by a parking camera and parking sensors.
Spare wheel
Emergency tyre repair kit supplied as standard.
Range information
Petrol engine options–2.0-litre (316bhp). Transmission options: six-speed manual transmission only. Trim levels: Type R, Type R GT.
---
Alternative cars