Honda Civic Tourer 1.6 i-DTEC SR
Brilliantly well thought-out storage
December 2013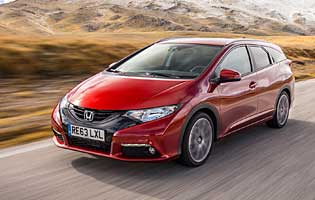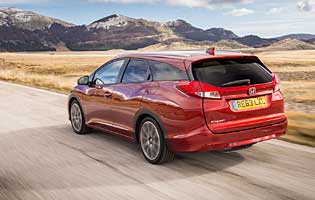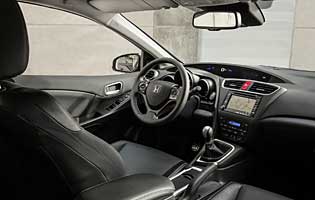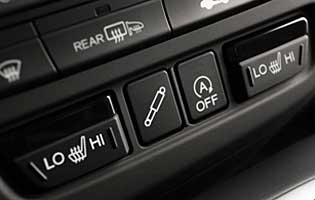 Overall rating

Likes:
Brilliantly well thought-out storage and load-carrying solutions
Comfortable front seats feature well-shaped backrests
High fuel economy potential and low emissions from diesel version
Composed ride absorbs even large bumps confidently
Gripes:
Old sat-nav technology leaves much to be desired
Outdated graphics and menu systems look low-rent
Expensive list prices compared to excellent competitors
Steering lacks any confidence-boosting feel
There has been a gap of several Civic generations since Honda last built an estate version of the car for the UK. The Japanese firm claims there was too small a market for one in that time, but something must have changed because the new Civic Tourer is very much a traditional estate, albeit with some clever touches to mark it out from the family car crowd.
Honda has had a tough time in Europe since the financial crisis hit in 2008. Its products, with a few notable exceptions, simply haven't offered enough to convince buyers to part with their cash. The Civic Tourer is part of the brand's European rennaissance, and aims to use outright practicality and ingenious packaging to make its case.
The Tourer is part of a contemporary wave of C-segment estates born out of a consumer desire to downsize without downsizing. Buyers are moving from D- and E-segment hatchbacks and saloons into smaller cars that, as estates, offer just as much luggage room and arguably even more practicality than their previous models.
Standing tall among the Civic Tourer's highlights is an extremely well thought-out boot and rear seat arrangement, that in a pull of two levers creates a completely flat van-like load bay. Alternatively the seat bases can be folded up and out of the way to leave a huge storage area while leaving the seat backs upright and the boot still completely enclosed.
Reflecting how Honda is still struggling to live with the real giants of European car-making, there are only two engines available at the car's launch, offering a choice of petrol or diesel. The non-turbocharged petrol is smoother and quieter, not to mention significantly cheaper, but the diesel is better suited to high-mileage drivers and those who regularly carry heavy loads
Our verdict on the Honda Civic Tourer 1.6 i-DTEC SR
The Civic Tourer has outstandingly practical everyday load-carrying solutions. Its engines are also good everyman choices, covering a lot of bases very well, and models with the Adaptive Damper System have even more talent. However, there are technological gripes with the ancient-looking sat-nav system and trip computer graphics. Its menus are simply not laid out in a logical or practical way, which puts a dampener on the overall experience.
---
Costs
This diesel version is undoubtedly the cheapest Civic Tourer to run, with low emissions translating to a favourable relationship with the tax man. Used with care and foreseight, the engine is also extremely frugal. There is currently expected to be a high demand for C-segment estate cars so residual values will remain strong, but perhaps not as strong as for some of its rivals. At least the Civic's reliability record should indicate an inexpensive post-warranty life span.
Space and practicality
This is the area in which the Tourer excels and separates itself from the estate car competition. A small lever behind the rear seats at both sides of the car folds the seats completely flat in one swift move. These so-called 'Magic Seats' can also fold their bases upright with the seat backs in place, creating a large, deep well behind the front seats. They are incredibly easy to use, and combined with the additional under-floor storage in the main boot area the Civic is a star performer for practicality.
Controls and display
The digital display screens in this car simply aren't good enough. The one in the centre console is just as low-resolution and old-looking in its graphics as the one up in the horizontally-arranged binnacle on the top of the dashboard. In this regard many of the Civic's rivals are also guilty of falling behind, but the problem here is worse than most. Fortunately, the main instrument cluster is much more attractive.
Comfort
The engineers behind the Tourer wanted to take into account the weight that estate cars can be asked to bear, and as a result the two highest trim levels come with the Adaptive Damper System at the rear wheels, which adjusts for any weight the car is carrying, including rear seat passengers and heavy loads in the boot. It translates into a consistent, comfortable ride that, rather than simply being soft and plush, has a much greater measure of deliberate control that absorbs bumps without wallowing. Road noise could be better contained but wind and engine roar are hushed.
Car security
This SR model is not quite highly-specified enough to benefit from the range-topping EX Plus model's 'smart' keyless entry system, which some drivers prefer for its added convenience. It does, however, feature remote central locking with deadlocks, as well as a full-length tonneau cover for the boot, keeping luggage out of sight. The extra space under the boot floor can also keep things well hidden. However, with a flick of a lever a well-informed thief can simply fold the seats forward and gain access to the boot from inside the car.
Car safety
There is a comprehensive array of safety systems, but unfortunately many of them are optional extras. However, for a reasonable price the Civic can be fitted with systems that can automatically brake in the event of a potential collision, recognise traffic signs, warn of unintended lane departure, monitor blind spots and even scan for approaching traffic when reversing from a driveway, for example, onto a road. Airbags are supplied all around the car and help it to achieve high scores in safety tests.
Driver appeal
This model is fitted with the Adaptive Damper System as standard, which is an adjustable suspension setup on the rear axle only, and with its help the car drives with confidence and an assured ride that impresses. However, the steering is among the lightest and least feelsome on the market today, leaving you completely uninformed as to how the front wheels are behaving. It's a real shame because the steering is otherwise direct and precise.
Family car appeal
It's extremely likely that families will look to the Tourer as an ideal solution to their day-to-day needs and they would be right to do so. An extremely large and practical luggage bay, a pleasingly wide cabin space and Isofix child seat mounts at the outer rear seats are all factors that will impress parents. A good score for safety and child protection also helps, but this car is quite expensive compared to its rivals.
First car appeal
There isn't a lot that would mark this version of the Civic out as a particularly good choice as a first car, but for that reason there's little chance that many first-time car buyers will want to look at it as an option. Its lightweight controls are novice-friendly, and the diesel engine in this car is also fuel-economical if used carefully. The size and price elements of the decision-making process do find the Civic Tourer falling away from first car ideals, though.
Quality and image
Honda has a supreme reputation for reliability, particularly among its petrol-engined models, and the plaudits are well earned. Honda's brand image is one of dependability rather than desirability, which has the effect of appealing just as much but to a different demographic. The material quality of the car is good. The fit and finish is excellent, and the materials quality in the cabin is on a level with most of its key rivals.
Accessibility
Five-door estates are designed for families and people with an active lifestyle or jobs that involve large equipment. Good access is crucially important, and the Civic Tourer delivers on pretty much every count it needs to. The front doors are as good as any average driver would expect, and while the rears are shorter than the fronts they are longer than they might be, and the Tourer's raised roof line significantly improves rear passenger headroom both while in the car and while getting in and out.
Stereo and ICE (In car entertainment)
Honda has sourced an aftermarket stereo and display solution, and the choice has not paid dividends. For starters it looks like it might be 10 years old, with a low resolution screen and small, unintuitive buttons stacked down either side of it. These are the controls for the stereo but it's not immediately obvious how to use it, although there is at least a handy shortcut button to access the equaliser.
Colours and trim
Honda has been brave with some of the colour options on the Civic Tourer, but buyers would be well rewarded to choose the less usual shades. The strong red is very flattering, and a dark blue is also a cut above the normal whites and silvers. Opinions will be split about the interior trim, which features appealing upholstery and high quality of workmanship, but some dated styling around the centre console and dashboard.
Parking
Obviously the Tourer gives a little bit away to the Civic hatchback in terms of ease of parking, thanks to extra length that will come to the fore when choosing a suitable parallel parking space. Like the hatchback, however, the Tourer has extremely light steering that serves urban drivers well and allows easy manoeuvring even in tight car parks. Visibility is only a little restricted around the rear of the car, where there is extra bodywork and pillars.
Spare wheel
Emergency tyre repair kit supplied as standard.
Range information
Petrol engine options – 1.8-litre (138bhp). Diesel engine options – 1.6-litre (118bhp). Transmission options: Six-speed manual gearbox only. Trim levels: EX, SE, SE Nav, Sport, Sport Nav.
---
Alternative cars
Seat Leon ST Superb to live with, but lacks the clever boot space management of the Civic Tourer
Volkswagen Golf Estate The benchmark all-rounder with a good image, but falls short on practicality
Ford Focus Estate The best compact estate to drive, but with some build quality niggles
Kia Cee'd Sportswagon Stylish and spacious Korean effort can mix it with the sector's best