Honda Accord Tourer 2.2 i-DTEC ES GT
Exterior styling is much improved
July 2008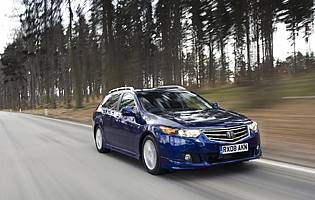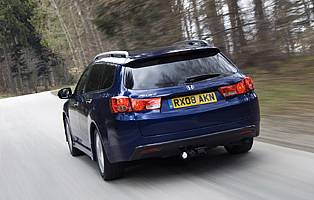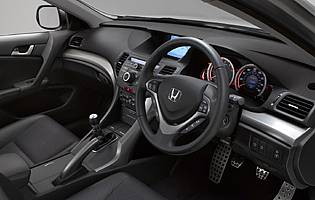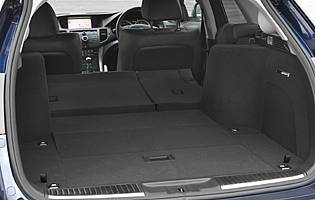 Overall rating

Likes:
Exterior styling is much improved, especially at the rear
Refinement levels have been greatly enhanced
Mould-breaking diesel unit now more powerful but no less well mannered
Generous standard kit list, plus a few interesting options
Gripes:
Car's sporting edge has been sacrificed for comfort
Control interface for sat-nav and multimedia unit could be easier to use
Manual gearbox's sixth gear is an old-style overdrive
Shame that the really clever safety gadgets are optional
Like its saloon relative, Honda's Accord estate – or Tourer, to give it its proper name – has grown (slightly) in size, become more sophisticated-looking and boasts more helpful technology over its predecessor. Unlike previously, this Accord is pitched directly at the likes of BMW, Audi and Volkswagen. As such, the car delivers even more of Honda's renowned quality through improved fit and finish.
In a market sector where quality and reputation is everything, Honda has struggled with the latter despite being second to none when it came to delivering the former. Unlike the popular German opposition, Honda lacked the 'right' image of its rivals.
Time has passed and it has been recognised that it's better to compete with a different set of attributes. After all, not everyone deeply desires a BMW or Audi. That audience is growing and, with a clever blend of subdued style and intelligent and helpful technology, Honda has decided to pitch its Accord range as the more cerebral choice.
Just like with the saloon, the Accord Tourer strikes a strong and solid pose. Visually it retains many of the familiar older generation Accord design cues, only this time they have been exaggerated slightly: the more purposeful nose, for example. However the car's rear, which was rarely praised, is now much rounder and easier on the eye.
Familiarity abounds inside the Accord, with the basic fascia layout largely unchanged – Honda's belief is that too much change will deter existing, loyal customers. Regardless, the cabin is up to Honda's usual high standards, and the car's modest increase in size means that there's a little more room fore and aft.
Our verdict on the Honda Accord Tourer 2.2 i-DTEC ES GT
Less angular and more rounded than previously, this Honda Accord is a more aesthetically pleasing proposition. The car's rounded rear is a huge improvement, while the interior is as good as ever. On the road, there is a new and noticeable bias towards comfort. Keen drivers might be disappointed, although there is no denying that the high refinement levels make long journeys most relaxing.
---
Costs
Modest price rises aside, you do get an awful lot for your money with this Accord Tourer. You can further enhance the car's money saving properties by opting for diesel power – low consumption and CO2 being the main attractions. Thankfully Honda's reliable reputation means that visits to the dealership should only be of the scheduled variety.
Space and practicality
With the slightly enlarged car comes a little more room inside for the occupants. Head, leg and elbowroom are all more than acceptable, although rear legroom could be better still given the overall size of the Accord. For what is an executive car, there are plenty of storage areas in the cabin.
Controls and display
As always, Honda has done a good job with the Accord's various displays – they are clear and easy to read in any light. The minor switchgear is also easy to use, and the car's large colour display is easy on the eye. The dominant central controller below the display is less straightforward initially, although it becomes intuitive with practice.
Comfort
With this Accord adopting a more refined character, comfort levels have been further enhanced. The car's plush seats and low cabin noise make a huge difference on long journeys, while the slightly softer suspension ensures the disruption caused by road imperfections is kept to a pleasing minimum.
Car security
Unlike with rival European cars, the Accord is not a car that stands out in a crowd. This you can use to your advantage when it comes to dodging less than savoury car 'enthusiasts'. That said, the Accord's alarm and immobiliser package is likely to offer a tougher defence if the car does catch someone's eye.
Car safety
Even in the base specification the Accord is not short of safety kit, as it comes laden with all the airbags and electronic stability devices you could need. Further up the scale, and depending on the model chosen, a hi-tech package of radar cruise control, collision warning and lane-keep assist widgets keep you from crashing into the car in front or wandering across motorway lanes respectively. It all works rather well, but it's a shame it all comes at a premium price.
Driver appeal
Keen drivers will instantly notice that this Accord is a little softer than its predecessor. Honda has consciously opted for a comfort bias this time around. Don't worry, it's not a roly-poly boat of a car, but the previous sharp steering and throttle responses have been smoothed out in favour of a more relaxing experience. You can still have fun, but it's all now at a more refined pace. At least, with the inclusion of an upgraded 150 horsepower diesel engine, cruising and more enthusiastic driving activities are easier on the right foot and the wallet.
Family car appeal
While no MPV – you'll be wanting Honda's FR-V – the Accord Tourer is a pretty good compromise. If you need to combine business with pleasure, the Tourer's capacious boot allows you to swap your weekday clobber for the weekly shopping or a good number of suitcases and bags. The Accord's cabin is probably a little too posh for its own good, though. You wouldn't want to let a sticky-fingered toddler loose, that's for sure. As such, think of the Accord as a car for the more mature family.
First car appeal
It's unlikely that, out of choice, a novice would pick an Accord Tourer as a first car: it's big, expensive and not as exciting as, say, a Jazz. It is easy to drive though, but that could as easily become a drawback if in the wrong hands.
Quality and image
Routinely held up as a shining example for the build quality of its cars, Honda has been on a par with the likes of Audi for some time now. Its image isn't as highly regarded, if only because still too many people prefer European models – it's essentially a badge snobbery issue.
Accessibility
Growing a little in size has gone some way to boosting the car's access and egress qualities. While at the front little has changed – it's always been acceptable – access to the rear is now improved. At the back the Accord's tailgate opens wide with little effort – even less if you opt for the power open option.
Stereo and ICE (In car entertainment)
The regular offering will probably be more than adequate for most people, but the prospect of a Bluetooth phone connection, full colour sat-nav and a disc changer will no doubt appeal to the gadget freaks. It all works well – although the large, master controller below the colour screen isn't immediately intuitive. Connectivity includes the aforementioned Bluetooth-enabled mobile phone plus iPod – the main display offering complete access to the player's library.
Colours and trim
Bright and bold colours serve to enhance the car's various exterior details, with darker hues suggesting a more subdued character for the car. Either way, the various choices only serve to flatter the Accord's size and look. Inside, the cabin feels dark and sombre, save for the odd bright bits of trim.
Parking
Although a large car, the Accord estate rarely proves difficult to park. With smooth, light and accurate steering plus good forward visibility, general parking duties are straightforward. Looking rearwards, the car's pillars can impair your vision slightly, but you soon get used to judging where everything is.
Spare wheel
Inflation and compressor kit fitted in lieu of spare wheel as standard.
Range information
Petrol engine options – 2.0-litre (156bhp); 2.4-litre (201bhp). Diesel engine options – 2.2-litre (150bhp). Transmission options: six-speed manual gearbox standard across the range, with a five-speed automatic gearbox optional on petrol engined variants. Trim levels: ES, ES GT, EX, EX ADAS.
---
Alternative cars
BMW 3 Series Touring Popular with keen drivers; frugal diesels take some beating
Mercedes-Benz C-Class Estate Refined but racier C-Class broadens its appeal with sharp exterior styling
Volkswagen Passat estate Passat wagon is a polished and surprisingly affordable alternative
Mazda 6 Estate Similarly styled to the Honda, yet more appealing to the keen driver