Honda Accord Tourer 2.2 I-CDTi Sport GT
Cutting edge styling
September 2007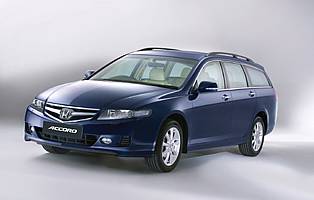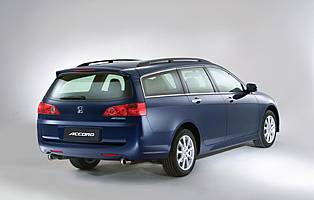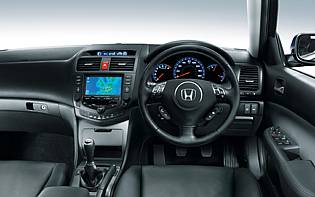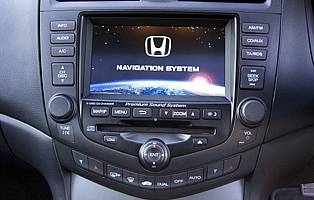 Overall rating

Likes:
Cutting edge styling
Firm and reassured handling
Spacious, practical and comfortable
Good equipment levels
Gripes
Overly complicated phone pairing system
Slight turbo-lag from the diesel unit
Gear-change a little notchy
Some interior plastics feel a little thin
As with all the big manufacturers, a lot of weight rests on the shoulders of Honda's D-segment model. It's not easy to make a family estate visually appealing in its own right, but Honda managed it with the Accord. Like a finely tailored suit, it gives all the right impressions and is still very comfortable.
The Honda Accord Tourer's distinctive shape has been with us since 2002 and to its credit remains ahead of many of its competitors in terms of styling. Regardless, Honda saw fit to make some revisions to the Accord line-up in 2006.
The Japanese manufacturer adapted the front bumper to look more aggressive and revised the grille – giving it a cleaner, more aerodynamic look. At the rear a broader bumper, boot spoiler and high visibility brake light made an appearance. The changes have kept the model looking as fresh as ever and the Accord still turns heads and inspires the odd jealous stare on the motorway.
It remains, for the most part, business as usual under the bonnet with three engines available: a two-litre and 2.4-litre petrol and 2.2-litre diesel. Honda also grasped the opportunity to replace the five-speed gearbox mated to the diesel unit with a six-speed example for more comfortable cruising. There were changes inside too, especially in the technology stakes, with useful tools for the company car driver such as Bluetooth phone linking and speed sensitive volume control for the sound system. Clearer instruments were also added to make life easier for those who spend hours behind the wheel.
With voice-activated satnav, adaptive cruise control and a European-first Lane Keeping Assist Programme also available, it's clear that Honda sees the Accord as a premium contender. To this end the interior has been given a sporty boost with a ""gun-grip"" gear knob and thicker steering wheel for that racy feel. More recently, the better equipped Sport GT trim level has replaced the Sport thanks to Honda's consideration of consumer feedback. The measured revisions have increased the appeal of a car that already ticked most of the boxes for the company car drivers and family units it's aimed at.
Our verdict on the Honda Accord Tourer 2.2 I-CDTi Sport GT
As a head-turner, a practical family car, a reliable business tool and an enjoyable drive the Accord really has all of the bases covered. But the succinct engine line-up doesn't offer a huge amount of choice, and nor does the trim level range although the Accord is well specced as standard. For business miles the diesel is really the only option thanks to its good economy yet lively performance.
---
Costs
Zero to 62mph performance of less than ten seconds can mean a trade-off in fuel economy, but the Accord Tourer will still manage to churn out not far short of 50 trouble free miles to the gallon. Insurance grouping shouldn't bother the budget and nor should company car taxation, thanks to admirably eco-friendly emissions from the diesel unit.
Space and practicality
A long body and a cavernous boot make the Accord Tourer an extremely practical car. An easily loaded boot combined with the diesel engine's torque means it will happily lug big loads to the recycling facility or back from the furniture store. Naturally, the rear seats fold flat for additional boot space. As an added bonus, they automatically fold down at the flick of a single switch.
Controls and display
The white on black dials are permanently lit which not only looks good but also makes them easy to read. The small display for the trip computer is less easy to focus on. The compact, thick-rimmed steering wheel contains neatly placed controls for the cruise control and sound system and the centre console is equally well designed.
Comfort
Front seats specially designed by ergonomics experts Shukura mean that front passengers should arrive at their destination in top form, and for the driver the comfortable seats make long journeys less wearisome. The long wheelbase comes into play again for rear passengers, providing additional legroom. Cruise control, air-con and electrics all round are the options you'd expect to see on a car such as this.
Car security
Lockable storage, including a tray under the boot floor, provides a useful way to keep valuables safe in the Accord. Any intruders would first have to get past the car's deadlocks and perimeter alarm and it's unlikely to be stolen thanks to the immobiliser. None of this will keep the rightful owners out though – keyless entry makes for easy access.
Car safety
Honda isn't shy when it comes to technology, and the Accord Tourer is backed with three letter abbreviations to keep the occupants safe including dual front, side and curtain airbags, ABS and EBS. A Lane Keeping Assist System is also available on the Accord that actually applies torque to the steering to keep the car on track if it starts to wander.
Driver appeal
Surprisingly for a stretched family estate the Accord handles extremely well with weighty and responsive steering and impressive road-holding due to a race-derived suspension set-up. The 2.2-litre diesel takes a little while to get going – only really noticeable because of the low rev limit – but kept within the power band it's a punchy and impressive unit. For motorway driving the diesel is superb offering relaxed cruising thanks to its precise, if a little notchy, six-speed box and a silky smooth ride.
Family car appeal
Seamlessly blurring the lines between a smart way to travel to meetings and a comfortable way to take a party of five on holiday the Accord Tourer is an excellent choice for families. Interesting styling gives it the edge over other, more mundane, family cars.
First car appeal
The Accord Tourer isn't cheap enough, small enough or slow enough to qualify as a good first choice of car. The saloon is probably closer to the mark, but even then still exudes enough practicality to turn off first time buyers. As a first company car for young execs however, it's a different kettle of fish.
Quality and image
The Accord certainly doesn't suffer from an image problem being one of the most aesthetically pleasing of the D-segment contenders. Another fine example of why Honda has such a strong reputation for being reliable and well-engineered cars, the Accord feels weighty and solid on the road and the interior is mostly first rate with the exception of some plastics – the ashtray cover being a good example – which feel a little light-weight.
Accessibility
The Accord poses no problems in terms of access; its slightly lengthened wheelbase means good size doors front and rear. Likewise, a big boot door makes getting items in and out a piece of cake, as does a low load bay.
Stereo and ICE (In car entertainment)
Voice activated satellite navigation on the premium models will appeal to those who spend a lot of time on the road, but the essential business tool that is Bluetooth phone integration is included across the range – although it's worth reading the manual before attempting to set it up. The CD-player sound system comes with speed-linked volume control that adjusts the speaker volume according to vehicle speed to save the driver fiddling with the volume knob.
Colours and trim
A respectable range of colours is available for the exterior of the Accord with silvers, blues and blacks being mostly favoured. Its snappy styling means the Accord also looks good in deep red and white. Interior choice is less broad with dark sports upholstery for non-leather models, and either black or ivory leather on more expensive models.
Parking
Possibly the flattest rear end in existence should mean there's little chance of bumping into the back of the garage, but the long wheelbase of Accord Tourer combined with the rear overhang means plenty of attention is required during parking manoeuvres.
Spare wheel
Emergency tyre repair kit provided as standard.
Petrol engine options – 2.0-litre (152bhp); 2.4-litre (187bhp). Diesel engine options – 2.2-litre (138bhp). Transmission options: five-speed manual gearbox with 2.0-litre petrol engines, six-speed manual gearbox with 2.4-litre petrol and 2.2-litre diesel engines, five-speed automatic available with 2.0-litre petrol engines, EX trim 2.4-litre petrol engines available with semi-automatic Sequential Shift. Trim levels: SE, Sport GT, Type-S, EX.
---
Alternative cars
Ford Mondeo Estate The archetypal D-segment estate is equally easy on the eye
Toyota Avensis Estate Less exciting, but reliable and well-built
Renault Laguna Sport Tourer French offering is refined and well equipped
Volkswagen Passat Estate Faultless engineering and luxury touches from a respected badge