Honda Accord 2.2 i-DTEC EX GT Auto
Chunky looks exude quality and purpose
June 2009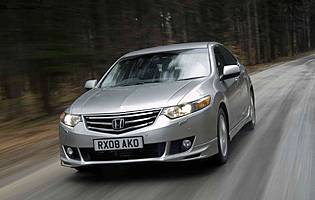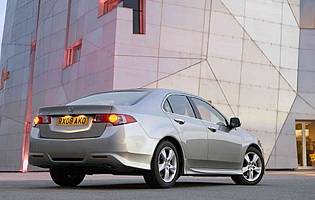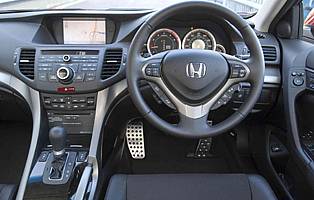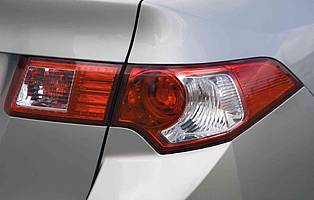 Overall rating

Likes:
Chunky looks exude quality and purpose
Great specification and high safety standards
Auto box well suited to strong diesel unit
Excellent controls and displays arrangement
Gripes:
Emphasis on comfort takes edge of driving experience
Control interface for sat-nav and multimedia unit can be involving
Bulky dimensions make it feel big on narrower roads
Diesel unit a little grumbley at idle
Having smartened up the already sharp design of the Accord model, Honda has introduced an automatic gearbox for the diesel engine option to complete the range. Designed to appeal to high-mileage drivers, it broadens the appeal of the diesel Accord range.
It's hard to believe that Honda has never before offered a diesel automatic combination, but it wasn't until 2004 that the Japanese manufacturer was able to offer its own diesel engine at all. The i-DTEC unit immediately impressed in the D-segment Accord model and, after the model was overhauled to offer a more spacious interior, comfort-focussed ride and sharper exterior design, meant it was able to compete with refined and frugal offerings from other manufacturers.
Not wishing to compromise the qualities of its new diesel unit Honda opted to design and build its own automatic unit to work with the engine. The result is the five-speed automatic unit available for the 2.2-litre i-DTEC powered models.
Using a traditional 'straight-gate' layout with an auto and Sport mode, which holds onto the gears longer for more rapid progress, the new transmission also comes with steering-wheel mounted paddles allowing the driver to select his own gears sequentially without the need for a clutch pedal. The engine's smoothness and linear power delivery are exaggerated by the new transmission.
Available on the 2.2-litre diesel engine in all trim levels with the exception of the Type S, which uses a higher powered version of the unit and a six-speed manual gearbox, the five-speed automatic transmission completes the range giving Honda drivers the option of a frugal automatic saloon or tourer with sharp styling and high build quality.
Our verdict on the Honda Accord 2.2 i-DTEC EX GT Auto
Although it's been a long time coming, the combination of diesel engine and automatic gearbox was one worth waiting for in the Accord. Honda designed the transmission in-house to avoid compromising the diesel unit and it has paid off, with a smooth gearbox tailored to the characteristics of the engine. It makes for particularly refined progress in the comfortable saloon.
---
Costs
Although not exactly underpriced, the Accord offers masses of equipment for a favourable asking price. Auto drivers would previously have to have opted for the thirstier petrol, so the diesel-auto combination offers money saving potential. Impressive safety equipment also lowers insurance premiums across Honda's line-up. Honda's reliable reputation means that visits to the dealership should only be of the scheduled variety, too.
Space and practicality
Head, leg and elbowroom are all more than acceptable for front and rear passengers, while a copious boot with a large, wide lid means load carrying potential is also good. Up front, cabin storage is good with useable door bins, trays, cubby holes and a sunglasses holder in the roof. The rear seats fold 60/40 and there are tie-down points in the boot for fragile loads.
Controls and display
As always, Honda has done a good job with the Accord's various displays – they are clear and easy to read in any light. The minor switchgear is also easy to use, and the car's large colour display is easy on the eye. The dominant central controller below the display is less straightforward initially, although it becomes intuitive with practice. A Myriad of buttons sensibly located n the steering wheel also save drivers needing to reach for the centre console to select many functions, and the voice command system is addictive once familiar.
Comfort
Having adopted a more refined character, comfort levels in the Accord are very impressive. The car's plush seats and low cabin noise make a huge difference on long journeys, while the suspension ensures the disruption caused by road imperfections is kept to a pleasing minimum. The diesel unit can be a little grumbley at idle, particularly when cold, but on the move settles down to a restrained hum. Standard equipment for the EX GT such as dual-zone climate control increases interior comfort.
Car security
Remote, keyless entry makes unlocking the car manually a thing of the past, while deadlocking helps secure the Accord from intruders. The saloon body shape comes with its own security advantages aided by a lockable glovebox. A perimeter monitoring alarm and rolling code ECU immobiliser round off an impressive security package.
Car safety
Even in the base specification the Accord is not short of safety kit, as it comes laden with all the airbags and electronic stability devices you could need. Further up the scale, and depending on the model chosen, a hi-tech package of radar cruise control, collision warning and lane-keep assist systems keep you from crashing into the car in front or wandering across motorway lanes respectively. It all works very well, but really high end equipment can require further investment. Side impact protection and intelligent front and rear side airbags are standard, however. Also present on the EX GT is a trailer stability assist function.
Driver appeal
Although the EX GT Auto features slightly firmer sports suspension, it still offers a ride more tailored to comfort than anything else. The steering and drive-by-wire throttle are smooth too, providing an altogether more sedate and relaxed experience than some of the Accord's rivals. Performance from the 2.2-litre diesel unit is torquey and smooth, with the pulling power coming in at around 2000rpm and remaining reasonably constant. This suits the five-speed automatic gearbox well. Smooth and sharp, it's an impressive combination. Drivers also benefit from wheel-mounted shift paddles that allow over-riding of the automatic transmission. A sport mode on the auto box allows the engine to rev higher between gears, too. Although very tame, it does feel like a large car on the road.
Family car appeal
While it is no MPV – you'll be wanting Honda's FR-V for that – the Accord is a pretty good compromise. If you need to combine business with pleasure, the model is a reasonably versatile and capable choice. In some ways, the Accord's cabin is a little too posh for its own good, though. Small children and sticky fingers could quickly make a mess of upmarket upholstery. As such, think of the Accord as a car for the more mature family.
First car appeal
It's unlikely that, out of choice, a new driver would pick an Accord as a first car. It's large and expensive compared to smaller hatchbacks, although easy to drive and decent value for money.
Quality and image
The Accord is routinely held up as a shining example for the build quality of its cars and Honda has been on a par with the likes of Audi for some time now. Its image isn't as highly regarded, if only because many people prefer European models, but owners can be assured they have a vehicle of impeccable quality underneath them.
Accessibility
The Accord's large body accommodates some impressively sized doors, making access to the front and rear seats very easy. The large saloon boot lid offers a decent portal into the boot, too. There are certainly no issues to report on this front.
Stereo and ICE (In car entertainment)
The regular offering will probably be more than adequate for the majority of drivers, but the prospect of a Bluetooth phone connection, full colour sat-nav and a disc changer will no doubt appeal to the gadget fans. Standard on the EX GT model is the DVD sat-nav system with voice control. It can understand a range of pre-programmed commands to operate everything from the climate control to sat-nav. This is a simpler option than using the buttons and rotary control on the system fascia. A six-disc CD tuner is also standard on the model with impressive sound reproduction.
Colours and trim
Bright and bold colours serve to enhance the car's various exterior details, with some silver trim around the doors and grille adding to the model's upmarket feel. Interiors are dark and atmospheric but, again, brighter trim with metallic or gloss finish livens things up a little. Leather, where specified, also gives the sizeable interior a plusher, more luxurious feel. Half-leather sports seats are standard in the well equipped EX GT model.
Parking
Although a large car, the Accord rarely proves difficult to park. With smooth, light and accurate steering plus good forward visibility, general parking duties are straightforward. Looking rearwards, the car's pillars can impair your vision slightly, but this is hardly a problem on the top spec model complete with parking sensors and a reversing camera to allow precision manoeuvres.
Spare wheel
Inflation and compressor kit fitted in lieu of spare wheel as standard.
Range information
Petrol engine options – 2.0-litre (154bhp); 2.4-litre (198bhp). Diesel engine options – 2.2-litre (148bhp); 2.2-litre (178bhp). Transmission options: six-speed manual gearbox, five-speed automatic gearbox. Trim levels: ES, ES GT, EX, EX GT, Type S.
---
Alternative cars
BMW 3 Series Nimble handling and frugal diesel engines
Audi A4 More expensive but a polished all-rounder
Volkswagen Passat Great build quality and a comfortable ride
Mazda 6 Sportier to drive and equally smart styling