Honda Accord 2.2 i-DTEC ES GT Saloon
Sophisticated and elegant exterior design
April 2008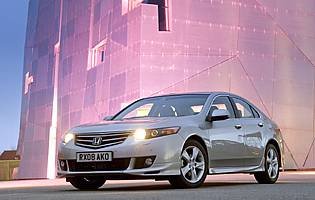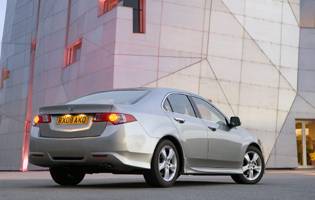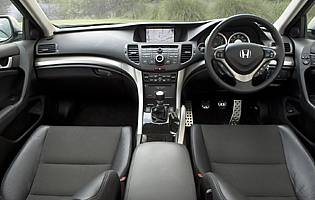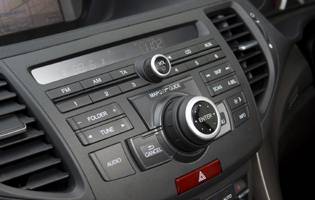 Overall rating

Likes:
Sophisticated and elegant exterior design
First rate cabin build quality
Impressive diesel engine option
Advanced package of active safety measures
Gripes:
Rear legroom remains average despite car's increase in size
Petrol variants feel underpowered compared to diesel model
Clever safety measures are an add-on and not standard on every model
Diesel plus auto gearbox combination not available from launch
With the desire to steal sales from the big three German car makers a long-held desire of the non European car makers in the compact executive market, Honda's Accord has often come close to succeeding. This generation of the Japanese maker's premium saloon aims to further change perceptions and be a genuine alternative to the established players.
With its new platform and new diesel engine, this generation of Honda's compact executive Accord seeks to tempt not only the buyers of German metal but also those who would otherwise opt for a high-spec car from the volume sellers – Ford, Vauxhall and Volkswagen, for example.
Styled similar to its predecessor so as to maintain existing, well established connections with the Honda faithful, this Accord is noticeably more rounded and softer in appearance. The same is true on the inside, with softer materials used for the Accord's cabin, along with the creation of a more spacious ambience.
On the go, the Accord offers more than your average compact executive. Along with a pair of petrol engines, the diesel unit in particular delivers a tax-friendly and driver-friendly experience. A development of the widely acclaimed 140 horsepower unit, this 150 horsepower engine offers greater flexibility but not at the expense of economy or emissions.
And while the inclusion of an advanced sat-nav, Bluetooth phone connection, voice control of major functions and MP3 player and iPod audio control are all worthy of praise, so is the Accord's comprehensive suite of active safety kit. Depending on the model, you can have a sophisticated combination of lane keep assist, active cruise control and a collision warning and avoidance feature – all functions you're more likely to see on cars costing many times that of the Accord.
Our verdict on the Honda Accord 2.2 i-DTEC ES GT Saloon
Behind the familiar face of this Accord lies a car packed with a wide spread of sophisticated technology. Whether its aim is to entertain you or help keep you from harm, there's no denying that Honda's intention to offer more than the opposition is impressive. That the Accord is built impeccably well and will keep even the keenest of drivers happy is more than a bonus.
---
Costs
It won't have escaped the Honda faithful that this Accord has gone upmarket – both in terms of luxury and price. For anyone keen on limiting their expenditure, the diesel variant will likely be the most sensible option thanks to its low CO2 and decent economy figures. Servicing costs should be modest if Honda's reputation for building reliable cars is anything to go by, with insurance and consumables also unlikely to break the bank.
Space and practicality
With its overall dimensions greater than the previous car, this time around occupants gain in terms of head, leg and shoulder room all round. Most obvious in the front, rear passengers also benefit but legroom could still be improved if you're an adult. Elsewhere, cabin storage space is generous. Door pockets, the glovebox and central armrest cubby offer considerable opportunities to store your belongings. At the back, the boot opens to reveal a good size load space. Sadly the boot floor isn't completely flat, although the rear seats do split and fold.
Controls and display
A big feature of Honda's past and present is the clarity of their various displays and conrols. Packing more features than most, this Accord is no different. Large, easy to read dials plus a centrally located colour display dominate the fascia. Navigating the display's many functions proves straightforward, and while the steering wheel contains numerous buttons they all fall easily to hand. Voice control is a model dependent but useful additional feature.
Comfort
Measurably larger than its predecessor, this Accord's cabin is a good size. Front seat occupants benefit the most with increased space. Rear seat passengers also gain, with the overall ambience biased towards refinement and comfort. Road and engine noise rarely compromise the comfort of the cabin.
Car security
All the usual features are present on the Honda Accord, with the likes of remote central locking, alarm and immobiliser all there to make your life easier and that of the thief's harder. While they serve an essential role, something more visible such as a cost effective steering wheel lock can act as an effective deterrent to the casual thief.
Car safety
Along with the predictable list of airbags, ABS and stability aids, the Accord can be specified with adaptive cruise control – an easy to use and reassuring feature. Also available is a sophisticated lane keeping assist mode, which can help keep you in your lane on the motorway. Finally, finally a system that warns you of a potential frontal impact through a staged serious of audible then physical reminders plus an assisted braking function completes a comprehensive suite of additional aids not usually found on mid-size, non-luxury cars.
Driver appeal
As with the previous generation model, this Accord is an enjoyable car to drive. The diesel variant offers the most rounded experience, although both petrol models deliver strong performances. Ride comfort is good as is overall refinement, while the Accord saloon is agile enough to impress keen drivers. Despite the plethora of electronic aids available (lane keep assist, collision avoidance systems), the driving experience rarely feels artificial – that includes the steering.
Family car appeal
While not a full-blown people carrier, the Accord is capable of accommodating a growing family. There are no rotating or removable seats to play with, but space and storage options are good for a car in this class. One negative aspect is the Accord's plush cabin; children and pets are unlikely to respect the car's high quality seat fabrics or leather upholstery.
First car appeal
Easy to drive, the Accord shouldn't pose any problems for the novice driver. All the various safety aids are a welcome bonus, also. However, the Accord is not a cheap car and certainly won't be a bargain when it comes to insurance. A Jazz or Civic would be better, lower cost option.
Quality and image
There are no quality issues when it comes to Honda cars; build quality is first rate and unreliability is not an issue either. In fact, the Accord in particular has often been compared favourably to more expensive German offerings. The Japanese firm hasn't been so fortunately regarding its image, which has often been linked to more mature drivers and not the sporting image associated with its European rivals. It's hoped this Accord, with its improved dynamics, will help change buyer preconceptions.
Accessibility
Front seat occupants won't experience any issues thanks to the Accord's wide opening doors. Front seat height adjustment also plays a part, and can make access and egress even easier. At the rear, the door aperture could be larger, as could the amount of legroom available. Further back, the car's boot opens easily to reveal a wide load area with a conveniently low loading lip.
Stereo and ICE (In car entertainment)
The standard fit CD and radio unit performs well. Steering wheel supplementary controls are a welcome addition. Further up the model range, there's the option of full colour sat-nav plus a Bluetooth phone connection. Factor in voice control for the major functions plus the ability to connect an MP3 player or iPod – the latter offering full control from the car's audio system – and there's little to complain about.
Colours and trim
Honda offers a sophisticated choice of exterior colours, with even the bright red option a viable choice – not always the case on executive cars. Inside, Honda's usual high standards are evident everywhere; dark, solid-feeling plastics, the measured application of glossy wood and plush seating.
Parking
All but the base cars get parking sensors fore and aft, which make a huge difference to the parking experience. From the driver's seat you can't see the car's boot, only the base of the rear screen and high-level brake light, making the sensors an invaluable addition. Elsewhere, the Accord's steering offers plenty of assistance at low speeds.
Spare wheel
Inflation and compressor kit fitted in lieu of spare wheel as standard.
Range information
Petrol engine options – 2.0-litre (156bhp); 2.4-litre (201bhp). Diesel engine options – 2.2-litre (150bhp). Transmission options: six-speed manual gearbox standard across the range, with a five-speed automatic gearbox optional on petrol engined variants. Trim levels: ES, ES GT, EX, EX ADAS.
---
Alternative cars
BMW 3 Series Stand-out German competitor is widely acclaimed and rightly so
Mercedes-Benz C-Class Shaper image and more fun to drive than previously – can't match the Accord for value though
Volkswagen Passat Mainstream alternative to the premium offerings, and capable of delivery the goods
Mazda 6 Once mainstream and now more up-market, but keeps the mainstream price tag