Honda Accord 2.2 i-CDTi EX
Impressive cabin quality
June 2006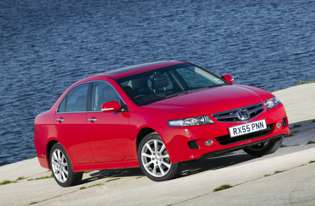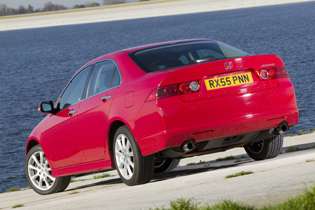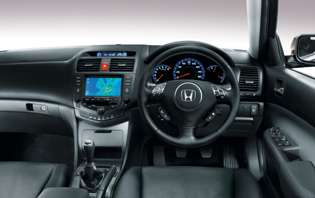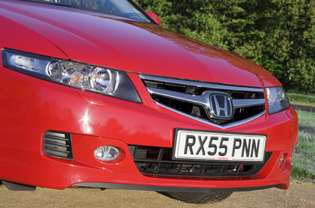 Overall rating

Likes:
Impressive cabin quality
Diesel engine is quiet and refined
Driving experience is sporty but comfortable
Saloon boasts good size boot
Gripes:
Rear legroom could be better
Despite its refinement, diesel engine could be more powerful
Flagship ADAS-equipped car only available with petrol engine and auto gearbox
Sports seats might be too narrow for some
Honda has always been good at producing refined, well built and reliable cars, but until recently – save for a few exceptions – this feat wasn't match by any tangible enjoyment. The last few years have seen the appearance of seriously hot Civics and a riotous S2000 roadster. Past Accord models have failed to ignite serious passion, but this variant has managed to turn things around.
Casting a much sharper profile than before, this generation Accord is the one that finally put Honda on the map when it came to competing with other makers of compact executive saloons. Much praise has been heaped on this Accord variant, from the way it drives to the high levels of refinement displayed.
In the name of constant improvement, for the 2006-model year the Honda Accord boasts subtle exterior changes such as a new grille, plus a few engineering improvements. For example, the diesel variant gains a six-speed manual gearbox, while an active cruise control and lane-keep assist package can be selected with the flagship 2.4 petrol model.
That nothing else major has been changed proves that the Accord is already a strong contender, despite the increasing number of cars – new and improved – now inhabiting the compact executive market. However, the inclusion of a high-tech cruise control package is unusual in any sector. Essentially, Honda has combined an easy to use radar assisted cruise control system with the ability to warn a driver if he or she is on course to wander out of a lane.
When in use, the steering delivers a gentle correction to keep the car in its lane, but if larger inputs are needed (impending motorway slip road, for example) an audible warning alerts the driver to take action. Pitched as a safety device, it also means you are less tired from constantly adding minor steering correction on long motorway journeys.
Our verdict on the Honda Accord 2.2 i-CDTi EX
As far as front-wheel drive compact executives go, Honda's Accord is a top performer. Refinement levels are high, as are quality levels for the cabin and general fit and finish. Equipment levels and overall ambience exceed and match rival efforts respectively. The driving experience is good, too, treading a sensible path between comfort and a sporty ride. And with reliability issues usually non-existent thanks to Honda's long established reputation, it's hard to fault the Accord.
---
Costs
Thanks to low sales volumes, relative to the likes of Ford and Vauxhall, the Accord enjoys decent residual values. It also shines in diesel form, as fuel economy and CO2 figures are high and low respectively. Equipment levels are also high, meaning you don't need to overspend at the point of sale. Honda's famous reliability should mean trips to the dealer are of the scheduled type only.
Space and practicality
As compact executive saloons go the Accord is a good size, although as with so many in this class, rear seat space is average at best. Most adults will be fine, but occupants who are tall or of limited mobility might find long journeys a little uncomfortable. Up front it's much better, and headroom all-round is good. Oddment storage is also fine; there is space in the centre console and door bins, plus a good-size glove box. The boot is also acceptable; it's wide and deep although the load lip can be a nuisance when unloading heavy objects.
Controls and display
Clear, concise and easy to use controls and displays put the Accord head and shoulders above many of its rivals. For instance, the digits on the main dials are crisp and brightly illuminated. The audio unit – or optional sat-nav – is located high up in the fascia, which is welcome. And there are controls on the steering wheel for the radio, cruise control and comprehensive trip computer.
Comfort
The comfort-orientated SE specification is good as the car's front seats are nice and wide. The Sport specification boasts more aggressive-looking seats, which could be an issue for larger passengers. That aside, the car's cabin is refined and quiet at speed, and the seats prove supportive on long journeys. The suspension strikes a good balance between comfort and driver enjoyment, and headroom is good both fore and aft.
Car security
The usual combination of alarm/immobiliser and remote central locking is present on the Accord, and it's difficult to see the need for anything more complex. Although not highly desirable in the same was as a valuable sports car, if you want extra protection a highly visible steering lock would probably suffice.
Car safety
All the usual number of airbags are standard on the Accord, putting it level with its main rivals. You also get a long list of electronic safety aids. The most interesting stuff is reserved for the flagship Accord, however. Combining radar assisted cruise control with lane-keeping warnings and active steering, this car will stay a constant distance from the car in front on a motorway, warn you when traversing the white lines and add tiny steering inputs to keep you in your lane.
Driver appeal
The Accord offers a driving experience that is part BMW 3 Series, part Mercedes-Benz C-Class. Sporty but not at the expense of ride comfort, the Accord is good for drivers who don't want to feel they are always driving a racing car. The front-wheel drive Honda is enjoyable to drive briskly, and this is helped by a small but good range of engines. In particular, the diesel unit is excellent for relaxed motorway work, while the 2.4 petrol model offers more outright thrust. Unlike many Japanese cars, the Accord's steering is weighty and offers decent amounts of feedback.
Family car appeal
For the active family, the Accord is outclassed by another Honda car, the FR-V people carrier. The saloon doesn't offer clever seating arrangements or numerous oddment storage options, but its boot is a good size and the standard equipment levels are high. Rear legroom might be modest for a lanky teenager, but strapping in a child seat shouldn't prove too difficult.
First car appeal
The Accord is unlikely to appeal to young novice drivers – it's simply more of a 'grown up' car. It is easy to driver, though, which negates many of its adult attributes. It would make a great first company car, and in real terms (purchase price aside) shouldn't cost too much to run.
Quality and image
Quality-wise it's almost impossible to fault the Accord. The cabin boasts high quality materials and the overall decor is tasteful, save for light coloured wood on some models. Ranking the Accord on a par with Audi's A4 and BMW's 3 Series is not difficult. Image-wise Honda still struggles – many people continue to pigeonhole the firm's products as suitable only for mature drivers. The latest Civic is an attempt to reverse this attitude, although the Accord is a more restrained proposition.
Accessibility
Front seat occupants fare well in the Accord – the car's doors open wide and the seating position isn't too low. The roofline is also a decent height. At the back, rear occupants are presented with a smaller door aperture, although only elderly or infirm passengers are likely to struggle. The Accord's boot is easy to open via the car's key fob, and releases easy. The boot opening is wide, although there is a small load lip. Closing the boot requires a little effort, as it's on a surprisingly springy hinge.
Stereo and ICE (In car entertainment)
Located high up in the Accord's central console, the standard unit works well and boasts duplicated controls on the car's steering wheel. Sound quality is more than acceptable. Upgrades include a full-colour touch screen sat-nav unit, in-dash CD changer and telephone connection. The former also includes ventilation controls, while the sat-nav function is intuitive and fast acting when calculation routes.
Colours and trim
Dark, subdued colours suit the Accord best – matching the car's mature personality. Metallic hues are a good choice, if only because the decision will help boost residual values later in life. Inside, the cabin is a dark space but the materials used are of a high quality. The wood trim is less convincing, though.
Parking
Extra care needs to be taken when reversing the Accord saloon, as it's not always easy to judge where the boot ends. Rear parking sensors help enormously, as does the car's direct and easy to use steering. The car's mirrors are a decent size, too.
Spare wheel
Space saver fitted as standard.
Range information
Petrol engines: 2.0-litre (155bhp); 2.4-litre (190bhp). Diesel engine: 2.2-litre (140bhp). 2.0 petrol gets five-speed manual, the rest get a six-speed unit. ADAS-equipped 2.4 comes with five-speed auto gearbox. Trim levels: SE, Type-S, EX, Sport, EX with ADAS.
---
Alternative cars
Ford Mondeo Well built, refined and good to drive
Volvo S60 Getting on a bit, but boasts luxurious feel and good engines
Audi A4 Fashionable Audi is exceptionally well built. Ride could be too firm for some
BMW 3 Series Benchmark in terms of driver appeal. Boasts impressive range of clean, powerful diesels