Ford Galaxy 2.0 TDCi Zetec review
Serious seven-seat capability
Apr 2006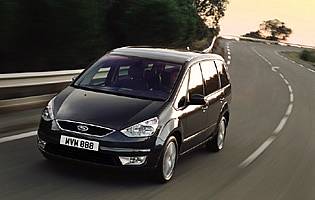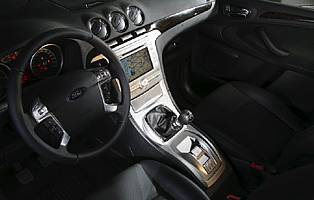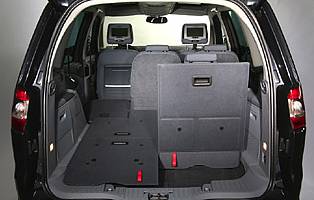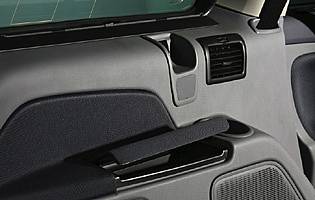 Overall rating

Likes:
Very roomy inside, just as it should be
Straightforward to drive
A lot of car for the money
Impressive advances in build quality
Gripes:
Entry-level LX models lack some key equipment
Unlikely to turn many heads
Confusion with S-Max a possibility
Silver plastic central console lets cabin down
Since it first appeared on UK roads in 1995, the Ford Galaxy has been the epitome of the no-nonsense large people carrier. In its second iteration, the Galaxy attempts to develop a more stylish approach, while improving on old-fashioned functionality at the same time.
Before considering the Galaxy in its own right, it is impossible not to mention the model introduced by Ford at exactly the same time – the S-Max. Sharing a chassis, some engines and most of its interior with the Galaxy, it is marginally smaller and slightly sportier than the Galaxy, and looks likely to attract buyers who still feel that a full-on people carrier is boring.
But the Galaxy's lack of pretentiousness is itself rather endearing. Five can travel in considerable comfort and capacity can be increased to seven seats without the rearmost passengers suffering as they do in some rivals. Storage spaces abound throughout the cabin, with a series of overhead lockers proving particularly handy.
Large it may be, but the Galaxy isn't particularly difficult to drive and once you are used to the high seating position, the good all-round visibility and comfort-oriented suspension settings provide a smooth ride. On long motorway journeys the Galaxy is at its best, delivering occupants to their destination safely and speedily.
The greatest advances compared to the previous Galaxy are the quality of the interior materials and the introduction of an effective fold-flat seating mechanism that matches the very best rivals can offer. The seats themselves are pleasantly supportive but not difficult to flip, collapse and fold as necessary.
Claims about a stylish new exterior treatment are a little exaggerated. The Galaxy is smart enough to pass muster as an executive taxi, but remains slightly dull to look at, and the huge numbers that are destined to fill our streets will mean that the Galaxy soon becomes anonymous. But that doesn't detract from the practicality of a very well put-together people carrier.
Our verdict on the Ford Galaxy 2.0 TDCi Zetec
Undoubtedly fit for its task, the Ford Galaxy retains all the positives of its predecessor and resists the temptation to fiddle with a winning formula too much. This vehicle should find its way onto the test drive list of anyone who needs serious seven-seat capability.
Costs
Although more expensive than the S-Max, in reality it will be much easier to negotiate a discount on a Galaxy than on its smaller sibling. The Galaxy looks like good value, providing a comprehensive, competent and surprisingly classy package with unrivalled people-carrying ability. You get exactly what you pay for in this likeable MPV.
Space and practicality
Ford's FoldFlatSystem (FFS) works well, enabling the second and third rows of seating to turn into a flat load floor without having to remove them from the vehicle. As a result there's a third more stowage space than in the previous Galaxy.
Controls and display
Great strides have been made in improving the Galaxy's sometimes-workaday interior. New dials and displays wouldn't look out of place in an Audi, and basing the steering wheel-mounted controls on a mobile phone's toggle switch is a masterstroke, dispensing with the need to wade through a manual before taking the wheel. A switch replaces the traditional parking brake and may take some getting used to.
Comfort
Ghia models have seductive leather seats providing tremendous lateral support. Other grades fare almost as well. Noise suppression is first class, though it is bought at the price of a weight increase compared to the earlier Galaxy. Like the smaller C-Max, the Galaxy rolls less than might be expected of such a large, high-sided vehicle.
Car security
Zetec and Ghia models get an alarm system, but it is an option on the LX. All the usual deadlocks, remote locking and engine immobiliser are present and correct, though.
Car safety
Family vehicles like this need a convincing safety package to have wide appeal, and the Galaxy delivers an excellent portfolio of active and passive features. As well as complex crumple zones built from different grades of steel, there are front, side and curtain airbags, plus an innovative driver knee bag. A wide range of tailored extras for kids is available too, including special booster cushions and baby seats.
Driver appeal
Anyone wanting to maximize their involvement behind the wheel is likely to opt for the only slightly smaller S-Max, but the Galaxy isn't as far behind it as you might imagine. Certainly it's built for suburban cruising rather than tackling hairpin bends at speeds, but when pushed it can display a decent turn of pace and handles nicely.
Family car appeal
An ideal family conveyance, even large clans will find plenty of room to get comfortable in a Galaxy. Passengers have enough space to mark out their own domains, which help avoid those back seat tantrums that can ruin a journey. The Galaxy feels durable enough to cope with the rigours of family life, too.
First car appeal
Large, sensible and fairly expensive to run with a load aboard, the Galaxy is hardly a suitable first car, except perhaps for someone with a growing family and little chance of buying a smaller vehicle.
Quality and image
Quality is improved, but the Galaxy's image looks set to continue as it is. In some respects it is the default large people carrier that people buy if they can't think of anything else. That's a little unfair as this is an accomplished vehicle and the sumptuous interior of Ghia models may cause one or two eyebrows to rise.
Accessibility
Doors open to around 65 degrees, making embarkation easy. It'll lose out to rivals with sliding side doors in a tight parking slot, but it looks a lot better as a result. Almost the whole rear end opens when you raise the boot and the loading floor is low so that you are unlikely to pop a disc while putting a heavy load inside.
Stereo and ICE (In car entertainment)
The standard fit stereo gives a good sound and has no problems filling the cavernous interior. Significantly there is a jack in the glovebox to let you plug an iPod or MP3 player straight into the system. The standard audio interface makes upgrading quite straightforward, too, and LCD screens can be mounted in the headrests to let passengers watch DVDs.
Colours and trim
This is a utilitarian car, so sober, plain colours seem to suit it best. Avoid some of the outlandish metallic hues if you wish to retain resale value. That's worth doing, as there is always a healthy market for used Galaxies. Mid-range Zetec trim is likely to provide the best value for money option – LX may be cheaper but it certainly feels like it.
Parking
No car in this class is a cinch to park, and owners will be well advised to practice at home for a few minutes before venturing anywhere near a multi-storey car park.
Spare wheel
An aerosol tyre repair kit is provided rather than an actual replacement wheel.
Range information
Engine choice consists of a 2.0-litre (145bhp) petrol engine and three diesels: two 1.8 TDCi units (100bhp or 125bhp) and a 2.0 TDCi (140bhp). Familiar Ford badging will define the range: LX, Zetec and Ghia with a further optional X-Pack for Ghia models. Five or six speed manual transmission as standard according to engine selected, with optional automatic.