June 2013
Fiat Panda 4x4 1.3 MultiJet 5dr
Chunky look of 4x4 easily marks it out from two-wheel drive stablemate
June 2013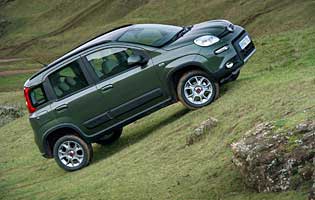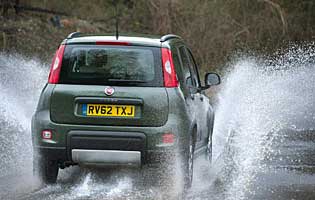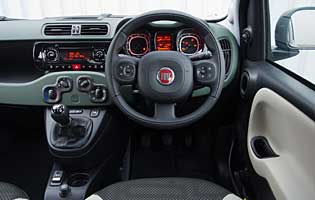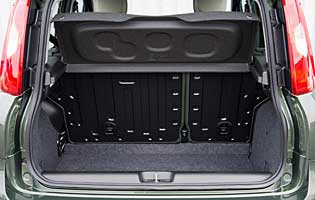 Overall rating

Likes:
Streamlined styling and raised ride height is visually appealing
Decent level of standard equipment
Comfortable cabin is practical, durable and spacious
Low running costs make this Panda 4x4 an ideal first SUV
Gripes:
While easy on the eye, cabin quality could be better in some areas
Tall Panda 4x4 will pitch and roll if not driven sensibly when taking corners
Twinair petrol engine is no fireball and requires patience when driven out of town
Driving experience can feel a little agricultural at low speeds
The regular two-wheel drive version of Fiat's Panda is a known quantity and has had praise heaped on it since its launch. This 4x4 variant builds on that car's simplicity while delivering low running costs, reasonable ride and handling along with all the benefits of four-wheel drive.
Famous for its boxy and rugged original Panda 4x4, a total traction version of Fiat's other small car has been a permanent fixture for decades. This latest version builds on the reputation of its recent predecessor, thanks to noticeable gains in refinement and comfort.
The basic formula has remained unchanged for years; essentially a supermini with extra traction, the Panda 4x4 builds on the regular front-wheel drive model's impressive performance. Spacious, practical and highly manoeuvrable, the latest Panda has won much critical acclaim.
Improving on its predecessor, this model boasts higher levels of refinement and an upgraded list of standard equipment. It will also seat four people in reasonable comfort - for a supermini. Don't expect to make rapid progress, though. Engine choice is between low capacity Twinair two-cylinder petrol engine and modest capacity diesel motor.
If that's the only downside to Panda 4x4 motoring, the upside is the car's staggering off-roading ability. For something with less than 100bhp it copes well with the likes of muddy tracks, greasy inclines and power-sapping ruts. The car's part-time 4x4 system works without driver intervention: front-wheel drive until it senses a loss of traction, there's no discernable delay before power is sent rearward.
Our verdict on the Fiat Panda 4x4 1.3 MultiJet 5dr
For buyers seeking a supermini capable of traversing snow-bound rural lanes and the occasional muddy field, the little Fiat Panda 4x4 will be more than up to the job. The car's part time 4x4 system affords it small car levels of fuel efficiencies when not in use, but is robust enough to keep you out of trouble with the minimum of fuss. Diesel is preferable over petrol power but in reality either will get the job done without you having to reach for a shovel to dig yourself out of a hole.
Costs
It's no secret that the combination of low asking price, insurance rating plus impressive fuel economy makes the Panda 4x4 a refreshingly inexpensive all-terrain car to buy and run. That it performs a dual role - supermini and micro off-roader - so well ensures it easily falls into the -bargain' category. You'll need to work the Twinair variant hard to achieve a reasonable pace, making the more frugal and relaxed Mutijet diesel a likely smarter alternative choice.
Space and practicality
The car's glovebox is a useful size and there's a decent array of oddment spaces and cubbyholes dotted around the cabin. There's ample room for front seat occupants as even the regular Panda performs well here. Rear space is geared more towards children - especially in terms of legroom. Folding the rear seats liberates some much welcome extra space as the boot is otherwise quite a modest area.
Controls and display
It's fair to say the Panda 4x4 - or any Panda - is an uncomplicated car. This extends to its displays and controls, which are simple and straightforward. Only the audio unit's slightly unconventional approach to voice control responses proves the exception. With the steering, brakes and manual gearshift boasting considerable assistance, driving the Panda 4x4 is no hardship.
Comfort
If you choose to drive enthusiastically around town and along twisty country roads, you'll soon experience the car's ability lean and think better of it. And so long as the cabin isn't packed to the roof with people or belongings, the interior is a pleasant environment. Likewise the car's ride; urban bumps are confidently brushed aside and the engine is reasonably refined. Wind, engine and tyre noise can be intrusive when travelling at speed, though.
Car security
The Panda is no Range Rover, and this is reflected in Fiat's understandably modest approach to security. The remote locking and immobiliser package is all you really need. For added peace of mind you could consider a visible steering lock to compliment the car's sturdy rear load cover.
Car safety
Although a small car the Panda 4x4 boasts the same high safety standards as other Fiats. Alongside the obvious 4x4 system, there's a useful collection of electronic traction and stability controls to keep you safe plus front and side airbags.
Driver appeal
Pottering around town is a breeze, and easily compensates for the car's conservative cruising ability, although a relaxed motorway pace is easily achievable but it can be a little noisy irrespective of engine choice. The surprise is how well it performs off-road. It's no Land Rover but it can confidently tackle muddy slopes, rutted tracks and shallow water with ease. The part-time 4x4 system kicks in without user intervention. Diesel is preferable to petrol (Twinair) power thanks to the former's extra thrust and better road manners.
Family car appeal
The Panda can't compete with a conventional family hatch or MPV but it could prove its worth as a second car. Factor in its low running costs and the minimal space it would occupy on the drive or street and it's the perfect urban companion. The 4x4 variant goes one step further; if you live in a rural environment there's little need to purchase an expensive off-roader as a second car.
First car appeal
As with the regular Panda, there's no reason why the 4x4 model can't be considered as a sound choice for novice drivers. The added security of extra grip during the wet and miserable months of year is something that cannot be ignored. The car's rough-tough appearance is also more likely to appeal to younger drivers, while the Panda's modest running costs should help novices watching the pennies.
Quality and image
While success in the large car market has eluded Fiat, it still retains a strong presence in the small and city car sectors - witness the success of the Panda and 500 models. Simple designs and equally simple engineering solutions have allowed the firm to do well and generate a considerable amount of goodwill.
Accessibility
With its lofty ride height, the Panda 4x4's front doors open nice and wide, while the elevated seating position makes it easy to slide in and out. Rear seat passengers might find the accommodation a bit of squeeze despite the car's expanded dimensions, but adults should have enough legroom at least for short journeys. Access to the boot is straightforward, just don't expect acres of space.
Stereo and ICE (In car entertainment)
In keeping with the Panda 4x4's slightly workmanlike approach to motoring, you won't find an elaborate entertainment set-up in the little Fiat. That said, in the standard unit's favour, everything (radio, CD, MP3 connectivity) works well. The display is placed high up in the centre console, while the controls are simple and clear.
Colours and trim
It's no surprise to learn that bright colours work best with the Panda's upright 4x4. Luckily Fiat also offers more sensible hues if you don't want to stand out. Inside, the same is true with the car's upholstery, as light and airy is the common theme in the Panda's cabin.
Parking
The Panda 4x4's short stance and generous levels of visibility make it easy to place. While the car's elevated driving position helps enormously, so does the Panda's -City' button, which tells the power steering to offer an increased - and noticeable - level of assistance.
Spare wheel
Regular wheel fitted as standard.
Range information
Petrol engine options - 0.9-litre (85bhp). Diesel engine options - 1.3-litre (75bhp). Transmission options: five-speed manual transmission. Trim levels: no specific 4x4 trim levels.
Alternative cars
Suzuki SX4 S-Cross Low-rise compact family hatch boasts all-weather abilities
Dacia Duster Larger than the Panda but not a lot more expensive
Mini Countryman Premium priced alternative not lacking in popularity
Renault Captur Sensibly priced Captur is biased more towards lifestyle than mud-plugging activities