February 2005
Fiat Panda 4x4
Chunky stance of Panda 4x4 easily marks it out from its two-wheel drive relative
February 2005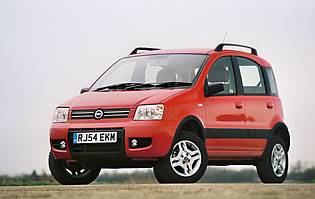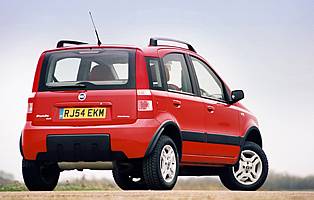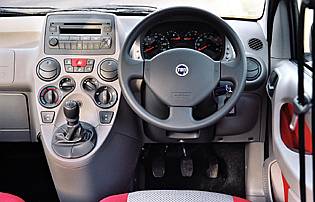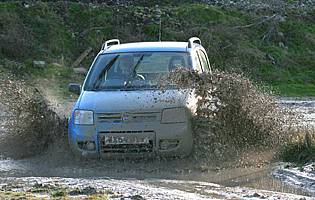 Overall rating

Likes:
Chunky styling and raised ride height is visually appealing and functional
Excellent value for money and decent level of standard equipment
Comfortable cabin is practical and spacious - for the car's size
Low running costs make the Panda an ideal first car
Gripes:
While cleverly designed, cabin quality could be better
Tall Panda will roll and pitch if not driven sensibly when taking corners
1.2 petrol engine is no fireball and requires patience when driven out of town
Boot is shallow and not well suited to the weekly family shop
This is a welcome return by Fiat to the supermini off-roader sector with the Panda 4x4. The regular two-wheel drive model is a known quantity and has had praise heaped on it since its launch. The second-generation total traction Panda boasts low running costs, reasonable ride and handling along with all the benefits of four-wheel drive.
The world has come a long way since the early 1980s and the original Panda 4x4. This boxy, slow but characterful car generated plenty of interest and has proven especially popular in the more rugged areas of Europe, but it was never a refined car. It didn't take long for Fiat to fill the void when the second generation Panda was launched in 2004 - and right all the wrongs of the first car.
Essentially a supermini with extra traction, this Panda 4x4 builds on the regular front -wheel drive model's impressive performance. Spacious, practical and highly manoeuvrable, the latest Panda has won much critical acclaim and secured the highly coveted European Car of the Year award.
Unlike the original Panda 4x4, the current model boasts high levels of refinement and decent levels of standard equipment. It will also seat four people in reasonable comfort - for a supermini. But, like the old car, this iteration is also slow. Pottering around town is no problem, but relaxing long distance trips are sometimes difficult to achieve thanks to the 1.2-litre petrol engine's modest power output.
If that's the only downside to Panda 4x4 motoring, the upside is the car's staggering off-roading ability. Granted it's no Land Rover, but for a car with only 60bhp it copes well with moderately challenging terrain such as muddy tracks, greasy inclines and power-sapping ruts. The car's part-time 4x4 system works a treat; front-wheel drive until it senses a loss of traction, there's no discernable delay before power is sent rearward. The added bonus is supermini levels of fuel consumption when the rear wheels are not being driven.
Our verdict on the Fiat Panda 4x4
With only a modest petrol engine powering it, the Panda 4x4 is never going to challenge full-blown off-roaders from the likes of Land Rover, Toyota and Nissan. However, for buyers seeking a supermini capable of traversing snow-bound rural lanes and the occasional muddy field, the little Fiat will be more than up to the job. The car's part time 4x4 system affords it small car levels of refinement and fuel efficiencies when not in use, but is robust enough to drag you up a slippery slope with the minimum of fuss.
Costs
The combination of a low asking price and insurance rating plus impressive fuel economy makes the Panda 4x4 a refreshingly inexpensive car to buy and run. That it performs a dual role - supermini and micro off-roader - makes it easily fall into the 'bargain' category. So much so that it could be perceived as an affordable second car, or even a sturdy all-rounder for newly qualified drivers. The car's lack of complexity should help make servicing a cheap activity, too.
Space and practicality
The Panda isn't a big car, but it does boast more than enough room for its intended role in life. The car's glovebox is a useful size and there's a decent array of oddment spaces and cubbyholes dotted around the cabin. Standard fit is a one-piece rear seat backrest, while you can select a more practical 50/50 split-fold version. This option also slides fore and aft - moderately increasing the car's boot capacity. Conveniently, and in both permutations, the seat folding mechanism can be accessed from inside the cabin and the luggage area.
Controls and display
The Panda - in all its various guises - is not a complicated car, so it's no surprise that the car's controls are minimal and simple to use. The upright fascia is host to most of the car's controls, be they rotary for the ventilation, push-button for the climate control and the almost eye-level stereo. The placement of the latter is welcome and the unit's big display is easy to see. In between all this is a collection of minor controls, including the 'City' button for the power steering. The main dials are legible, while the gearshift, column stalks and clutch require little effort.
Comfort
The Panda 4x4 rides a little higher than its already tall two-wheel drive cousin, so the fact that pitch and roll is largely kept in check is impressive. If you choose to drive enthusiastically around town and along twisty country roads, you'll soon experience the car's ability lean and think better of it. And so long as the cabin isn't packed to the roof with people or belongings, the interior is a pleasant environment. Likewise the car's ride; urban bumps are confidently brushed aside and the engine is reasonably refined. Wind and tyre noise can be intrusive when travelling at speed, though.
Car security
It's unlikely that any car thief will go out of his way to steal a Panda - even the more visually obvious 4x4 - but at least you get an immobiliser and remote central locking as standard. Anyone casting covetous eyes over the stereo needn't bother because, like so many units these days, it'll only fit the vehicle it was made for.
Car safety
Despite the Panda 4x4's perceived budget status, Fiat should be commended for making the car available with a comprehensive level of safety kit. Active standard features run to ABS and brake force distribution, while the Panda's regular twin front airbags can be supplemented by twin side and curtain airbags - bringing the tally to six. In an off-road context, the Panda comes with combination tyres, a move that will give you more grip when making off-Tarmac excursions.
Driver appeal
You don't buy a Panda to go tearing down your favourite B-road, but it's comforting to know that the little car is a solid performer. The 4x4 model is especially good considering its increased ride height and the modest engine under its bonnet. Pottering around town is a breeze, and easily compensates for the car's conservative cruising ability. The surprise is how well it performs off-road. It's no Land Rover but it can confidently tackle muddy slopes, rutted tracks and shallow water with ease. The part-time 4x4 system kicks in with no discernible delay, and the Panda's small size easily compensates for any lack of grunt from the engine.
Family car appeal
In a word, no. The Panda is not a car you'd buy as the sole family hack. It's too small in every sense. But as a second car the little Fiat makes more sense. Factor in its low running costs and the minimal space it would occupy on the drive or street and it's the perfect urban companion. The 4x4 variant goes one step further; if you live in a rural environment there's little need to purchase an expensive off-roader as a second car.
First car appeal
The regular Panda is a perfect first car and the 4x4 variant is no different. If anything, the inclusion of four-wheel drive - albeit a part-time system - makes the beefed-up model a better choice. The added security of extra grip during the wet and miserable months of year is something that cannot be ignored. The car's rough-tough appearance is also more likely to appeal to younger drivers, while the Panda's low running costs should help novices watching the pennies.
Quality and image
Fiat has had a rough ride of late, and not just in the motoring press. Once the king of the small car domain, it's been overtaken as other car firms have muscled in. Fiat has also looked elsewhere for success in recent years - family hatch and MPV sectors - and failed to match the success of its rivals. The Panda is evidence that Fiat is again concentrating on what it does best: superminis. Once improvements are made in terms of perceived build quality and the aftersales experience the firm will be in a much healthier position.
Accessibility
Front seat occupants should find it easy to access and egress the cabin. The front doors open nice and wide, while the elevated seating position makes it easy to slide in and out. Rear seat passengers will the accommodation a bit of squeeze initially, but most adults should have enough legroom at least for short journeys. It's unlikely children will complain, and there's a surprisingly generous amount of headroom all-round. Access to the boot is fine, but the available space is modest.
Stereo and ICE (In car entertainment)
The Panda 4x4 is not a flashy vehicle, so you won't find an elaborate entertainment set-up in the little Fiat. Alas, you won't find a CD player as standard, either. Which is a shame as many of its rivals have long since ditched the humble cassette player. There is an upgrade path if you want a better system, though, which boasts the more desirable CD player. That said, in the standard unit's favour, everything works well. The display is placed high up in the centre console, while the controls are simple and clear.
Colours and trim
Bright, jaunty-looking colours work best with the Panda's upright, fun-loving appearance. Luckily Fiat offers such a choice - along with the more common and sensible hues. Inside, the same is true with the car's upholstery, as light and airy is the common theme in the Panda's cabin.
Parking
If you can't park a Panda then there's not much hope for you. The car's short stance and generous levels of visibility make it easy to place. While the car's elevated driving position helps enormously, so does the Panda's 'City' button, which tells the power steering to offer an increased - and noticeable - level of assistance. More help is available from the options list in the form of rear parking sensors.
Spare wheel
Regular wheel fitted as standard.
Range information
Two petrol engines - 1.1-litre (54bhp) and 1.2-litre (60bhp). Both come with a five-speed manual gearbox as standard. Dualogic auto 'box optional. 1.3 Multijet (70bhp) diesel only for front-wheel drive Pandas. Five trim levels - Active, Dynamic, Dynamic AirCon, Dynamic SkyDome, Eleganza. Panda 4x4 is a standalone model based on the Dynamic trim level and only available with the 1.2 petrol engine.
Alternative cars
Citroen C3 XTR Looks like a mini 4x4 but is just a chunky-styled front-wheel drive supermini
Renault Kangoo Trekka 4x4 Bigger than the Panda and more costly but does boast all-wheel drive
Daihatsu YRV 4trak Quirky 4x4 YRV is good value but not as pretty or refined as the Panda
Mitsubishi Shogun Pinin Proper mini 4x4 costing little more than the Panda. Great off road, less refined on road