February 2004
Fiat Panda 1.2 Dynamic
Bold looking Panda is Fiat's new city runabout
February 2004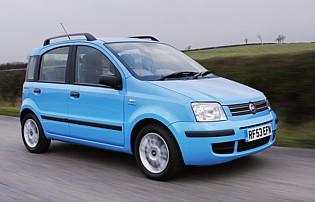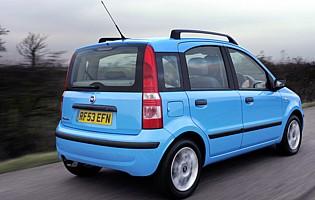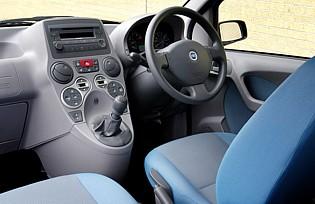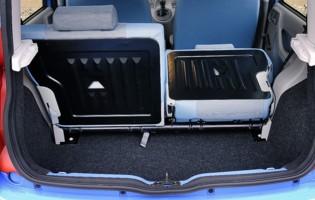 Overall rating

Likes:
Lofty driving position
Refined and willing petrol engines/
Cabin fit and finish
Copes well with poor road surfaces
Gripes:
No ABS on 1.1 Active
Range lacks higher capacity petrol engine/
Cabin fabrics don't look especially hard wearing
Rear seat accommodation a squeeze for adults
Fiat has gone back to what it knows best - making small, affordable cars that look good and offer the sort of practicality usually reserved for traditional family hatchbacks. Banish whatever memories you have of the Panda's original namesake, as this second generation car is a compact city runabout for the 21st century that's not shy at tackling long haul trips.
What a difference a few years can make. Not so long ago, critics of Fiat were drafting its obituary, as the Italian car maker stumbled close to the brink of oblivion. Since then, and with the help of sympathetic partners, its recovery is gaining momentum.
Proof of Fiat's renewed vigour comes in the shape of the Panda, a car to challenge conventional offerings from European rivals. Although engines and equipment levels are modest, there is nothing ordinary about the car's approach. Tall like a mini-MPV but possessing the road manners of a regular supermini, the Panda is destined to become a respected member of the establishment by virtue of its multifaceted appeal.
Critics would do well to stay away from this Panda party, as there's every indication that Fiat is unlikely to revert back to its old ways judging by the volume of praise heaped on the car by the motoring press. That it was awarded the prestigious 2004 Car of the Year title goes to show that the winner of countless gongs from decades past hasn't lost the knack.
The praise is not merely aimed at its subjective qualities though, as the Panda packs some genuinely interesting features. Its wide-opening tailgate makes loading easy, the extra steering assistance gained from the 'City' button is welcome when squeezing into tight spaces and the centre console-mounted gearshift is an ergonomic delight to use.
A world away from the suspect reliability and rust maladies that dogged the brand 20 years ago, this latest twist on the small car theme is destined to be the first of many models that drag Fiat back into the black.
Our verdict on the Fiat Panda 1.2 Dynamic
Proof that Fiat hasn't lost the knack of making compact, attractive and versatile cars comes in the shape of the upright, pert-looking Panda. Well-equipped and refined, the Panda is a small Fiat you can buy with confidence. That it's not out of its depth on the motorway speaks volumes for its ability to be more than just a 'second' car.
Costs
There's no doubt that Fiat has done its homework. The Panda is competitively priced and reasonably well equipped, making it an attractive and affordable car in what is rapidly becoming a crowded market sector. Running costs should be low, too. Fuel economy for both petrol motors hovers around the 50mpg mark and insurance groups run from 1E to just 3E for the high-value Eleganza model. The small capacity motors will allow you to save a fair sum in car tax, and the car's lack of complexity should ensure garage bills are kept to a pleasing minimum.
Space and practicality
As a car to transport one or two persons and a modicum of shopping over short distances in comfort, the Panda scores highly. Two well-fed adults will experience few difficulties if sat side-by-side, although rear occupants will rue the lack of legroom if travelling long distances. Folding the rear bench liberates a welcome extra few litres of space (capacity rises from 206 to 236 litres), although the increase will soon be swallowed up by even the smallest of furniture flatpacks. At least the tailgate's opening is generously dimensioned.
Controls and display
The first thing you notice when entering the Panda's cabin is its sizeable centre console. All the major controls are located conveniently above the dash-mounted gearlever, itself in the perfect position for swapping gears quickly and something you'll need to do often to maintain momentum around town. Dynamic Sound and Eleganza variants also possess convenient steering wheel-mounted audio controls. Given the Panda's role in life, you get only a few essential dials. While easy to read, the large numbers can get obscured by the rake-adjustable wheel.
Comfort
The Panda's supple ride is one of the car's best features. Fiat has done well to keep pitch and roll to a minimum despite the car's high centre of gravity. Inside, the front seats perform a solid supporting role, proving more than adequate in accommodating occupants of differing sizes. Once you're belted in, the rear bench performs a similarly noteworthy role. For the driver there are the usual adjustments, and all the major controls are within easy reach - especially the fascia-mounted gearstick.
Car security
For obvious reasons, you won't find expensive tracking devices or complex alarm systems in Fiat's Panda. The car is hardly going to be a target of the stereotypical joyrider, after all. The Active model comes with an immobiliser, with remote central locking appearing on Dynamic Aircon cars and up.
Car safety
Fiat is keen to stress that after conducting countless crash tests its small car is the safest in its class. Certainly, the car comes equipped with the usual safety features. Active variants come with twin front airbags, while Dynamic models add ABS and electronic brakeforce distribution. Crucially, rear headrests are standard on only the flagship model, and you'll have to pay extra for side and window airbags, traction control and the aforementioned headrests on all other variants.
Driver appeal
While the Panda was never meant to be a rapid A to B machine it's been blessed with road manners that would shame many cars from a class above, delivering a secure, progressive ride. With only a modest array of engines on offer the car is no fireball, yet these units prove to be willing and refined. Of greater importance than outright speed is the Panda's ability to effortlessly soak up surface imperfections - an essential attribute given the car's natural habitat. The car's direct steering and snappy gearshift only add to the experience.
Family car appeal
Although no MPV, the Panda would have no trouble accommodating a family in its first formative year. The presence of ISOFIX child seat mounting points will no doubt please both present and future parents. Quite where you'd put the buggy is another matter, which is why the little Fiat is better suited to the role of second car in this context. As a runabout for the stay at home parent or even the home help, the Panda would take trips to the shops and the school run in its stride.
First car appeal
Pitched as an affordable, versatile alternative to a conventional supermini, the Panda should be on the list of any first time buyer seeking an uncomplicated city runabout. With its endearing face, modest powerplants and commanding driving position, the Panda is a simple to master car for anyone who's just ripped up their L-plates. As a bonus, Fiat's optional Dualogic auto gearbox should prove attractive to anyone seeking a fuss-free way of changing gear on the inner city commute.
Quality and image
Fiat has come a long way since the days of rust and unreliability, and the company's turnaround has been nothing short of dramatic. Mechanically, the Panda is likely to perform as well as its European rivals. Build quality and cabin presentation easily surpasses that of Fiat's previous small car efforts and is beaten only by the German opposition. Buying a Fiat no longer requires you to make excuses to friends, as the company's newfound reputation for offering entertaining and value for money packages is well deserved.
Accessibility
For a car that takes up so little room, the Panda is surprisingly commodious. Clearly, two adults will struggle to remain comfortable in the back for more than the odd trip into town, but elsewhere there's enough space to challenge preconceptions of how practical an urban runabout can be. Accommodation is more that adequate for front seat occupants, and the car's high seating position and wide opening doors makes entry and egress easy. The trade off is a boot that, although wide, lacks depth. However, fold the seats down and the situation improves.
Stereo and ICE (In car entertainment)
Even considering the Panda's asking price, a radio/cassette - not a radio/CD - is disappointing as the basic entertainment package. Opting for the Dynamic Sound or Eleganza variant remedies the problem. The latter gains a four-speaker set-up, while the former packs a 100w amplifier and six speakers. Steering wheel-mounted controls are standard on both cars. You can, of course, purchase the items separately from the options list, plus a useful six-disc CD changer. Also optional is satellite navigation on Dynamic AirCon variants and above. At GBP1,000 it's a costly item for a car costing well under GBP10,000.
Colours and trim
Reinforcing Fiat's claim that the Panda is not just a practical car but a fun one too, bright, bold colours work best. Yellow, once a colour reserved for sporty Volkswagens, is possibly the most pleasing, with light blue a close second. Inside, the Panda's airy cabin complements the light-coloured trim materials. While not quite up to German standards, interior fittings appear reassuringly durable. At first glance the list of model designations looks confusing, but closer examination reveals a sensible distribution of key safety and comfort equipment.
Parking
A small footprint is the key to painless urban motoring, and the Panda scores well in this category. Boasting a lofty driving position and good fore and aft visibility, drivers rusty in the art of parallel parking will encounter few problems. Light controls and power steering certainly make life easier, but the Panda goes one better with its 'City' button. Press this and the steering becomes dodgem car light - perfect for when serious arm-twirling is required.
Spare wheel
Same size as the main wheels, thus ensuring savings when tyres have to be changed.
Range information
Two petrol engines - 1.1-litre (54bhp) and 1.2-litre (60bhp). Both come with a five-speed manual gearbox as standard. Dualogic auto 'box optional. 1.3 litre diesel arrives later. Six trim levels - Active, Dynamic, Dynamic AirCon, Dynamic SkyDome, Dynamic Sound, Eleganza.
Alternative cars
Daewoo Matiz  practical low cost urban runabout but lacks refinement
Vauxhall Agila  Suzuki Wagon R+ clone offering a rounded experience
Daihatsu Charade  closer to city car template than the Panda
CityRover MG Rover's runabout fails to match the Fiat for quality and style