Fiat Panda 1.2 8v 69hp Lounge
March 2012
Fiat Panda 1.2 8v 69hp Lounge
Although now larger than before, the Panda still looks cute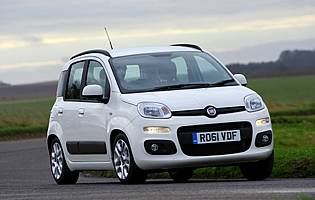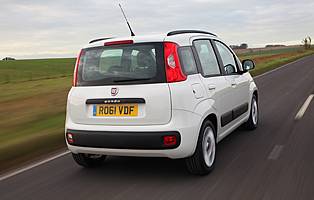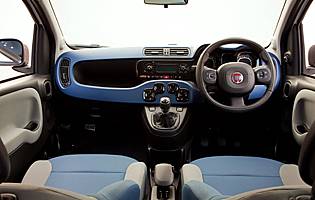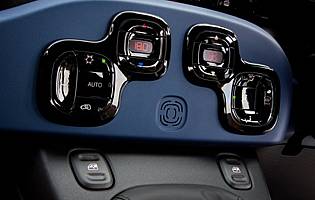 Overall rating

Likes:
Surprisingly spacious for front and rear passengers
Relatively soft suspension setup means comfortable cruising
High seating position gives improved view
Stylish interior uses creative shapes to great effect
Gripes:
Versions without the TwinAir engine lack sparkle
Interior plastics and finish quality fall short in some areas
High sides make it more susceptible to crosswinds than conventional superminis
Turning circle could be better
The Panda has been immensely popular in each of its two previous incarnations, using small dimensions, charming looks and cheap running costs to persuade people into buying. Now Fiat has changed the formula with a larger car, making it noticeably longer for better rear legroom but risking losing the small car character that made the last version such a hit.
With this version Fiat has let the Panda grow up a little, while hanging on to the quirky Italian style that made it so popular in recent years. The looks have been rounded off to create a much more fluid form. It looks much less utilitarian than before but for some that might spoil part of the appeal.
Around the same length as the Punto Evo, the Panda is officially part of the supermini category rather than being grouped with smaller city cars like Fiat's own 500. Superminis make up a huge proportion of UK market sales, and Fiat hopes that the Panda's high driving position will be a tempting factor for all kinds of drivers.
Three engines including a diesel, a conventional petrol and a turbocharged TwinAir two-cylinder petrol were available from the car's launch.. Each engine has its own character, advantages and disadvantages, with the turbocharged TwinAir offering the best overall experience but costing more than the ordinary petrol engine.
The only body style option is five doors with a hatchback-type boot; an arrangement judged to be the best for the target audience. The fuel tank is still relatively small like the last Panda's but with efficiency improvements the potential range has increased. Weight has been kept low too, especially in the 1.2-litre petrol model.
Our verdict on the Fiat Panda 1.2 8v 69hp Lounge
For the most part the third-generation Panda is very likeable, from its styling to its simplicity and its spaciousness. But there are some question marks over some plastics, particularly inside the cabin. The turbo TwinAir engine is the one to have and gives the Panda real character, but the best value choice is the 1.2-litre petrol. Either way there's a lot to like about the Panda.
Costs
All of the Panda's engines promise high fuel economy and low running costs, but the TwinAir offers the lowest CO2 output. The diesel promises the highest fuel economy but in town the difference between the three is likely to be small. On that basis the 1.2-litre petrol is good value, with a lower asking price than the TwinAir. Residual values are predicted to be higher than the previous model, owing to its more grown-up nature.
Space and practicality
This is an area specifically targeted by the Panda's redesign, with its extra length providing more interior space and enlarging on the boot. There are plenty of storage bins around the front of the cabin and it's impressive how many day-to-day items can be accommodated quickly. The boot has a medium depth lip that does make lifting heavy bags in and out more difficult, but some rivals are worse offenders.
Controls and display
Although the displays are great to look at with their squared-off circle design, it's initially not that easy to read them at a glance. The ventilation controls follow the same design and give the centre console a funky look. They're chunky and easy to use, following a standard arrangement of fan speed, temperature and air flow direction. The small LCD screen above these controls is simple but effective, giving clear readouts.
Comfort
Riding on relatively soft springs the Panda is a comfortable drive. High seats mean that most people will be able to get comfortable, with an emphasis on legroom and headroom. Adult passengers can sit behind six-foot adults in surprising comfort and space, although it's not wide enough to seat three easily. Road noise is moderately intrusive at higher speeds, but around town the Panda is quiet, especially with the 1.2 petrol.
Car security
The Panda's security equipment is modest but improves on higher-priced variants. All models have central locking but only Easy and Lounge models allow remote central locking. There is little else to note other than Fiat's Smart Fuel refueling nozzle that prevents the use of the wrong type of fuel.
Car safety
All Panda models come with ABS and a system to distribute braking force to the wheels with the most grip. Again, all three trim levels feature anti-whiplash head restraints for the front two seats. Only Easy and Lounge models have rear head rests as standard. Six airbags are common equipment across all models, at the front, front side and curtain positions offering impressive protection in an accident.
Driver appeal
The 1.2-litre petrol and 1.3-litre diesel engines are both quiet and smooth if the revs are kept low, providing a relaxing driving experience around town. They do lack character though and the 1.2 petrol in particular struggles at higher speeds. The two-cylinder TwinAir transforms the car into a cheeky urban runabout with bags of personality, but some people will be put off by its vocal nature.
Family car appeal
The inherent benefits of the Panda's dimensions mean that it's very easy to use for family duties. Getting a child seat in and out is made easier thanks to lots of headroom, although the rear door aperture can sometimes be a little restrictive in width. The boot is large enough for general shopping and carrying child-related accessories around, and kids also get a good view out at the surroundings through the large windows.
First car appeal
The Panda ticks every box for a first-time buyer. It's a good size to carry passengers, it offers a high driving position, looks great and its hard interior plastics will stand up well to being knocked around. The extensive options list allows buyers to personalise it to their needs. All of the engines are user-friendly and will offer cheap running costs to reduce the financial burden on young drivers.
Quality and image
Fiat doesn't have the best reputation for build quality or materials excellence and has moved production back to Italy for this generation of Panda. The build and materials quality still can't match up to the style the car offers, with scratchy plastics in abundance. All models can initially feel a little inexpensive as standard, but Easy and Lounge versions can be upgraded with a much-needed leather-covered steering wheel and gear knob.
Accessibility
Five doors and high seats make the Panda as accessible as a car of this size can be, although rear seat passengers might need to tuck their knees around before being able to slide out. The front seats are quite flat across their width, making it easier for people to get in and also reducing the impact of wear and tear over time. The boot is easy to get at and although the tailgate needs reasonable room leaving behind it, it's pleasantly light.
Stereo and ICE (In car entertainment)
Featuring a straightforward style of stereo interface, the Panda makes it easy to select and change music. Bluetooth connectivity is optional but will allow the playing of music wirelessly. All Panda models have an input socket for MP3 players with USB connectivity optional. Some people might find one or two of the buttons a bit too small and fiddly and there's another option that installs steering-wheel mounted audio controls - at a cost.
Colours and trim
The Panda's colour palette is broad and includes more adventurous choices as well as the more sensible options. Choosing will be a matter of taste but it looks good in all its available hues, especially in the highest specification Lounge trim which includes body-coloured door handles as standard. The interior is very stylish, with a theme of squared-off circles throughout the display and air management controls. All in all it's easy on the eye.
Parking
Excellent all-round visibility out of the Panda helps make it easy to judge where the corners are and the Dualdrive power steering allows the wheel to be turned with one finger to make parking physically easy. The steering lock isn't quite as good as it could be, though, and some tight manoeuvres are made more difficult as a result of the turning circle not being as small as in some other supermini-size cars.
Spare wheel
Emergency tyre repair kit supplied as standard, space saver spare wheel optional.
Range information
Petrol engine options - 1.2-litre (68bhp); 0.9-litre TwinAir (84bhp). Diesel engine options - 1.3-litre (74bhp). Transmission options: five-speed manual gearbox standard, plus electronically-actuated manual gearbox (0.9-litre TwinAir only). Trim levels: Pop, Easy, Lounge.
Alternative cars
Hyundai ix20 Stylish supermini boasts a wide range of talents
Skoda Fabia Wide range of engines, trims and options
Toyota Verso S Shorter than the Panda but uses its space effectively
Peugeot Bipper Tepee Van-derived car still looks like a van but has utilitarian charm