October 2004
Fiat Multipla 1.9 JTD Eleganza
New look gives Multipla a neater appearance
October 2004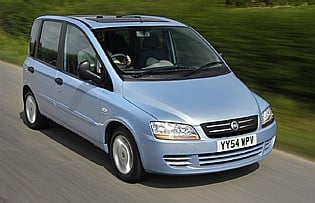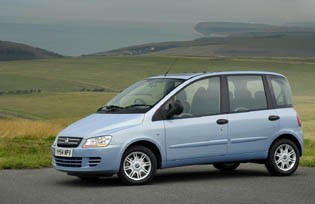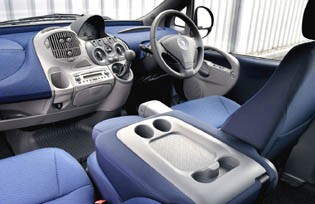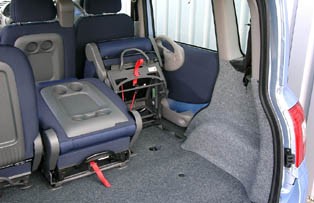 Overall rating

Likes:
Seat arrangement very refreshing
Diesel engine incredibly frugal
Airy, bright cabin
More fun to drive than expected
Gripes:
Extroverts may prefer old design
Petrol engine underpowered
Automatic gearbox not offered
Folding seats requires some muscle
It may not look as wacky as it once did, but happily Fiat's new-look Multipla is just as practical as the previous generation model was provocative, while retaining its high levels of practicality.
When the original Multipla launched in 1999, it immediately became one of those 'love it or hate it' cars, on the strength of its looks alone. Outside and in, it was wilfully different, with an unusual three in the front, three in the back seat layout, an interior that looked like it belonged in a concept car and exterior styling that was impossible to ignore - for good or bad.
Yet behind the styling lay one of the most practical cars on the road - and it still does, even though the Multipla's bulbous body panels and oddly-placed lights have been replaced by a far more conservative treatment. Even fans of the old Multipla will have to admit that Fiat has done a good job of reshaping the vehicle, transforming it from an oddball outsider to a good looking and even rather classy family vehicle.
The interior is truer to the Multipla of old with some unusual but effective placement of instruments and switchgear. The cabin's flexibility has gained a bit more functionality, too, with seats that fold and can be removed to turn the Multipla into a very effective van-like load lugger.
It's pretty good to drive, too. The van-like driving position and the high proportion of glazed surfaces affords outstanding visibility to the driver. Having the gearshift mounted on the dashboard and the handbrake by the door creates the space for the central front seat simply and effectively. It's significantly wider than a traditional five-seat MPV, offering six genuine adult seats, but doesn't feel unwieldy. Having three in the front and three in the back seems to create a nicer atmosphere, too, with everyone involved in conversation.
Equipment levels are impressive, build quality is generally good and the Multipla remains very attractively priced compared to its rivals. However, it only really makes sense with Fiat's fine 1.9-litre JTD diesel engine, as the 1.6 petrol feels far too small with a heavy load aboard. It's unfortunate that no auto gearbox option is offered, as stop-start motoring in heavy traffic can become a chore.
Our verdict on the Fiat Multipla 1.9 JTD Eleganza
The Multipla has always been a great car - it was just a matter of whether buyers were prepared to stand out from the crowd in quite such an obvious way. Thanks to the redesign, you no longer need to be an extrovert to appreciate what it has to offer. Shrinking violets no longer have an excuse to avoid this likeable, practical vehicle.
Costs
As a value for money proposition, the Multipla makes a strong case for itself, being cheaper than a good many five-seat MPVs, let alone seven-seaters. The entry-level price is tempting, but bear in mind that the more desirable diesel-powered variants are more than GBP1,000 more expensive than their petrol counterparts, which takes the edge off what seems like keen pricing. On the other hand, the diesel is exceptionally frugal so fuel costs will be low, while insurance and servicing bills should also be manageable.
Space and practicality
The flexibility of the three-abreast seating allows for extensive adjustment of the front seats (the central one can fold into a handy picnic table), while rear seats can be folded or removed completely, though this does take a bit of grunt to accomplish. Luggage space rises from 430 litres - not bad itself - to a maximum 1,900 litres of flat-floor loadspace with the rear seats removed.
Controls and display
Never has the phrase 'oddment trays' been more apposite. The outside might look normal, but the inside of the Multipla is as eye-catching as ever with centrally-mounted instruments slanted towards the driver, air conditioning vents that look like they can't decide which way is up and storage drawers sprouting from the dashboard from all angles. The wing mirror controls located in the roof take a bit of getting used to.
Comfort
Two rows of three seats work so well, it's amazing that no other competitors with the exception of Honda's FR-V - launched a mere five years after the Multipla - have had the courage to try it out. The two central seats are smaller than the rest but still larger than those commonly found in the back seat of a family estate, and when folded forward they turn into useful trays-cum-tables. Drivers should have no problems getting comfy as all models feature a height adjustable driver's seat. Wind and road noise intrude slightly at high speeds, but the high proportion of fabric in the interior helps to deaden the sound and reduce vibration.
Car security
Dynamic models come complete with remote central locking and an immobiliser. The stereo is integrated into the dashboard, too, which wasn't the case with early Multiplas, making them a likely target for thieves. Dynamic Plus and Eleganza models get an alarm as well. The large areas of glass do allow an unobstructed view into the cabin, so it is important to keep valuables well out of sight. Few thieves are likely to try and steal the whole vehicle - it's just too unusual to sell on.
Car safety
The Multipla's no better than average score in the EuroNCAP ratings comes as something of a surprise, as it seems pretty well equipped with front and rear disc brakes with ABS and EBD, up to six airbags, six full-sized head restraints, ISOFIX child seat attachments and even a Fire Prevention system. Large door mirrors split into two help eliminate blind spots. They can take a while to set up properly but are worth the effort.
Driver appeal
People carriers and family vehicles don't tend to provide many thrills, yet the Multipla is more entertaining than most. A wide stance enables it to stay commendably flat through corners, while the power steering assistance is well weighted. The 1.6 petrol feels underpowered with more than one passenger on board. The 1.9 diesel has barely more power but a far superior torque curve, making it a much more desirable choice. Indeed it is so eager to get off the mark that care has to be taken in slow-moving traffic to prevent lurching forward. The situation is not helped by the lack of an automatic gearbox.
Family car appeal
Accepted wisdom may be that family cars feature either five or seven seats, but why? The Multipla's six-seat arrangement is just as practical. In some respects it is even more so, as it's just right for Mum, Dad, two kids and two friends. The bright colours of the interior appeal to children and with the smart new look they will no longer have to endure playground taunts about arriving in a spaceship.
First car appeal
It's hard to imagine the circumstances in which a Multipla would be first choice as a first car, except perhaps for the newly-appointed manager of a five-a-side football team. Used ones aren't even particularly cheap, owing to their relatively rare status.
Quality and image
Individualists used to love the Multipla because it shamelessly craved attention. The new Multipla adopts a lower profile but looks considerably classier as a result. It adopts the new Fiat 'face' which hasn't been completely convincing on the Punto and Panda but unexpectedly suits the Multipla very well indeed. However, it may still be too van-like for conservative tastes. Large Fiats aren't generally perceived as high-quality vehicles despite recent evidence to the contrary.
Accessibility
Doors are tall but start very low to the ground, enabling exceptionally easy access. Even entry-level Multiplas feature a height-adjustable driver's seat. Unexpectedly, all three front seats have independent fore and aft adjustment, though the middle seat is always set slightly back so as not to get in the driver's way. Both central seats can be folded to become tables complete with cup holders.
Stereo and ICE (In car entertainment)
A six-speaker RDS stereo and CD player is standard issue. Satellite navigation, a twin-screen DVD player and Bluetooth connectivity are on the options list, as is Fiat's much-trumpeted but little-loved Connect Nav 'infotelematic package'.
Colours and trim
There are nine colours to choose from. Previously it was a case of the bolder the better, but the more restrained modern design approach calls for a more restrained choice of hues. It's a different matter inside, where bright colours work well with the Multipla's unusual layout and fabric-covered plastics. A quirky selection of optional extras includes a fridge, and plenty of equipment is provided even on entry-level models.
Parking
Because the driver sits high and the windows start relatively low, visibility is absolutely superb. By modern standards, the frontal pillars are very thin, so there's no obscuring there, either. The only thing likely to cause a problem is the Multipla's girth, which is inevitably slightly wider than a five-seater. But at least the sides are very flat, so once you're used to the Multipla, it's easy to judge distances. Parking sensors are an optional extra
Spare wheel
All models come with a full-size steel spare wheel.
Range information
2004 revisions to the range resulted in three new trim levels - Dynamic, Dynamic Plus and Eleganza. Engine choice is a straight toss-up between a 1.6-litre (103bhp) petrol unit or the torquier 1.9-litre (115bhp) common rail turbodiesel. Five-speed manual transmission is the only choice as far as gearboxes go.
Alternative cars
Renault Megane Scenic In regular or 'Grand' size, it's the default class choice
Volkswagen Touran Well-built but predictably pricey - as expected from VW
Honda FR-V Launched five years later with the only similar seat layout
Kia Sedona Similar price and an extra seat but little character