Fiat Fullback LX
Rugged good looks
January 2017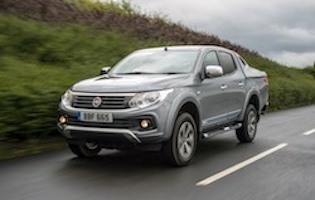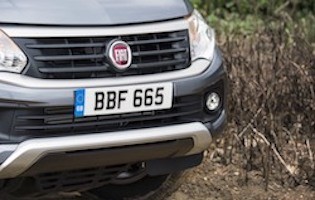 Overall rating

Likes:
Rugged good looks
Commanding presence on the road
Generous specification
Roomy interior
Gripes:
Can be tricky to park
Limited storage space in the cabin
Slow and fiddly infotainment system
Skittish ride when load bed is empty
Essentially, the Fullback is no more than a Fiat-badged Mitsubishi L200. It shares the same platform, the same engine and the same performance and economy figures. The only real difference between the Fullback and the L200 is the Fullback's front end, which is slightly more reserved and, dare we say it, better looking than the L200's.
The Fullback loses the overly flashy-looking grille of the L200 Barbarian in place of a more grown-up and suitable front end, while the rest of the pick-up remains virtually the same. Under the bonnet is a 2.4-litre diesel engine that produces either 148bhp or 178bhp depending on specification. This is good for a fuel economy figure as high as 42.8mpg.
Inside, the Fullback's cabin is rather spartan in terms of its appearance, with a fair amount of cheap-looking plastics fitted throughout. That said, there is a generous level of standard equipment, which includes DAB radio, Bluetooth connectivity and cruise control on entry-level SX models. LX models gain features such as a rear-view camera and a 6.1-inch touchscreen infotainment system.
Despite the cabin being rather roomy, storage is rather limited. The glove box is on the small side of things, and the door bins are narrow. There is another storage compartment in the centre console, however. Passengers in the rear bench will find a good deal of headroom and legroom.
As a practical workhorse, the Fullback doesn't fare too badly. It is rated to tow up to 3.1 tonnes, while it can manage a one-tonne payload. This isn't terrible, although some of its rivals can tow as much as 3.5 tonnes.
Our verdict on the Fiat Fullback LX
If you're in the market for a stylish, economical and fun-to-drive city runabout, the Fiat 500 could be just the car for you. It may not be quite as good as some of its immediate rivals, but its charming looks and excitable engines make for an incredibly likeable truck.
---
Costs
The Fullback has a claimed combined fuel economy figure of 42.8mpg, which isn't exactly amazing but considering the pick-up's size isn't too ridiculous, either. The entry-level Fullback costs from £26,373, which is more expensive than a basic Nissan Navara, although you do get a fair amount of kit as standard.
Space and practicality
This is arguably the Fullback's main selling point. As the Italian pick-up is only offered in a double cab configuration, there is room for five passengers to ride in relative comfort. The load bed can swallow a Euro pallet with ease, and can carry a tonne of load – more than enough for a large weekly shop. The majority of your towing needs should also be catered for, as the Fullback is rated to tow up to 3.1 tonnes.
Controls and display
For the most part, the Fullback's controls are well laid out. The knobs for the air conditioning and heating are within easy reach, and buttons on the steering wheel make changing the volume and setting the cruise control an easy process. Where the Fullback falls down is its infotainment system. The screen is very small, as are the buttons. Because of this, operating it while on the move is an incredibly tricky process, and is best left to a passenger or for when the car is stationary.
Comfort
As a long-distance cruiser, the Fullback just misses the mark. Sure, the seats are fairly soft and comfortable, but thanks to a lack of support, coupled with a fair amount of road noise and a jittery ride – especially with an empty load bed – the Fullback isn't easy to recommend. Next to rivals such as the Nissan Navara and Volkwagen Amarok, the Fullback's interior also feels rather old-fashioned – despite its fairly generous amount of standard equipment.
Car security
The Fiat Fullback features all of the regular security equipment to ensure that any potential thieves will have a hard time gaining access. Remote central locking comes as standard, although you will want a load cover if you want to keep any items stored in the load bay out of sight. The flashy looks could make it a potential target for car thieves, however.
Car safety
While the Fiat Fullback has not yet been crash-tested by Euro NCAP, its sister truck – the Mitsubishi L200 – was awarded four out of five stars when tried out for safety in 2015, so it would be fair to assume the Fullback would score similarly. The Fiat pick-up has safety features such as electronic stability control, lane departure warning and LED daytime running lights for added peace of mind.
Driver appeal
While the Fullback might be a large tank of a vehicle, there is still a fair amount of satisfaction to be gained from jumping in and going for a drive. That said, though, this is largely down to the sense of superiority you glean from its size. At low speeds and with an empty load bed, it does skip around a fair amount, although on the motorway it is comfortable and provides a commanding view of the road ahead.
Family car appeal
As a family proposition, the Fullback starts to make much more sense. There is plenty of room in the rear seats for three children, and the load bed will easily be able to swallow up a family's holiday luggage. The Fullback's cabin shouldn't be too difficult to take care of either, thanks to its rather rough and ready finish.
First car appeal
While a young teenager might find the idea of driving around in a large pick-up truck appealing from an image point of view, in reality it doesn't make much sense as a first vehicle. Its large size would be rather intimidating for inexperienced drivers, and running costs won't be too great either – especially when compared with those of a far more sensible supermini.
Quality and image
While it might be absolutely huge, the Fullback is actually a rather handsome vehicle. It is very similar in appearance to the Mitsubishi L200, with which it shares a platform, although the front end is a lot less chintzy looking. The interior is rather basic-looking, but gives the impression that it can stand up to the rough and tumble that vehicles such as this tend to be subjected to.
Accessibility
As the Fullback is a rather tall car, getting in and out might be difficult for shorter occupants or those who have difficulty moving. For anyone else though, access to the Fullback is fairly easy thanks to wide door apertures and a helpful step rail. As you might expect from a vehicle of this nature, getting items in and out of the load bay is a fairly straight forward process thanks to the lack of a boot lip.
Stereo and ICE (In car entertainment)
The 6.1-inch touchscreen infotainment system that was fitted to our vehicle wasn't exactly on a par with similar systems fitted by other manufacturers. The screen was small, the buttons were hard to find and the touchscreen itself was slow and not hugely responsive. That said, it still includes Bluetooth and USB connectivity, meaning you can pair your smartphone, and the stereo system itself is rather impressive.
Colours and trim
Don't be fooled into thinking that just because the Fiat Fullback is a rough and tough utilitarian workhorse it can't stand out from the crowd. The big pick-up is available in a range of eye-catching colours, including bright shades of red and blue, as well as a smart-looking earth green. For those after a more reserved colour, the classic black, greys, silvers and whites are also available. Trim levels are SX and LX.
Parking
Thanks to its rather gigantic size, the Fullback certainly isn't the easiest truck in the world to park. It doesn't have much of a turning circle, which means performing tight manoeuvres can take some time, and you're constantly aware of just how wide and long it is – especially on narrow streets. However, LX models do benefit from a rear-view camera that is fitted to the pick-up as standard, which makes parking that much easier.
Spare wheel
Not included.
Range information
Diesel engine options: 2.4-litre (148bhp, 178bhp). Transmission options: six-speed manual gearbox depending on model, five-speed automatic gearbox depending on model. Trim levels: SX, LX.
---
Alternative cars
Mitsubishi L200 Basically the same as the Fullback, but with a Mitsubishi badge.
Ford Ranger Better looking, but also quite thirsty.
Nissan Navara More comfortable than a lot of its rivals, with a nice interior too.
Volkswagen Amarok The Amarok represents a far more premium offering in the pick-up sector.