September 2004
Daihatsu Copen Copen
Quirky little Copen is a distinctive car on the road
September 2004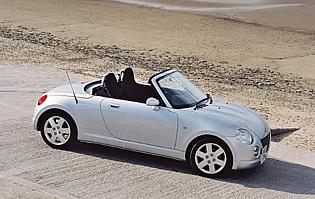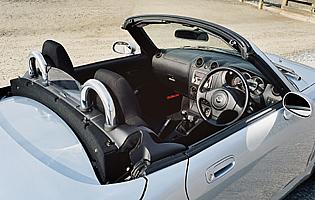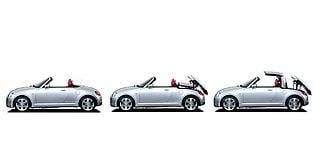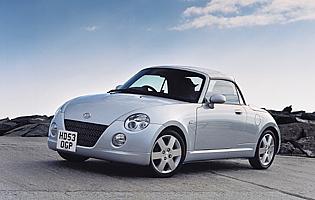 Overall rating

Likes:
Fun styling makes Copen stand out from the crowd
Despite modest power output, engine is a willing and surprisingly effective performer
Electric roof mechanism is impressive and stows in boot with minimum of fuss
Copen is no poverty-spec city car but well equipped and well built
Gripes:
Despite solid cabin build quality, materials used are a little bland
Anyone over average build will find the driving position a little cramped
Boot space is severely cut when roof is down
Fiddly remote boot release is located inside centre console
Coming from the school of thought that says that everybody is guaranteed to be attracted to something cute, Daihatsu's Copen is that rare beast - a car that looks like it's fallen out of a Christmas cracker but is perfectly useable on a day-to-day basis.
Manufacturers always keen to fill niches with models that attract buyers who ordinarily don't go for the usual suspects for all manner of reasons. And as cities succumb to ever-increasing levels of congestion, recent years have seen car makers look to smaller models as they seek to entice style-conscious urbanites off their mopeds and public transport.
Nowhere is this more obvious than in the convertible market. European buyers, despite having to put up with less than tropical weather conditions, love their drop-tops. Until recently convertibles were the preserve of the prestige and hardcore sports car marques. The former are big and costly, the latter offer flimsy fabric roofs. Enter the likes of Peugeot's 206 CC and Vauxhall's second generation Tigra; cars that are perfect for urban travel but boast metal folding roofs for added protection and refinement.
Not everyone seeks a modified supermini, though, which is why Daihatsu's Copen, a dedicated two-seat roadster, exists. True to its Japanese roots, the Copen is a quirky machine, visually and from an ownership perspective. Its small size and limited cabin space won't be to everyone's liking, however it's those attributes that make the car attractive to people who often put style ahead of substance when making a purchase.
And yet, for a modest sum you get a car that's very well appointed - more so than some superminis - with the added bonus of a fancy roof and stand-out looks. Granted, the car is no Ferrari and luggage space is at a premium roof up or down, but at least it won't be mistaken for anything else on the road. And in a world where there's a 206 CC on every street corner this is no bad thing.
Our verdict on the Daihatsu Copen Copen
On paper the Copen doesn't really add up. Its diminutive power unit is unlikely to have people rushing to dealerships; its snug cabin is an acquired taste, as is the car's serious lack of storage space. Drive it and these concerns disappear. It's the kind of car that puts a smile on your face, and not just because of its cheeky looks and buzzy engine note. A micro drop-top with just enough room for two adults and a toothbrush shouldn't work but does.
Costs
Considering what Daihatsu is offering- folding metal roof, air-con, electric windows, good looks and a spirited drive - the Copen is exceptional value for money. Until a few years ago the only other car offering such features was Mercedes' SLK. Add in decent fuel economy and the car's rarity value and it stands up well alongside more the conventional cars from Ford and Peugeot. The only question mark will be over the roof mechanism's integrity. If it's like the rest of the car you should have no worries and visits to the garage will be infrequent.
Space and practicality
The modest amount of space available is to be expected given the Copen's compact dimensions. There is room for two average size adults in the cabin, but storage space will feel mean if you've just stepped out of a conventional supermini. It's not all bad; along with a glovebox you do get a lockable central console cubbybox that also contains the boot's remote release. In contrast, door pockets are not half as practical as they're not deep enough to hold anything useful. At the rear, buyers will need to be a frugal as the Copen's boot offers only a modest amount of space - dramatically less so when the roof is retracted.
Controls and display
With few controls to worry about in the Copen's cabin, the car's minimalist fascia is a refreshing change from the usual barrage of lights and flashy graphics present in most cars. The main dials are legible and the ventilation controls logically placed. Within easy reach is the gearstick, which possesses a short, sporty shift that's perfectly in keeping with the car's character. The only let down is the Copen's aftermarket stereo. Its small buttons and difficult to read display mar an otherwise acceptable cabin.
Comfort
Snug' is the word that springs to mind when describing the Copen's seating arrangements. Driver and passenger will both have to keep their elbows in when seated as the cabin is on the narrow side. The set-up only feels cramped when you need to change gear a lot or make large steering inputs. The seats themselves are surprisingly comfortable, ensuring that long journeys aren't the chore you might think they would be. More fore and aft adjustment would be welcome, though.
Car security
Not just a bonus in terms of safety, the Copen's metal roof also acts as a theft deterrent. Conventional fabric-topped convertibles have always been easy targets for thieves and insurance companies have adjusted premiums accordingly. Not so the Copen and its rivals. The metal top contributes to the extra peace of mind feeling you get when you park it up at night. Remote central locking is standard but, disappointingly, an alarm is cost option.
Car safety
Convertibles have always prompted some buyers to look away on the grounds that rollover safety was always deemed to be inferior to that of a car with a tin roof. Now that more and more convertibles come with metal folding covers, that argument is no longer a valid one. The Copen, like the 206 CC, offers the best of both worlds. Inside the cabin twin front airbags come as standard, and Daihatsu sells the car with ABS and electronic brakeforce distribution
Driver appeal
It may not have been designed as an out-and-out racer but the Copen's small footprint and nimble disposition make for a car that will raise a smile when out on the open road. Front-wheel drive, quick steering and and willing engine encourages you to skip along at a pace more suited to that of a 'warm' performance hatch. Putting the roof down only improves matters. Despite being open to the elements, wind noise and buffeting is kept to a pleasing minimum thanks in part to a small but effective deflector placed between the seats. The only complaint is of a choppy ride that can prove tiresome on long journeys, possibly due to a lack of chassis rigidity. Something which is more noticeable with the roof down.
Family car appeal
Definitely not a car for family duties, the Copen is more likely to be bought as a second 'fun' car. Luggage space is minimal, making it only useful to ferry one child to school at a time or run only small errands to the supermarket.
First car appeal
It's perfectly conceivable that the Copen would make a good first car for anyone not wishing to go down the traditional supermini route. It's a little more expensive than a city runabout, but boasts more style and, of course, that fancy folding metal roof. Easy to park, not too powerful and replete with modern safety kit, the Copen's on paper credentials make for an attractive and surprisingly sensible package. Running costs are likely to be low, too, thanks to its small engine, relatively low insurance group and Daihatsu's solid reliability reputation.
Quality and image
With Daihatsu better known for its quirky micro 4x4s and thrifty city cars, the arrival of the Copen caused quite a stir. To say that it wasn't what people expected is an understatement. With sales volumes a fraction of the likes of the Streetka and 206 CC, the Copen's scarcity only adds to its already elevated desirability status. Quality-wise Daihatsu is known for producing cars that rival Toyota in terms of reliability and durability and the Copen is no different. Its roof mechanism may look complicated but it works with a relentless efficiency, while the cabin is built to last despite its conservative design.
Accessibility
The agile need only apply for Copen ownership because the car is not the easiest to get in and out of. Its low-slung stance is, predictably, the main culprit, but there's also the fact that, with the roof up, the door aperture is on the small side. Something that can make access and egress tricky when in the tight confines of a supermarket car park. This is all true for many cars in the Copen's class - even Smart's much-loved Roadster-Coupe requires owners to contort their bodies a little in order to get behind the wheel.
Stereo and ICE (In car entertainment)
Standard fit on the Copen is an aftermarket-sourced radio/CD tuner, which is fiddly to use and looks out of place in the car's sombre cabin thanks to its rather garish design. Sound quality is fine, although you'd have to be very clever indeed if you wanted to find somewhere to fit a CD disc changer.
Colours and trim
While the Copen is offered in a range of colours, brighter shades are the most flattering. Unfortunately the car's cabin doesn't continue this trend as in standard trim it's constructed out of dark plastics and seat fabrics. The mood can be lifted by opting for Daihatsu's optional leather pack, though, and by specifying wood trim detailing for the car's fascia if you so desire.
Parking
With size - or the lack of it - on its side, the Copen is an easy car to park. Its steering is pleasingly light and the clutch is easy to modulate when undertaking manoeuvres in tight spaces. Only the car's less than great rear three-quarter vision prevents it from getting a glowing report, thanks to the substantial rear roof pillars. Of course, all this is irrelevant when the roof is down as your view is improved tenfold.
Spare wheel
No spare wheel - tyre inflation kit fitted as standard.
Range information
One engine option - 659cc turbocharged (67bhp) petrol; Standard fit is a five-speed manual gearbox. No specific trim designator as there is only one Copen variant.
Alternative cars
Ford Streetka Cute-looking Ford lacks Copen's metal roof
Fiat Barchetta Affordable Barchetta is left-hand drive only
Mini One Convertible Fashionable alternative boasts more cabin space
Peugeot 206 CC Similar roof arrangement to Copen but reliability niggles have dented appeal