Dacia Duster Laureate TCe 125 4x4
Bargain-basement price tag
December 2016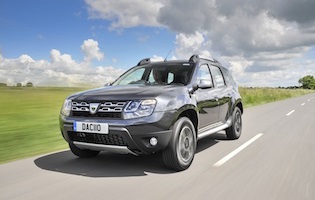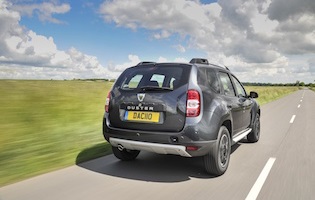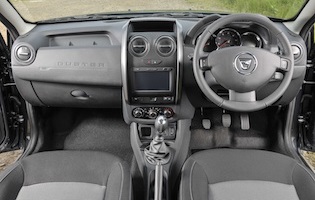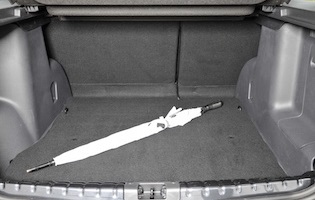 Overall rating

Likes:
Bargain-basement price tag
Boxy, no-nonsense looks
Surprisingly comfortable
Spacious interior
Gripes:
Complete lack of standard equipment on basic models
Dull, cheap-looking interior
Controls err towards the heavy side of things
No brand prestige whatsoever
The Dacia Duster is unashamedly cheap. In fact, Dacia markets itself largely on the fact that its vehicles are some of the cheapest on the market. The Duster is the Romanian brand's attempt at a compact SUV, but you shouldn't let its bargain-basement image and lack of badge prestige fool you into thinking that it's unworthy of your attention.
For starters, you can have a Duster for just £9,495. That's not very much money for a new car. Granted, you'd be better off spending a bit more money and getting a mid-range Duster, as the entry-level model comes with no bells and whistles whatsoever – not even air conditioning or a radio.
The pick of the range would be the Laureate, which comes with features such as DAB radio and manual air conditioning as standard. Prices for the Dacia Duster in Laureate spec are higher, however, starting at £12,895. Creature comforts such as these certainly justify the £3,400 premium over the entry-level Access models.
For 2017, Dacia has released an all-new top-of-the-line trim level for the Duster, called Prestige, and has also introduced a 1.2-litre petrol to the engine line-up. With 123bhp, this new engine is certainly capable of getting you up to speed in a respectable fashion, although a diesel would better suit the Duster's character.
Out on the road, the Duster handles itself rather well. It's relatively comfortable at speed – although the controls are on the heavy side of things. Over uneven surfaces it stays largely composed, and while there are noticeable amounts of wind and road noise at motorway speeds, they won't prove to be too much of a problem.
Our verdict on the Dacia Duster Laureate TCe 125 4x4
If you're simply in the market for a car that can get you and your family from A to B in the most no-frills manner possible, the Dacia Duster represents a pretty attractive choice thanks to its low, low cost. It certainly won't turn any heads or inspire feelings of envy in your neighbours, but as a car, it's perfectly competent.
---
Costs
This is undoubtedly the Dacia Duster's trump card. For starters, it costs as little as £9,495 to buy new. That said though, you'd be better off buying a Duster in Ambiance or Laureate trim – while they are slightly more expensive, you do get a few more toys to play with, such as a DAB radio for instance.
Space and practicality
With five seats, generous amounts of head- and legroom and a large 475-litre boot, the Duster offers practically all of the space an average-sized family would need. Folding the rear seats down reveals a further 1,161 litres of space, increasing storage capacity to a total of 1,636 litres. Children will find they have more than enough room sitting three abreast in the back seats of the Duster, although adults will likely find the middle seat uncomfortable fairly quickly.
Controls and display
Owing to the fairly limited number of features that come with the Dacia Duster, controls are relatively few and far between. For those models fitted with the MediaNav infotainment system – which is standard on Prestige models and optional on Laureate models – the seven-inch touchscreen is straightforward and easy to navigate between menus. The graphics are by no means state-of-the-art, but it is easy to read nonetheless.
Comfort
The Duster isn't going to cause any offence in the comfort department. The seats aren't overly firm, and provide a fair amount of support through the corners. The Duster's suspension set-up copes amicably with rutted surfaces but at motorway speeds there is a fair amount of road and wind noise that makes its way into the cabin, which will become tiring on very long journeys.
Car security
All Dacia Dusters are fitted with remote central locking and a Thatcham-approved engine immobiliser as standard, which should make it that much harder for thieves to make off with your car. Thanks to its fairly inconspicuous looks and total lack of brand prestige, it shouldn't attract too much undesired attention when left parked on the street either.
Car safety
The Dacia Duster was first crash-tested by Euro NCAP in 2011, where it didn't exactly receive stellar results. As mentioned earlier, the Duster achieved just three out of a possible five stars at the time. This incorporated an adult occupant safety rating of 74 per cent, a child occupant protection rating of 78 per cent and a pedestrian protection rating of just 28 per cent.
Driver appeal
The Dacia Duster is by no means a car that you would dream about driving. That said though, for the pittance you pay to buy a Duster, it handles itself in a respectable fashion on the road. It doesn't roll about through the corners in an incredibly noticeable way, and its handling feels predictable. It's relatively composed over uneven surfaces, and is comfortable enough at motorway speeds.
Family car appeal
As far as affordable family cars go, the Dacia Duster is pretty difficult to beat. It has five seats, a large boot and plenty of space for a family's-worth of occupants. Thanks to its spartan interior, you won't worry too much about the rough and tumble that young children will undoubtedly put it through – it will be able to take it.
First car appeal
Because of its incredibly low price, the Dacia Duster wouldn't be a ridiculous choice for a first car. Prices for an entry-level Access model start at just £9,495 – although that buys next to nothing in terms of standard kit. Parents of young drivers shouldn't be fooled into thinking the Duster's SUV-styling means it will keep their children totally safe in an accident, however, as it only scored three out of five stars when crash-tested by Euro NCAP in 2011.
Quality and image
Dacia is by no means a brand that oozes prestige and badge appeal. However, its rough-and-ready, bargain-basement image is rather endearing in itself. It is a car that does exactly what it says on the tin: gets you from A to B in an inexpensive fashion. That said, its low buying price does mean it is incredibly basic inside and out, although it doesn't feel like it will fall apart when shown a bit of rough and tumble.
Accessibility
Thanks to its five-door layout and raised ride height, getting in and out of the Dacia Duster is an incredibly easy process. Both front and back doors open wide, as does the boot. Small children may require a tiny amount of assistance when climbing into the car, but other than that the majority of passengers will find the Duster a comfortable car to climb in and out of.
Stereo and ICE (In car entertainment)
Entry-level Access models come as standard with pre-wiring for an accessory-fit radio and speaker system, while cars in Ambiance and Laureate trim come with a proper stereo as standard, as well as USB, auxiliary and Bluetooth connectivity. Dusters in Prestige trim benefit from Dacia's MediaNav system, which adds sat nav and traffic information, as well as a reversing camera. This system is also an optional extra on Laureate-spec Dusters.
Colours and trim
As a cut-price SUV, it's understandable that the Dacia Duster is available with a rather sober selection of colours. These include a selection of white, grey, silver and black. For something a little more out there, customers can choose from Cosmos Blue or Pennine Green. There are four trim levels available with the Duster: Access, Ambiance, Laureate and top-of-the-line Prestige.
Parking
Thanks to fairly decent all-round visibility, parking the Duster is never going to be too much of a challenge. Its steering may be slightly heavier than that found in most cars these days, but this is a factor you will quickly get used to when performing low-speed manoeuvres. Dusters in the range-topping Prestige trim gain a reversing camera and parking sensors as standard, which help make parking the small SUV that much easier again.
Spare wheel
Emergency spare wheel an option on all models.
Range information
Petrol engine options: 1.2-litre TCe (125bhp); 1.6-litre SCe (115bhp). Diesel engine options: 1.5-litre dCi (110bhp). Transmission options: five-speed manual gearbox depending on model, six-speed manual gearbox depending on model, plus six-speed twin-clutch gearbox depending on model. Trim levels: Access, Ambiance, Laureate, Prestige.
---
Alternative cars
SsangYong Tivoli A thoroughly capable small crossover for around £13,000.
Renault Captur Based on the same platform as the Clio, but with larger proportions.
Suzuki Vitara The Vitara represents good value for money and comes with a generous amount of kit.
Nissan Juke A quirky-looking yet fairly competent mini-SUV from Nissan.