DS3 Cabrio Performance review
Eager handling thanks in part to limited-slip differential
April 2016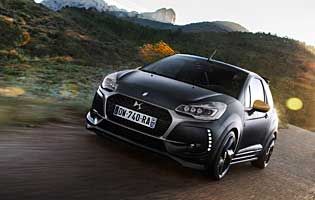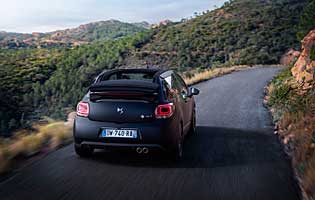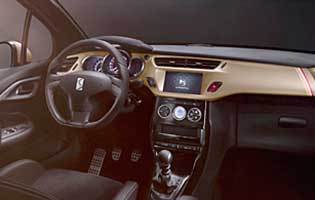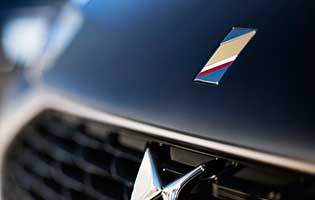 Overall rating

Likes:
Eager handling thanks in part to limited-slip differential
Punchy engine gives good acceleration
Refined looks give a comparatively premium appearance
Much-improved gearbox for better driving dynamics
Gripes:
Many desirable features are cost-options
Wheels can be vulnerable to kerb damage
Cabrio roof creates too much wind noise
Stiff Michelin tyres dent ride quality
DS has persisted with its hot hatch efforts since splitting with Citroen to become its own entity, but the DS 3 Performance is less extreme in key ways than the loud-coloured and overly firm 'Racing' model built some years previously. The hatchback and cabriolet versions are very similar with minimal weight difference, and a mechanical limited-slip differential promises sharp handling.
Whereas the DS 3 Racing was poorly executed, targeted as it was for smooth race circuit surfaces instead of real roads, the new Performance model takes a much more realistic approach. It uses technologies that help improve roadholding and speed on the road without making the suspension quite so firm, and the result is a better-resolved package.
While the engine may look similar on paper, it's actually a completely new design built for better efficiency and more development potential in the future. The manual gearbox is also new and marks a particular improvement for a brand that had struggled to make the controls of its cars engaging enough.
The tyres are placed further apart on this model than on the standard DS 3, especially at the front. It grips extremely well as a result and rolls very little, despite it being able to build up impressive lateral g-force. Fitting one of Michelin's best performance tyres gives incredible grip and confidence, even if they are stiff enough to give the ride a hard edge.
DS has positioned the 205bhp car at the lower end of the hot hatch scale. Its price reflects as much, sitting way below the prices of hot hatches in the 250-300bhp category. Improved looks with a more cohesive design and great colour options should go a long way to improving the fastest DS 3's lot in the UK.
Our verdict on the DS 3 Cabrio Performance
On paper, the DS3 Cabriolet is a slightly expensive alternative to the well-established mass of well-priced city hatchbacks currently on the market. Rivals offer objectively better packages for less money, but that's not the point of the DS. This car is for people who want something different and are prepared to pay for it.
Costs
Driven with care the petrol-powered DS 3 Performance can achieve impressive fuel economy figures, but driven more aggressively these will plummet. It is well priced to compete with its main rivals and offers a good specification for the money, but residual values are yet to be proven. Insurance may be higher in some areas to reflect the soft-top roof and powerful engine, but it should be much cheaper to run than hot hatchbacks in the power class above.
Space and practicality
At 285 litres the boot is theoretically quite useful, but its effectiveness is blunted by the small access aperture beneath the rear window. It makes it difficult to make the best use of the space on offer and very difficult to stack cases. The rear seats are useful for holding bags and coats, though. A storage bin between the front seats is large enough to be very handy and the door pockets are broad, but this means that objects can roll around more than is ideal.
Controls and display
The ancillary stalks are familiar and intuitive. Likewise the air movement controls that use clear graphics. Dials would be quicker to use than buttons, though. Where this area of the car falls down is in controlling the sharp main screen, whose graphics are good but whose interface is poor. The buttons to control stereo functions are mounted way down the centre console, away from the screen and beyond the gear stick, which can be a problem when, for example, a passenger is changing the volume and you need to shift gear.
Comfort
Sharp bumps are intrusive due to the peerlessly grippy but stiffly constructed tyres, and despite a noticeable improvement in overall comfort versus the old DS 3 Racing, there is still a significant trace of the older car's tendency to feel skittish on rough patches of road and where the top layer has degraded to a very coarse state. There is precious little legroom for rear passengers.
Car security
All DS 3 models have an alarm and engine immobiliser, as well as remote central locking with deadlocks. The lightweight alloy wheels would be desirable to thieves and are protected by locking wheel bolts. There is an inevitable risk involved with all canvas-roofed cars in that the roof itself is more vulnerable to attack with knives, so it would be best to keep it hidden if car crime is a problem where its owners live.
Car safety

The limited-slip differential between the front wheels works to prevent any potential understeer event, which makes it a safety feature to add to tyre pressure monitoring sensors, front, side and curtain airbags and wide, grippy tyres. The brakes are also very strong, stopping the car in very short distances. Upgrading to Performance Black specification brings Active City Brake. Additionally the Performance model has a system that can automatically contact the emergency services after a crash.
Driver appeal
The Performance model plays a very straight hand, providing unshakeable stability and road-holding along with a firm ride thanks less to the suspension, which is suppler than in previous fast DS 3s, but more to the stiff Michelin tyres. The limited-slip differential works very well but tends to upset the car's line slightly with its tendency to start working harder just as the turbo boost kicks in, tugging at the wheel slightly mid-corner. It's a fine, accomplished and brisk sporty convertible, but it does lack a certain joyful spark.
Family car appeal
It is tough to recommend the DS3 Cabrio to families, despite the presence of two Isofix child seat mounting points. It is difficult to squeeze a bulky child seat past the car's front seats, and there isn't much room to allow easy seat - or child - installation. One point potentially in its favour is the fun factor of having an open roof, which can keep young children entertained for a surprising length of time.
First car appeal
The DS 3 is a very obvious alternative to the car that started the fashion-led supermini sector, the Mini. While there are models at the lower end of the range that are more affordable the Performance version, with its powerful petrol engine and higher insurance grouping, would be a poor choice.
Quality and image
Plenty of the visible plastic in the cabin looks ill-equipped to match the premium label that DS has attached to the car, but the leather steering wheel and gear knob feel good in the hand. There is always an image boost where a car is given a mechanical limited-slip differential because it is a sign of a serious driver's car. The extra style and maturity in the DS 3 Performance's design, linked to the kudos of having a convertible roof, make the Cabrio version an intriguing option.
Accessibility
As a three-door the Cabrio suffers the twin problems of relative difficulty of access to the rear seats, and of placing the B-pillar, and hence the front seat belts, further back than is ideal. As a semi-convertible car the B-pillars and roof struts are fixed, like in the hatchback, so there is no headroom advantage for ingress or egress when the roof is folded back.
Stereo and ICE (In car entertainment)
There are options to play music via Bluetooth, USB, AUX, DAB and FM/AM radio. A system called Mirror Screen, comprising Android Mirror Link and Apple CarPlay, is a very reasonably priced option and allows some data-dependant apps to work via the car. An audio upgrade is offered on the Performance model as part of a wider options pack.
Colours and trim
As might be expected of a car such as this, there are plenty of colour options. Some, like Matt Black, are limited to certain models but across the range there are three flat finishes (only two for the Cabrio), seven metallics, Pearl White and Matt Black. Dark colours look elegant on the DS 3's shape, with silver trim accents picking out highlights. The fabric roof is offered in four designs. Inside, the Performance gets Alcantara seat fabric. There is a new screen mounted in the upper centre console and, on some models, a coloured trim strip right across the dashboard. The Performance BRM Chronographies model gets a gold strip.
Parking
Rear parking sensors are standard on this trim grade, and while they are very welcome additions there is fairly good visibility for the driver in all directions. Front sensors and a reversing camera can be added as part of an options package. The DS 3 is a small car, though, with an adequate turning circle and light steering that makes it easy to manoeuvre around town.
Spare wheel
Emergency tyre repair kit supplied as standard (Prestige has space-saver spare wheel).
Range information
Petrol engine options - 1.2-litre (80bhp); 1.2-litre turbo (108bhp, 128bhp); 1.6-litre turbo (163bhp, 207bhp). Diesel engine options - 1.6-litre (99bhp, 118bhp). Transmission options: five and six-speed manual gearbox depending on model, plus six-speed auto (1.2-litre 108bhp petrol only). Trim levels: Chic, Elegance, Prestige, Ultra Prestige, Performance, Performance Black, Performance BRM Chronographies.