Citroen C4 Coupe 1.6 16v THP VTS review
Good choice of standard kit across the range
May 2009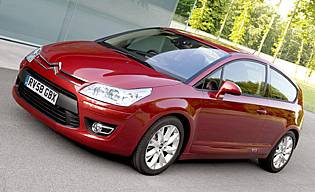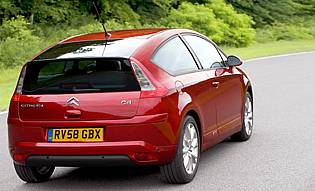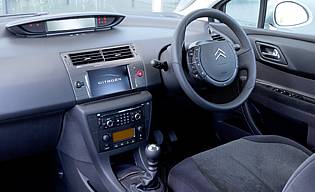 Overall rating

Likes:
Good choice of standard kit across the range
Enhanced and more efficient engines improve the driving experience
Exterior styling revisions are a welcome improvement
Build quality is much improved over previous models
Gripes:
Flagship sporting car isn't that sporty
Centre-mounted digital display takes some getting used to
Some of the publicised innovative tech features are cost options
The two-spoke steering wheel can prove tiring to hold on long journeys
It wasn't that long ago that French car maker Citroen found itself at a design dead end. The cars had become predictable while build quality wasn't the firm's strong point. Recent years have seen Citroen's fortunes take a welcome turn for the better. Its C4 was the catalyst for this change, and this restyled car offers just that bit more of everything.
When you have a car that's as distinctive as the C4, it's hard to make any major changes without altering the basic proposition. With that in mind, it's not hard to understand why Citroen took the path of least resistance with its update programme. The mid-life refresh is, from the outside, just that.
Subtle changes to the car's nose to reflect the company's new corporate image have led to a deeper grille section and a dash more brightwork around the edges. It's no coincidence that the changes mirror those found on the company's ultra-successful World Rally Car.
What you can't see are the changes under the skin, specifically under the bonnet. In common with so many car makers, Citroen has increased its focus on lower CO2 emitting and more economical engines. A partnership with BMW has resulted in a range of improved petrol engines, boasting gains in performance but not at the expense of economy.
Improvements to the diesel line-up have yielded similar improvements, with the overall changes leading to a more enjoyable driving experience and a few extra pennies in the bank account to boot. Factor in Citroen's continued assertion that its automated EGS gearbox can make savings a manual 'box cannot, and it's clear the company remains keen to find ways of making the ownership that bit different.


Our verdict on the Citroen C4 Coupe 1.6 16v THP VTS
At first glance you'll struggle to see the changes made to Citroen's C4 range. Subtle cosmetic tweaks hid the fact that changes to the engine line-up are the rear story here. The C4 has always been a pleasant car to drive, and this second-gen model thanks to the new BMW co-developed petrol units is now much better. And in reality the Coupe is just a three-door hatch, but to admit such takes all the fun away.