Citroen C4 Cactus Feel 1.2 PureTech 110 review
Quirky design looks great and could help reduce potential damage
July 2014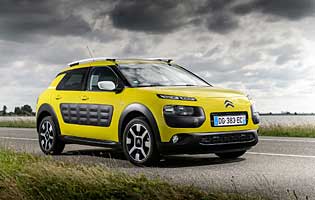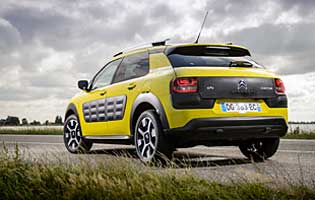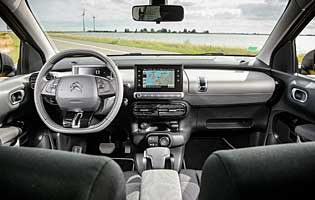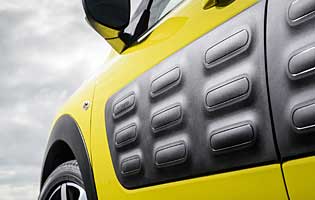 Overall rating

Likes:
Quirky design looks great and could help reduce potential damage
Quiet driving demeanour around town is surprising
Light weight helps to increase fuel economy and driving pleasure
Low purchase price in relation to size and practicality on offer
Gripes:
Clumsy, harsh boot and door shut actions sound cheap
Smaller boot than some families will want
Protective external strips don't cover some crucial areas
Unusually soft seats are not comfortable for long-distance drives
Cars are getting more expensive because of the ever-increasing safety demands placed on manufacturers by governments, but the C4 Cactus aims to counter that by simplifying construction, using cheaper materials where possible and advanced materials where necessary. The result is a high-riding compact family car that's built with a real-world outlook on life with children.
Take car park bumps, for example. You might be an ultra-careful driver but that one time, when you don't make that one check, accidents can happen. The Cactus's bodywork is defined by large 'AirBump' strips whose purpose is to absorb low-speed hits, whether from other cars or supermarket trolleys, and allow the car to escape without needing expensive repairs.
In a world where even the smallest cars are scrambling to do away with unpainted exterior trim in the pursuit of a more premium look, the Cactus is a refreshingly utilitarian take on an everyday car. It's something genuinely different that has no direct rivals, despite overlapping some of the most competitive parts of the pre-existing market.
Built with simple methods but using an intelligent combination of light and simple materials, most Cactus models weigh in at less than 1,000kg - less than almost every supermini out there - and yet all the necessary safety requirements have been met. Safety is key for its target family buyer, but the Cactus's surprisingly low purchase price is a deal-clincher.
Underneath the distinctive exterior is a mix of old and new parts, with engines benefiting in both performance and fuel economy from the car's light weight. By Citroen's own admission it's built to a price, which has been an unhappy state of affairs in the past, but by simplifying the design it's hoped that the Cactus will prove more reliable.


Our verdict on the Citroen C4 Cactus Feel 1.2 PureTech 110
The Cactus looks and feels different, and just because it has an outwardly functional bias doesn't mean it doesn't look great. Citroen's designers have excelled themselves, and as long as the car proves reliable and dependable then it should prove a popular choice. Comfort levels are well judged for urban and suburban driving, the engines are economical and smooth, and there's generally a lot to like.