Citroen C3 Picasso 1.6 VTi Exclusive review
Funky styling
April 2009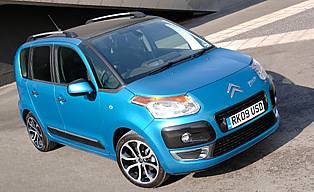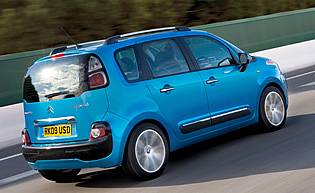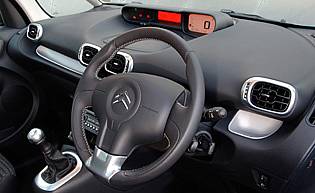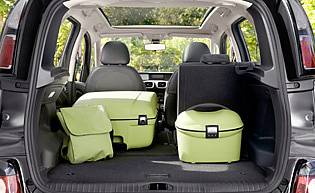 Overall rating

Likes:
Funky styling
Very capable chassis
Extremely spacious interior
Excellent visibility
Gripes:
Hand brake lever positioned very low
1.4-litre petrol engine lacking in pulling power
Five-speed manual gearbox only
Wide gear-lever surround impacts on driver's knee room
Following the great success of its Picasso MPV formula when applied to the medium sized family hatchbacks, Citroen has pulled the same move on its compact C3 model. A roomier family vehicle but with a similar footprint to the space-efficient C3 hatch, the C3 Picasso is intended to be a practical compact MPV for urban families.
First applied to the Xsara model and subsequently the C4, Citroen's Picasso line followed the trend for manufacturers to take existing family hatchback platforms and make them more family friendly by introducing a larger, more spacious and often better-equipped body. Having had a great deal of success with those two models, Citroen has applied the same formula to the compact C3 hatchback, resulting in a compact SUV model called the C3 Picasso.
Building on a new platform has allowed Citroen to offer a model that's visually distinct from the original C3. Bolder in terms of its design, the C3 Picasso boasts some key attributes that show plenty of thought has been put into the model. A tall body with five large doors offers excellent access, a new wrap-around windscreen design with slim-line A-pillars leads to excellent visibility and individually adjustable rear seats make for a highly practical interior.
The tall and spacious body means the C3 Picasso is able to offer impressive head and legroom for rear passengers, but easily folded, flush rear seats means the model also has excellent potential as load carrier. Citroen is extremely proud of the C3 Picasso's storage space, which easily out-performs much of the competition. Under-floor storage and pull-out drawers increase practicality even further.
Three trim levels are available, all of which offer the same basic level of practicality and spaciousness. Exterior styling improvements and interior additions such as a rechargeable torch and fold-flat food trays appear as the trim level rises. Two petrol and two power outputs of the same diesel engine are offered, all matched to a five-speed manual transmission geared for ease of use around town.


Our verdict on the Citroen C3 Picasso 1.6 VTi Exclusive
Delivering in terms of the well-considered, highly practical and spacious interior plus an impressive chassis with enjoyable handling characteristics, the C3 Picasso is another excellent MPV effort from Citroen. The range is left a little limited through the lack of an automatic transmission option and the use of a short-geared five-speed transmission that's less at home on the motorway, but for town and A-road-driving, the C3 Picasso is highly capable.