Citroen C1 Flair VTi 68 Manual 5-door review
Impressive ride quality from new suspension setup
July 2014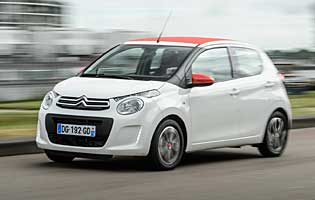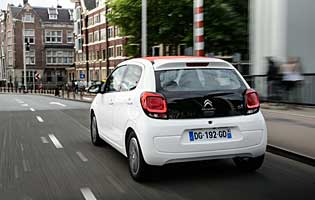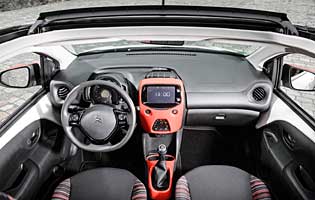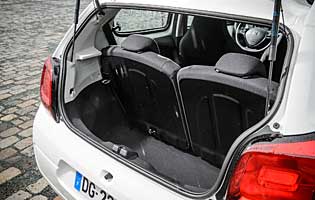 Overall rating

Likes:
Impressive ride quality from new suspension setup
Myriad personalisation options help to create unique designs
Instantly comfortable driving position and intuitive control layout
Good visibility helps with parking
Gripes:
Small boot lags behind Volkswagen Group and Hyundai rivals
List prices are among the sector's highest
Restricted rear legroom makes carrying friends more difficult
Touch-screen can be difficult to use while on the move
After a long wait, the new C1 has arrived to keep pace with the city car class leaders. With it comes a huge emphasis on customisation, but the forward-thinking Fiat 500 offered the same in 2007. Citroen hopes that the impressive on-board technology in the C1 will help it fly off forecourts even quicker than ever.
The first Citroen C1 was such a success that it was continued for almost a decade; several years longer than most ordinary car life cycles. Despite a lack of technology, a bouncy ride, comparatively poor interior quality and a surprisingly expensive list price, the C1 was heavily discounted and undeniably cute, leading to big sales numbers.
Cuteness is a hugely important factor in this market sector, and Citroen has definitely drawn the long straw against its Peugeot and Toyota partners who both have cars built on the same chassis. The C1 is the most immediately appealing of the three, which should give it pole position when it comes to showroom appeal.
Although it looks substantially longer than before, the C1's wheelbase is the same and there's only an incremental increase in overall dimensions. Its competitors have evolved around it, with some now quite a bit bigger, but the C1's designers wanted to maintain its middle-ground position to make sure that the new model remained easy to park in the city.
The city car segment has grown ever larger since the C1's original arrival in 2005. The Volkswagen Group offer three options, while sister companies Hyundai and Kia have two between them. Ford, Fiat and Vauxhall all offer rivals, not to mention the genetically similar offerings from Peugeot and Toyota. The C1 has its work cut out.


Our verdict on the Citroen C1 Flair VTi 68 Manual 5-door
While it has an advantage in the styling stakes over most of its rivals, in practicality the C1 is still some way behind. The battle plans have been drawn up, and Citroen hasn't offered the cleverness of engineering on display from the Volkswagen Group, but arguably the C1 is one of the most characterful city cars you can buy. There are more spacious options, but few are cheekier.