Citroen C1 1.0i VTR 3dr review
Modest running costs
May 2009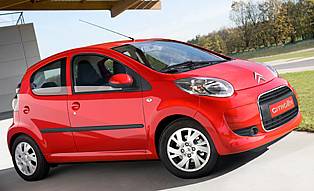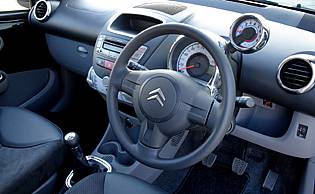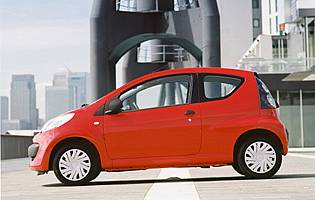 Overall rating

Likes:
Modest running costs
Decent safety provision for such a small car
Genuine alternative to similarly priced used small car
Fun to drive and to good to look at
Gripes:
Peugeot's 107 and Toyota's Aygo are stiff competition
Engine can sound gruff when pushed hard
Driving position lacks much in the way of fine adjustment
Cabin does only average job of isolating you from noise
There was a time when budget cars were pretty grim contraptions. Devoid of any refinement, technical competence and equipment, they were hair shirts on wheels. These days the situation is much improved. Small, city-centric cars are more plentiful, polished and able. One such example is Citroen's C1.
If the C1 looks vaguely familiar that's because it shares much of its looks and contents with Peugeot's 107 and Toyota's Aygo. The differences are, admittedly, small but they centre on looks, equipment and engine choice. Obviously, the final variable is price.
This is a refreshed version of the C1 that first appeared in 2005. The exterior changes aren't huge, and amount to a new nose more in keeping with the similar treatment actioned by Peugeot and its 107. The result is bolder appearance when looking straight at the C1. There's no point designing a conservative-looking car in this sector given the youth orientated demographic, which makes the C1's appearance perfectly acceptable.
Looks aren't everything, though. Fortunately the C1 goes as well as it looks. The core engine, a 68bhp, 1.0-litre petrol unit is a solid performer. Frugal, willing and boasting low emission, it's all you'll need. IN fact, it makes the diesel option look decidedly overqualified for the job as well as more expensive.
And excessive cost is not a charge you could level against the C1. For many its low price tag and the potential for further reductions at the dealership all prove attractive. It comes with a modest but reasonable amount of standard kit and, is likely to cost next to nothing to run over the course of a few years.


Our verdict on the Citroen C1 1.0i VTR 3dr
In three door form (there is also a five-door option) Citroen's C1 offers the best of everything if you're seeking out a dependable, low cost city car. Fun and easy to drive, surprisingly refined, spacious for something this small and stylish, there's little need to venture further afield if you want the support of a mainstream car maker and a wide network of dealers.