Citroen C1 1.0i Rhythm 5dr review
Cheap and genuinely cheerful city car
July 2005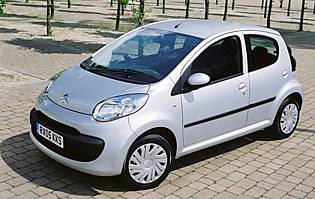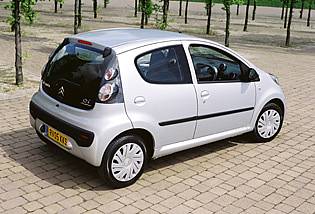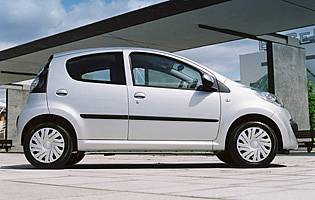 Overall rating

Likes:
Cheap and genuinely cheerful city car
Minimal running costs
Reassuring alternative to a used motor
Safety good for such a small vehicle
Gripes:
Peugeot's 107 looks sportier
Why bother with three-door version?
Interior lacks coloured detailing of C2
Driver's seat lacks height adjustment
If ever a car could be described as 'entry level', it's the Citroen C1. Small, cheap to buy and even cheaper to run, it is an exercise in bare-bones motoring that also proves it's possible to have fun on a budget.
Built on the same Czech production line as the Peugeot 107 and Toyota Aygo, the C1 is mechanically identical to its sibling models when it leaves the factory gates. However, by the time it arrives at your local Citroen dealer, it is likely to be the cheapest of the three, giving it an immediate market advantage. Add Citroen's well-known reputation as a company that's willing to cut keen deals with potential customers and you don't need a degree in economics to work out the C1's potential.
For their minimised outlay, buyers get a decently-equipped and very practical set of wheels that looks neat and tidy into the bargain. Despite the optimistic presence of a rev counter in Rhythm models, the C1 has absolutely no sporting credentials. Not that it needs them - this is car whose natural environment is crowded city streets, not the open road or racetrack.
The C1 even manages to hide the cut price materials used to save every penny during its construction pretty effectively. Interior elements that seem uncharacteristically brittle and lightweight in Toyota's Aygo are less jarring in the C1, if only because we're used to Citroens sacrificing a bit of build quality in order to achieve their bargain price tags. As a result, Citroen's peppy interior design is actually the best of the three rivals.
Citroen and sister company Peugeot also deserve praise for their realistic attitude towards potential buyers. Instead of chasing the youth vote exclusively, they recognise and welcome the fact that most customers will be buying for pragmatic budgetary reasons, not fashion-led ones. Groups such as pensioners should be assured of a warm welcome and will find the C1's down to earth charms particularly appealing.
Our verdict on the Citroen C1 1.0i Rhythm 5dr
This car fills its brief to the letter. In situations when roadspace and cash are both in short supply, the Citroen C1 provides an honest, good value package. For used car money, it's possible to buy a brand new car from a major manufacturer.
Costs
Part of the C1's task is to provide personal transport at minimal cost, and it succeeds magnificently. The notably low list price is the least important aspect - it's in insurance, fuel bills and emissions that the C1 really impresses. Businesses based in urban centres could do far worse than placing the C1 on their lists as an economical company commuter car. Low-mileage drivers of all sorts will find the C1 a capable companion and very easy to sell on.
Space and practicality
The volume under the parcel shelf is a useful 139 litres on five-door models. Bizarrely, three-door models fare worse, offering just 130 litres - yet another reason to opt for the fiver.
Controls and display
Basic information is clearly displayed, even if the dials and readouts aren't of particular note - the chrome effect bezels are unlikely to fool anyone. The inclusion of an extra rev counter on Rhythm models is an amusing, if largely pointless, addition.
Comfort
Despite their generous profiles, seats do feel a little basic, as if the padding could have been packed in bit more densely, and their plastic surface weave won't do the seat of your trousers many favours. On a shortish trip they are fine and the front ones do slide back a long way. The steering wheel has height adjustment only and potential purchasers should check that there is enough room in the crowded footwells.
Car security
Entry-level Vibe models don't have the benefit of remote central locking. Given the historical associations between boy racers and some of Citroen's earlier small hatches such as the Saxo, the C1 could attract some unwanted attention, so buyers are advised to consider investing in extra security measures.
Car safety
Small cars such as this inevitably feel more vulnerable than larger vehicles. Twin airbags, ABS with Electronic Brakeforce Distribution and CSC (Cornering Stability Control) are standard across the range and represent a pretty decent package at this end of the market, and the C1 rates particularly well for pedestrian safety. It's worth noting that only Rhythm models have side airbags.
Driver appeal
On paper the C1's performance figures look pedestrian. It's true this is a long way from being a hot hatch - or even a warm one - but driving can still be enjoyable. The 1.0 petrol engine in particular thrives on being revved and though the chassis delivers a choppy ride on poor surfaces it is accomplished through corners. The 1.4 diesel is less involving. Speaking of corners, the placement of wheels at the extremities of the vehicle gives good grip.
Family car appeal
City cars like the C1 can serve a useful function as second cars, if not as main family vehicles themselves. For a quick trip to the shops it makes more sense to fire up the C1 than a large MPV or 4x4. Retired couples could include a C1 as part of a downsizing programme.
First car appeal
A C1 makes an ideal first car. It is conventional enough to encourage the development of a correct driving style without seeming dull. Significantly, it also allows many newly-qualified motorists to consider a brand new vehicle, with all reassurance that entails, instead of a used car that would be a riskier proposition.
Quality and image
Thanks to some clever design - and given that three automotive giants collaborated on it, that shouldn't be surprising - the C1 looks classier than its price tag would suggest. Materials are inevitably a compromise and the tolerances for fit and finish are a touch more relaxed than usual. If impressing the neighbours is a worry, chances are you won't be looking at a city car anyway.
Accessibility
The five-door C1 offers such advantage over the three-door; it's hard to understand why anyone would prefer it. In a superb piece of practical packaging, rear doors open right to the edge of the taillights making it easier to climb in than in some far larger hatchbacks. Only the rear glass section moves to allow the boot to be filled, so heavy shopping bags need to be lifted high.
Stereo and ICE (In car entertainment)
The Radio/CD player features an auxiliary input for iPods and MP3 players, which will be welcome news for the iPod generation. Sound quality may not be the best in the business but it's perfectly adequate and good value for money.
Colours and trim
As is often the case with city cars, vibrant, bold colours suit the cute, curvy bodywork best, so it's a shame that apart from scarlet, the other four colours available are rather dark. It's also a pity that the coloured interior elements of the Citroen C2 are less in evidence in the C1. The amount of extra equipment Rhythm models gain compared to Vibe models is worth the extra outlay, but air conditioning is a further optional extra.
Parking
If you can't park the tiny C1 accurately with its miniscule turning circle and regular shape, give up and buy a scooter instead. Full lock is little more than three rotations of the steering wheel, with plenty of power assistance along the way.
Spare wheel
A 14-inch steel spare wheel is provided.
Range information
Three and five-door body styles, with a 3-cylinder 1.0i petrol engine (68bhp) and a 1.4 HDi diesel engine (55bhp). Two trim levels named Vibe and Rhythm. Five speed manual gearbox only.