Citroen Berlingo Multispace 2.0 HDi 90 VTR review
Large boot for loads of luggage
May 2013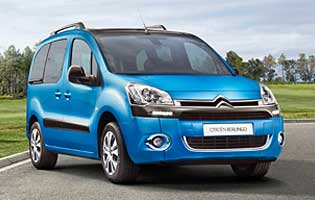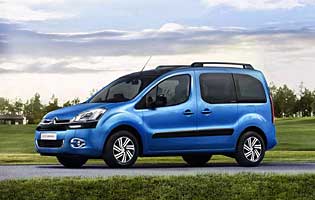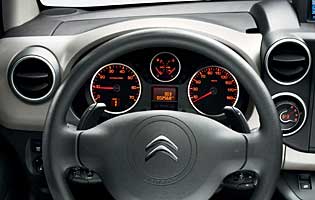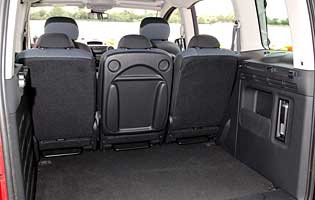 Overall rating

Likes:
Large, wide boot can swallow extremely large luggage loads
Impressive range of interior storage includes overhead trays
Plentiful headroom and large windows make a light, airy ambiance
Sliding rear doors aid accessibility, especially in tight car parks
Gripes:
Large tailgate needs space before it can be opened fully
Low-power engines can struggle under heavy loads
Vague driving manners betray the platform's outdated nature
Sun visors effectively useless due to the high roof
The Berlingo is a well-known name in the van-derived MPV world, having been built in Multispace people-carrying form for more than a decade. It might seem somewhat outgunned in terms of its engines and construction compared to more modern, purpose-built MPVs like the C3 and C4 Picasso duo, but it offers vast space and practicality for relatively little outlay.
Citroen has for a long time wanted to maintain a cost-effective family car in its range alongside more expensive options, and crucially it wanted one that has enough space to be modified for disabled drivers. As such the Berlingo's main strengths are its voluminous interior and capacious boot, along with simple but extremely practical design features inside the cabin.
To keep costs down and make the Berlingo as appealing as possible to people living on limited means or with physical impairments, it comes with a choice of older, more basic engines that fulfil a basic, reliable transport role rather than actively chasing ultra-low CO2 emissions. One petrol is joined by three diesels, with an additional automatic gearbox choice.
In the marketplace the Berlingo must look over its shoulder at truly budget alternatives like Dacia's Lodgy MPV, which offers vast space and seven-seat options with a significantly lower list price. But the Berlingo can forget challenging more expensive alternatives that have much higher quality interiors, better engines and much improved driving dynamics. It represents traditional functional transport.
The Berlingo is arguably a relatively specialist car, with most aspects falling behind those of a modern middle-of-the-road hatchback, but with significant gains to be had in the areas of space and practicality. The vague, detached driving experience and dull interior design show the car's age when compared to similar cars in Citroen's range, and this will discourage some buyers.
Our verdict on the Citroen Berlingo Multispace 2.0 HDi 90 VTR
As a specialist choice the Berlingo will thrill some owners with its unrivalled day-to-day practicality and ability to transport five plus vast amounts of luggage, while returning reasonable fuel economy and soft, comfortable seats. Other people will criticise its scratchy interior plastics, under-powered engines, imprecise and slow steering and dubious body control. However, if space is a priority and the budget is tight, it offers an excellent solution.
---
Costs
This is unlikely to win any prizes for low-cost motoring but it does strike a good compromise of low purchase price and affordable running costs. This older diesel engine is not the best for road tax or Benefit in Kind, but there is an efficient e-HDi model for an extra premium. Residual values are typically the Berlingo's main problem, as lack of desirability and concerns over its long-term longevity take their toll.
Space and practicality
There is no shortage of space wherever you look in the Berlingo, from the drawer under the driver's seat to the large glove box and the extensive roof-mounted tray system. It would take a determined family of five to truly make use of the Berlingo's full storage potential, and the utilitarian plastics are less vulnerable to knocks and scrapes than more expensive materials might be.
Controls and display
As befits an older design of car aimed in some ways at older buyers, the instrument cluster is plain, boring but ultimately functional. The clocks' chief purpose is to display road and engine speed and they do that – but little more. The ancillary stalks are remnants from past Citroen days and will be intuitive to most users, having their functions laid out in a predictable, understandable way.
Comfort
The Berlingo provides relatively soft seats that suit short to medium distance trips, because they aren't really supportive enough to offer real cruising comfort. For hopping around a local area, though, they are great. Legroom is plentiful and there is enough headroom to allow most drivers to wear a sizeable hat. The large cabin does a reasonable job of excluding noise, but the car's aerodynamically compromised shape is a problem.
Car security
Security measures are kept to the basics to enable costs to stay low. The Berlingo gets remote central locking as standard, complete with deadlocks to stop thieves opening the doors from the inside after smashing a window – a function that can be activated with two presses of the 'lock' button on the key fob. Also present are electric child locks.
Car safety
The standard Berlingo is disappointingly short of airbags, having only two frontal ones for the driver and passenger. Front side airbags only come on the higher XTR model, while curtain airbags are always an optional extra. Every model does however get ABS and Electronic Brake Force Distribution, with Emergency Braking Assistance to maximise the stopping potential when you need it most.
Driver appeal
Berlingo owners are most likely to want the car to drive sedately, predictably and comfortably, and on first impressions it largely achieves these goals. But with only a little time behind the wheel the budget suspension, vague and long-throw gearbox, extremely slow and unresponsive steering and copious body roll encapsulate the Berlingo's ageing and under-developed platform. Despite that, it remains easy and inoffensive to drive and will maintain some appeal for customers.
Family car appeal
This is an extremely well-tailored family vehicle, with child seat mounts on the outer rear seats and a switchable passenger airbag that allows rear-facing car seats to be mounted at the front passenger position. The seats are all high enough to make mounting child seats easy, the sliding rear doors mean that the process can be done even in bay parking spaces, and the vast boot area means that any pushchairs, nappy bags, giant plastic toys or even the family dogs will fit.
First car appeal
Unless a first-time car buyer has a particular need for space and luggage capacity, there's nothing that the Berlingo offers that can't be bettered by an alternative – and cheaper – option like a supermini. While the ease of access, the unintimidating drive and passenger-friendly layout are plus points, there are better value options that will cost less to insure, tax and fuel, and that are even easier to park as well.
Quality and image
Citroen has much work to do on its brand image, and while the DS range has already gone some way to change opinions, the Berlingo is unquestionably a relic of a previous motoring age, where consumers were happier with lower quality products. The Berlingo needs precious few miles under its belt before it starts developing rattles, squeaks and general build quality niggles that might not annoy everyone but they're there nonetheless.
Accessibility
Several factors combine to work in the Berlingo's favour. Large sliding rear doors reveal expansive door apertures that allow very easy access, especially considering the raised position of the rear bench seats. The conventional front doors also give good space for occupants to exploit. There is a little bit of a stretch from the seat to get past the door sill, but overall it's a good compromise. However, access to the boot is limited by the large tailgate, which needs plenty of room.
Stereo and ICE (In car entertainment)
The highlight of the Berlingo's stereo functionality is a single CD slot in the dashboard, with sat-nav and a better interface only available on higher models in the range. A simple, traditional combination of buttons and dials on the centre console operates the stereo, which does require taking your eyes off the road. There is a 3.5mm auxiliary socket in the glove box that will allow basic MP3 playback from most devices.
Colours and trim
The Berlingo's bodywork comes with a sedate choice of blues, greys, whites, a black and a red. The brighter colours help left the design and inject a little more character, while silver and white leave the car looking rather flat. On the inside there is just a single upholstery type at this trim level; a slightly quirky option that again tries to lift the atmosphere, which is otherwise dominated by poor quality plastics and boring old design cues.
Parking
The Berlingo has several aces up its sleeve when it comes to parking. With such excellent visibility and a high seating position it's very easy to judge turning circles and where the car is, while the convincing turning circle lets you squeeze into smaller spaces than some other similar cars might. Parking sensors are not included but are optional on higher models via the Detection Pack. Arguably its most useful feature here is its twin sliding rear doors, which allow parking in tighter spaces.
Spare wheel
Space saver fitted as standard.
Range information
Petrol engine options – 1.6-litre (94bhp). Diesel engine options – 1.6-litre (74bhp, 113bhp); 1.6-litre e-HDi (89bhp); 2.0-litre (89bhp). Transmission options: five-speed manual gearbox, plus automated manual gearbox (1.6-litre e-HDi diesel only). Trim levels: VT, VTR, VTR Family Pack, XTR.
---
Alternative cars
Peugeot Partner Tepee A similar proposition to the Berlingo is separated mainly by looks
Ford B-Max Sliding doors, good driving dynamics and practical touches define the B-Max
Skoda Roomster Long in the tooth but still extremely well thought out
Dacia Logan MCV Low-rise practical, multi-seat budget estate car