June 2006
Chrysler 300C Touring 3.0 CRD
When they see that grille approaching, other cars move aside
June 2006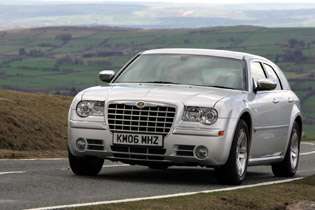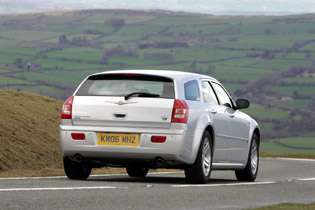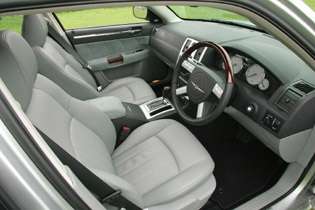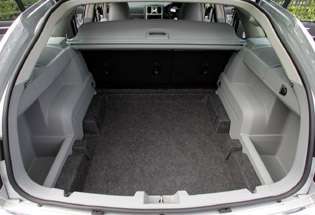 Overall rating

Likes:
Distinctive styling dares to be different
All cars are very well equipped
Rear wheel drive adds sense of involvement
Other cars get out of the way!
Gripes:
Long waiting list possible for diesel models
Residual values remains unproven in long term
Long wheelbase can limit urban manoeuvrability
Some materials inferior to German marques
Were it not for the presence of a 3.0-litre diesel engine in the range, Chrysler's 300C would merit little more than a passing mention as a niche novelty. However, because the cost-saving practicality is available, it becomes a viable contender in the executive market. Add an estate boot and suddenly it's a phenomenon.
This is a car that is guaranteed to get you noticed. A highly distinctive front end with a striking grille and long bonnet turns heads by the dozen. An exterior displaying plenty of chrome incorporates retro elements without seeming overly derivative, and to most eyes, the smoother taper of the estate-style boot makes it considerably more attractive than the angular rear end of the saloon. That it also doubles the 300C's everyday practicality by creating a boot larger than a Saab 9-5 estate is almost a bonus.
It is a pleasant surprise that the bold looks aren't just a cover for crude underpinnings, a failing that is not unknown among American executive models. The 300C matches style with good levels of refinement, a smooth drive and a surprising turn of pace. In an age when BMW makes a lot of capital out of the fact that the 5 Series possesses rear wheel drive and equal front to rear weight distribution, it is worth noting that the 300C is similarly endowed.
Of the engines available, the 3.0 V6 CRD diesel - originally sourced from Mercedes - is by far the most UK-friendly while retaining enjoyable driving characteristics and plenty of pace. Petrol-powered models record levels of fuel economy and emissions that are unacceptable to most pockets and offer only marginal improvements in performance.
Interior quality remains slightly behind the best European opposition, though by a lesser margin than at any previous time. All models are comprehensively equipped with a standard specification that is comfortably best in class. Combine that with pricing every bit as aggressive as the car's looks and the 300C makes an intriguing alternative option for anyone considering an executive tourer or lifestyle estate.
Our verdict on the Chrysler 300C Touring 3.0 CRD
The only variant of the 300C that really makes sense is the 3.0 diesel estate, but the case it makes is extremely persuasive. As practical as it is stylish, you no longer need to be a country and western fan to want an all-American car.
Costs
Cleverly priced to undercut its rivals, the 300C Touring represents relatively good value for money in a sector of the market where money doesn't traditionally go very far. Fuel costs of petrol models are punitive. While the diesel is considerably better, it's still not as frugal as more modern BMW and Audi units. Insurance costs for the 300C are high and the level of carbon dioxide emissions offers little incentive to business users.
Space and practicality
With the rear seats occupied, the Chrysler 300C Touring's load area gains an extra 126 litres of loadspace compared to the saloon. However, the floor is very high compared to some rivals, partly in order to accommodate the spare wheel beneath it. Even so, within its competitive set, 300C Touring offers greater carrying capacity than the Audi A6 Avant and Saab 9-5 Estate.
Controls and display
Chrysler has made an effort to add a touch of class to the cabin. It is only partially successful. While dials and steering wheel are well designed and pleasant to the touch, there are still some questionable plastics. Lots of driver information is provided and the satellite navigation system is a good one.
Comfort
Scoring highly for comfort, the 300C doesn't stint on items to make long journeys pass easily. Heated leather seats with eight-way power adjustment, a power tilt telescoping steering wheel, a memory feature to remember the pre-set positions of seats, mirrors and other controls and dual zone climate control are all standard features. Shorter drivers might have a problem judging where the bonnet ends.
Car security
Commendably, both a high-tech engine immobiliser and a security alarm are fitted to all cars. Make no mistake, the 300C will attract attention - and not all of it wanted. Hazards from outright theft to jealous scratching make a secure - and sizeable - garage a must.
Car safety
Aware that many key competitors boast numerous cutting-edge safety features, Chrysler has made an effort to keep up to speed with a lengthy specification of its own including ESP, ABS with Emergency Brake Assist and front and rear side curtain airbags. Of particular note are the excellent brakes, which provide reassuring deceleration and an auto-reverse sensing system that automatically reverses windows to help prevent trapped fingers.
Driver appeal
The 5.7-litre petrol variant may be the performance model in absolute terms, but the 3.0-litre diesel is a much more engaging affair, able to dash to 60mph in well under eight seconds and the lightest car in the range. Rear-wheel drive provides added driver enjoyment and steering is nicely weighted with more feedback than is provided on cars sold in the United States.
Family car appeal
A family will fit into a 300C, but there are plenty more suitable family conveyances out there, not least because the nice leather interior could suffer at the hands of rampant toddlers. The Touring's extra height makes it more suitable than the saloon.
First car appeal
Big, thirsty and powerful, this is not a suitable first car, even if you can find an insurer willing take you. The car's bad boy 'bling' factor will have to remain a fantasy.
Quality and image
Chrysler has pulled off a neat trick by making the 300C look like a much more expensive car than it actually is. Few, if any other vehicles exude such on-road presence and attract so many comments from passers-by and other road users. A happy by-product is that they also seem keen to get out of your way when they see you coming. Wannabe gangsters need look no further.
Accessibility
Doors do not quite open to ninety degrees but are lighter than might be expected. But they are large and need a decent amount of room available to the side of the car to effect an exit. The boot has assistance but is rather heavy and does not operate without manual intervention.
Stereo and ICE (In car entertainment)
The sound system is badged as a 280 Watt Boston Acoustics unit, a name that means very little to European buyers. The quality of its six speakers is good though, and an upgrade to the seven-speaker system with sub-woofer provided in the 5.7-litre 300C can be selected for the other models as well.
Colours and trim
The Touring has the same impressive levels of standard kit as the saloon, with the addition of a rear cargo organiser and cargo cover. Many items would cost thousands extra if chosen from rivals' options list. Features such as traction control, xenon headlamps, air conditioning, heated leather driver and front passenger seats, dual zone air conditioning, rain-sensing windscreen wipers and a rear park assist system are all included.
Parking
An exceptionally long wheelbase - as long as a BMW 7 Series' - and oversized 18-inch wheels combine to make parking something of a challenge. Happily, rear parking sensors are provided, but even so, parking and tight manoeuvres remain a weak point. The car will overflow some standard parking spaces, so an off-street parking place is essential.
Spare wheel
Steel space saver fitted as standard on all models.
Range information
Three engine options - 3.5-litre V6 (259bhp) petrol; 5.7-litre V8 (340bhp) petrol; 3.0-litre V6 (218bhp) diesel. All models have five-speed AutoStick automatic transmission. No specific trim designator as engine choice dictates equipment levels.
Alternative cars
Saab 9-5 estate Facelifted car divides opinion. Practical but getting on a bit in present company
BMW 5 Series Touring Superb machine, but you pay for the privilege
Audi A6 Avant Leads the class in interiors, all-wheel drive options
Volvo V70 Long in the tooth but still a reliable load-lugger