August 2012
Chrysler 300C Executive
A revised and more curvaceous front end has updated the car's look
August 2012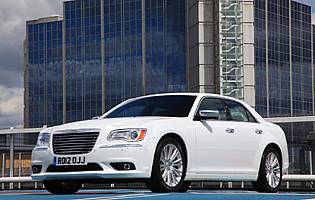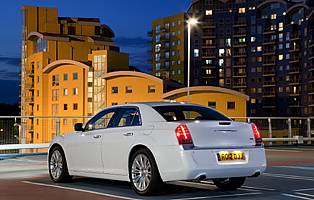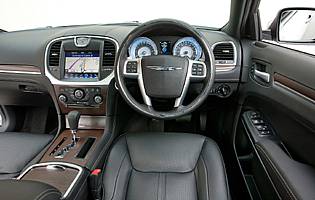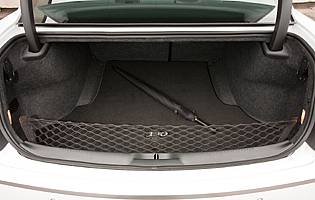 Overall rating

Likes:
Impressive array of equipment gives ownership satisfaction
Stylish and distinctive detailing inside and out set the car apart
Smooth V6 diesel engine offers excellent cruising ability
Large boot is useful for business or personal luggage
Gripes:
Poor fit and finish for some of the interior wood trim
Five-speed automatic gearbox is old-fashioned and harms efficiency
No low-CO2 engine option
Excess weight makes itself felt on the road
Chrysler makes a point of doing things differently when it comes to their cars. The 300C has been the brand's flagship for some years in a marketplace dominated by German firms and well-known models. This revised 300C aims to refine the original car and give it a little more mainstream appeal in an intriguing attempt to win custom.
The 300C is a medium-sized executive saloon in the same vein as the Mercedes-Benz E-Class and BMW 5 Series, but is imported to the UK in much lower volumes. This is the second, more curvaceous iteration, following the bold, angular and very American model that was built from 2004 to 2011.
The range is kept simple for Europe, with just two trim levels sharing the same V6 diesel engine. It aims to appeal to company car users with its bold styling, useful technology and a huge list of standard equipment on both models. Its suspension settings have been tuned to better suit European roads, too.
Its key selling point is its wealth of technology that on rival cars is either a costly optional extra or is simply unavailable. Even the entry-level 300C Limited has heated front and rear seats, placing it comfortably in front of the German establishment. But there are areas where the car falls short, like its five-speed automatic gearbox.
The 300C is a heavy car and feels it on the road, but it does have a commanding presence and feels substantial in a way that fits its character. It isn't designed to be as dynamically accomplished as those cars it competes against, but it does have an undeniable American charm, both to look at and to drive.
Our verdict on the Chrysler 300C Executive
This is an alternative choice in the sector and Chrysler is playing to that, doing things as differently as it dares to. Slightly more European lines gives the game away that the firm is trying to gain ground on these shores with the new 300C, and there's plenty of substance to back up the style. It's far from perfect but it's worth a closer look.
Costs
This is one are where the 300C struggles. Its engine can't match advanced four-cylinder options from the German brands for efficiency, and nor is it especially cheap to buy. It does represent excellent value for money thanks to all of its luxury equipment, but in terms of fuel, benefit-in-kind, road tax and residual values it falls behind where it needs to be.
Space and practicality
There is no shortage of space and storage inside the 300C, and it's used well. For example, the two amply-sized cupholders in the centre console are both heated and chilled, helping to keep drinks how the maker intended. The glove box is a good size, the boot is capable of carrying more than you think, and the only slight disappointment is that the door pockets are smaller and more restrictive than they could and arguably should be.
Controls and display
Arguably the car's biggest surprise comes in the smooth, pale blue glow of the instrument cluster, which is both very pretty and slightly out of character with the rest of the interior. It's lovely to look at, nonetheless, and the large central colour touch-screen does an excellent job of displaying media information, settings and other data. It's just a little too far away to be easily reachable and usable while the car is moving.
Comfort
The front seats are wide and plush, with a full real leather covering. With plenty of adjustment for the driver's seat in particular, four heated seats, ventilated front seats and good ride quality, a quartet of adults can ride very comfortably in the 300C. A fifth person won't be so lucky, due to the full-length transmission tunnel that leaves a rear middle passenger straddling it and impinging on the legroom of passengers in the other rear seats.
Car security
As well as remote central locking and keyless entry, the 300C has an internal fuel filler lid release to avoid fuel theft. There is also a system within the key to help prevent theft of the key. Speed-sensitive door locks secure the doors once the journey is under way to prevent theft of the car at a standstill, like at traffic lights. The alarm and immobiliser are Thatcham category one approved.
Car safety
There is an excellent spread of airbags covering the front and rear passenger compartments, along with compulsory active safety systems like stability control and ABS. A tyre pressure monitoring system is standard as well, along with parking sensors front and rear to help avoid low-speed bumps. The Executive model comes with a forward collision warning system and a blind spot warning system as well.
Driver appeal
Europe, a heavily diesel-centric market as far as executive cars go, is likely to result in comparatively low sales for the 300C against its North American figures, and as a result Chrysler has not invested in an advanced drivetrain. The diesel V6 is smooth, but the gearbox is lacks the finesse of rival systems. A 2.1-tonne kerb weight helps to give an admirable straight-line ride quality, but counts against it in the corners.
Family car appeal
There are several major factors in the car's favour in the eyes of families. The comfortable ride and seats, vast array of luxury and practical equipment, big boot and wealth of safety kit are all good things. The sheer dimensions can count against it, though, making it less manoeuvrable in car parks and town centres. The length of the doors also makes it harder to access the rear seats to strap children in if space beside the car is tight.
First car appeal
Unless the styling or image were of particular appeal, it's hard to envisage the 300C having any appeal for a new driver. It's large, heavy, has restricted visibility and sits in a relatively high insurance group beyond the reach of drivers without either many years of no-claims bonus or a company picking up the bill. It would be too expensive to buy, too costly to run and too difficult to handle safely for someone without plenty of varied prior driving experience.
Quality and image
Image is simultaneously one of the 300C's greatest strengths and weaknesses. It's obviously very different and that's worth a great deal in a marketplace crowded with the same old models, but often there is an expectation that buyers need to be seen in and associated with the established brands. Some of the materials and production processes are not as good as they should be, with some areas of stretched and creased leather a particular failing.
Accessibility
As a long four-door car the door apertures themselves are very wide, making it very easy to get in and out. However, the doors themselves are also quite long and can make it more difficult to find a stable hinging point in a car park without hitting the car next door. The boot is a good shape with recesses between the wheel arches and the back of the car for accessories. The opening is large and allows easier access than in some other medium-size saloons.
Stereo and ICE (In car entertainment)
Using the touch-screen stereo interface is something of a challenge on the move, but while stationary is a novel and interesting system. Adjustments for bass, treble, fader and balance are there, but sometimes the screen can seem too far away to be effective. There is a noticeable difference in quality between the standard Alpine audio system and the Haman Kardon upgrade; optional only on Executive models and controlled via the same touch-screen system.
Colours and trim
The 300C is available in a fairly small number of low-key hues that reveal its business-like demeanour. Black is not the obvious choice any more, though, with the shapelier front end suiting something less oppressive like dark metallic silver. Inside there is contrasting stitching in the leather, but the colour and material combinations don't match quite well enough from door to dashboard. Equally, some of the wood trim fits poorly and should be better finished.
Parking
A reversing camera is standard fit, allowing drivers to partially overcome the problems caused by the high boot line and extremely thick C-pillars. In combination with large door mirrors it simplifies bay parking. Its dimensions do count against it though, at well over five metres long and 1.9 metres wide. Finding spaces wide enough to house it and allow the doors to open is a challenge. Parallel parking is sometimes a better bet as long as the driver is comfortable using only the camera and mirrors.
Spare wheel
Space saver fitted as standard.
Range information
Diesel engine options - 3.0-litre (236bhp). Transmission options: five-speed automatic gearbox .Trim levels: Limited, Executive.
Alternative cars
Mercedes-Benz E-Class Efficient diesels and high trim levels available for similar prices
BMW 5 Series More dynamically inspiring, but only with myriad options added
Audi A6 A well-known package but sparse in terms of standard equipment
Lexus GS Smooth, advanced and good-looking with first-rate reliability record