December 2009
Chevrolet Spark 1.0 LS 5dr
Spark's rakish appearance design to appeal to the youth market
December 2009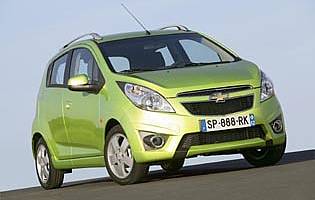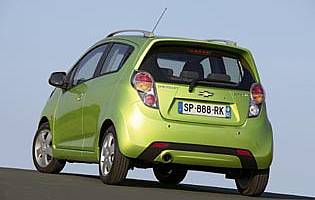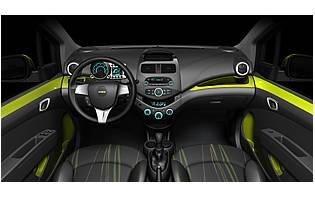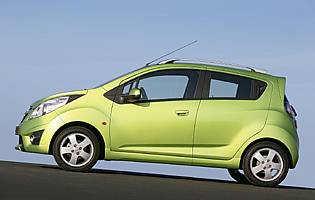 Overall rating

Likes:
Upright driving position is comfortable and aids forward visibility
Cabin is surprisingly spacious - especially in the back
Intuitive minor controls are also attractively styled
Modest price and low running costs should appeal to novice drivers on a budget
Gripes:
Modest size boot does limit the Spark's family-friendly potential
Petrol engines can sound coarse when pushed hard
Manual gearshift lacks precision and doesn't like to be rushed
Tall stance means bodyroll is evident even at modest speeds
Offering a funky-looking alternative to the growing number of cars in the highly competitive city sector, Chevrolet's Spark has been pitched at the youth market and the young at heart. Keen to establish itself as a value brand in Europe, Chevrolet's urban offering boasts proven technology and an accommodating cabin.
As the recently repositioned value brand within the General Motors empire, Chevrolet has experienced plenty of success in the traditional emerging markets of the world. Keen to expand into more established parts of the world, the Spark has been developed to challenge popular city cars from the likes of Citroen, Fiat, Ford and Korean car makers.
Keen to shrug off the old preconceptions that basic city cars are visibly built down to a price and dynamically inferior to larger, more sophisticated models, the Spark has been developed with European tastes in mind. On road performance is comparable to its mainstream rivals, and the choice of two low capacity petrol engines promise modest running costs.
Continuing this positive experience, the Spark's interior strikes a sensible balance between aesthetically pleasing materials and a pragmatic approach ot offering a durable and robust environment. Volkswagen engineers won't be worried by Chevrolet's choice of materials, but there's been a concerted effort recently to make a greater effort. With fit and finish good for something in this price band, there's no need to make excuses for the Spark's interior.
As for any car biased towards the urban environment, the Spark proves easy to drive and park. This may be stating the obvious, but some rivals fail to deliver a rounded performance. Critics might raise issues over the Spark's modest outright performance abilities, but there should be no worries when it comes to the traffic light grand prix. In short, the little Chevrolet offers sufficient pace, good visibility and more than expectable levels of refinement.
Our verdict on the Chevrolet Spark 1.0 LS 5dr
Chevrolet's jaunty-looking Spark has been designed to appeal to young drivers on a modest budget. Its low asking price and rakish looks certainly fit the bill. Thanks to the use of efficient petrol engines, low running costs can be expected. A spacious cabin and agile handling help further the Spark's cause in an already crowded market sector.
Costs
With a low asking price and equally low projected running costs, the Spark is not going to break the bank. Urban fuel consumption should be manageable, although the engines will work harder at motorway speeds. With few options to choose from the potential for getting carried away is less than with some rival cars - another plus if money is tight.
Space and practicality
For such a small car it's easy to find room for four adults - assuming those in the back aren't too tall. The Spark's narrow cabin does mean elbows will rub occasionally - especially up the front. Cabin oddment space is good but the car's boot is modest - a few soft bags will fit but don't expect to squeeze in any family-related paraphernalia. The rear seats fold to increase carrying capacity, though.
Controls and display
The Spark's simple nature is reflected in its controls and displays. The audio unit is straightforward to understand, while the pod next to the steering wheel delivers useful information - trip computer, fuel, etc - in an easy to ready manner. The car's gearshift could be more precise, but when the Spark is diven gently this is never really an issue.
Comfort
The slightly raised front seats and all-round supportive nature are welcome in the Spark. At modest speeds noise levels are acceptable, although motorway running does force you to raise your voice a little thanks to the increased engine and road noise.
Car security
Don't expect too much in the way of security here, as the Spark's modest price tag and overall position in the market means you'll be expected to use your common sense. Central locking is obviously welcome, while needing the key to open the tailgate from the outside adds another layer of security. For added peace of mind a visible deterrent such as a steering lock is recommended.
Car safety
You can't expect big-car levels of safety provision at this price point, and so it is with the Spark that you get the basics and little else. The modest airbag count is as you'd expect, while anti-lock brakes are a welcome feature. Anything more and you really need to look at more expensive and better equipped cars.
Driver appeal
For the urbanite owner the Spark is breeze to drive. Light and accurate steering makes urban motoring easy, while the progress brakes ensure a jerk-free ride. There's not much separating the two petrol engines, with the least power unit proving surprisingly competent and sometimes more refined than its bigger brother. The manual gearshift could be better, though. It doesn't like to be rushed and can sometimes feel a little vague.
Family car appeal
Despite the presence of five doors, asking the Spark to before regular family duties is possibly a step too far. One important limiting factor, as with all city cars, is the Spark's modest boot. Small children will have no problems getting comfortable in the back, however. Realistically the Spark can be viewed as a second car in this context.
First car appeal
The Spark has 'your first car' written all over it. Promising modest running costs and an easy to drive nature, Chevrolet's city car should prove attractive from an aesthetic standpoint and a practical one - it's easy to park, too.
Quality and image
Chevrolet has yet to fully establish itself in the UK. The growing affordable, entry-level arm of General Motors, its cars tend to be pitched at the value end of the market. The Spark offers urban motorists a stylish and affordable alternative to mainstream rivals, and build quality appears to be acceptable for its price point.
Accessibility
For a five-door city car, access to the Spark's cabin is straightforward. Predictable front seat occupants get the better deal, although those accessing the rear shouldn't experience any major problems assuming they are reasonably agile. Given its size, the car's tailgate offers no resistance.
Stereo and ICE (In car entertainment)
While it would be foolish to expect too much from the low cost Spark, its audio provision is more than acceptable. The unit is easily reached and the few controls easy to operate. MP3 player input is welcome and should please younger owners.
Colours and trim
Given the youth angle promoted by Chevrolet, the Spark looks its best when selected in bright, bold colours. The car's interior is less adventurous, though. The usual dark plastics are present, although the seat fabrics help lift the cabin ambience.
Parking
With its slightly raised driving position forward visibility is good, while steering power assistance is generous and welcome. Rearward visibility is acceptable, but headrests and window pillars can sometimes get in the way. In reality the Spark is a small car and problems should be few and far between.
Spare wheel
Space saver fitted as standard.
Range information
Petrol engine options - 1.0-litre (68bhp); 1.2-litre TCe (81bhp). Transmission options: five-speed manual gearbox. Trim levels: base, '+', LS, LS+, LT.
Alternative cars
Fiat Panda Upmarket alternative offers more sophisticated driving experience
Ford Ka Polished Ford not the cheapest here and lacks a five-door option
Citroen C1 Basic Citroen a popular choice and one that costs little to run
Hyundai i10 Low cost i10 a hugely popular choice and closely matched to Spark