February 2004
BMW X5 3.0d Sport
BMW's X5 is an imposing beast
February 2004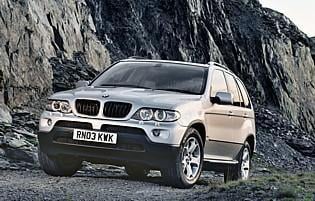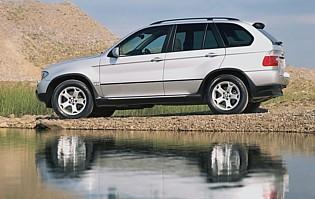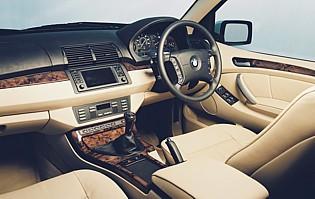 Overall rating

Likes:
Commanding driving position
Handles more like sports estate than 4x4
Outstanding diesel engine
Practical split rear tailgate
Gripes:
Long waiting list to buy one
Certain options should be standard fit at this level/
Low speed ride can be harsh on poor surfaces
Jerky clutch action on manual variants
Possibly the most accomplished of the current batch of premium sport utility vehicles (SUVs), BMW's X5 delivers where it matters most - on the road. Although taller and heavier than a conventional estate car, the X5's tarmac bias means it drives like one. However, the latest generation model is not afraid to gets its wheels dirty.
When it first appeared, BMW's X5 premium sport utility vehicle turned the market on its head. Even now, despite the rising number of rivals, the X5's popularity shows no signs of abating.
The latest generation X5 is more powerful, better equipped and dispels the myth that SUVs are poor off-road performers. A new transmission system, xDrive, allows the X5 to tackle terrain that would have had its predecessor spinning its wheels in distress.
Two trim levels (SE and Sport) and four engines make up the basic X5 line-up. An entry-level six-cylinder 3.0-litre petrol model is followed by a turbo diesel of the same capacity, with a muscular 4.4 V8 rounding out the regular variants. An X5 powered by a 360bhp, 4.8-litre petrol V8 is the firm's flagship model. Transmissions are a six-speed manual for six-cylinder motors, with the refined six-speed auto from the 5 and 7 Series saved for the V8 variants. Predictably, the auto box is a cost option on 3.0-litre models.
Clearly aping the look of its maker's 3 Series, the X5 is an imposing beast that has captured the hearts of everyone from premier league footballers to anyone seeking a car that appears safer and more substantial than a conventional executive load-lugger or people carrier.
Performance-wise an X5 is every bit as accomplished as a premium estate. Very much a driver's SUV, the X5 impresses with its ability to tackle corners without the exhibiting the trademark pitch and roll of so many of its rivals. There is a trade-off though, as the X5's ride is firmer than other 4x4s - especially in Sport trim. Nevertheless, bulging dealer order books are proof that it's a price many buyers believe is worth paying.
Our verdict on the BMW X5 3.0d Sport
The X5 is BMW at its best. Forget the questionable styling of the company's 5 and 7 Series models for a moment, as the firm's muscular sport utility not only looks good but also delivers the goods in spades. While not a cheap option, the long waiting lists tell you all you need to know.
Costs
Price tag and tempting options aside, the X5 is not a cheap car to run. The V8 petrol variants' appetite for fuel is not for the faint hearted, while the 3.0 diesel will return a performance akin to that of a large petrol family saloon only if driven gently. Insurance and servicing are also higher than for a regular car, but BMWs of this calibre are rarely bought on a shoestring budget. Offsetting the extra expense is the X5's resale value, which outperforms that of all its rivals.
Space and practicality
The lower section of the X5's split tailgate might impede access to the boot's rearmost region, but the ability to open just the top glazed portion to deposit small items is a definite boon. And despite not being able to match Volvo's versatile XC90 when it comes to sliding and folding the rear seats, the X5's rear bench will collapse to liberate more room - 1,550 litres from 465 with the seats up. Oddment space is more modest, and restricted to the usual centre console depositories, glovebox and door bins.
Controls and display
BMWs are renowned for their faultless ergonomics, and the X5 is a prime example of the company's ability to make you feel at ease behind the wheel. The firm's over-complex 7 Series aside, the X5 shows how it should be done - even down to the comprehensive trip computer. The existence of easy to read dials and positive action switchgear makes driving the X5 a joy. In short, everything feels solid and well thought out.
Comfort
Riding on large, 18-inch alloy wheels and conventional suspension, an SE-spec X5 will never offer the pillowy ride of an air-suspended Range Rover. Yet, given the BMW's driver-centric bias, it delivers an impressive compromise. Sport models don't fare so well, as the combination of firm suspension and 19-inch wheels has the car struggling to remain composed over urban undulations. That's the sacrifice you make for its unmatched high speed handling prowess. Getting comfortable behind the wheel is no problem, though, as both driver's seat and helm offer a wide range of adjustments.
Car security
Given the X5's highly desirable status, an immobiliser and Thatcham Category One alarm is standard. Remote locking is also standard, along with deadlocking on all doors and tailgate. To lessen the chance of someone gaining entry, only the driver's door retains a conventional key lock. Further peace of mind can be had by purchasing a 'Tracker' device to aid recovery if the car is stolen.
Car safety
If you feel a little let down by the X5's less than impressive level of standard kit, BMW's generosity with the safety kit should go some way to redressing the balance. No less than six airbags come as standard - twin front, side and curtain - with rear side bags an option across the range. This policy, along with the car's strong chassis, has no doubt contributed to the X5's five star Euro NCAP rating - one of the few X5 attributes BMW surprisingly chooses to promote quietly. The car's xDrive all-wheel drive system notwithstanding, the usual stability aids are present plus Hill Decent Control for when off-roading.
Driver appeal
The X5 may look like a traditional sports utility vehicle but it doesn't drive like one. On the road no SUV, except for Porsche's costly Cayenne, can touch the accomplished X5. Sport-spec cars take this one step further, and let you barrel down twisty B-roads with an added level of confidence. And while all power units make the grade, the diesel is the star performer. Coupled to the optional auto gearbox it pulls strongly and matches the V8's real-world abilities. Of course, the V8 sounds better but is markedly thirstier.
Family car appeal
There's no doubt that the X5 has become the car of choice for families with the disposable income to support such a beast. The X5's physical size and confidence-inspiring all-wheel drive impart a feeling of safety and security that is often lacking in premium estates and MPVs, and is often the reason why the big BMW is chosen as the main family conveyance. That the X5 is as spacious and practical as, say, a 5 Series Touring is often the icing on an already attractive cake
First car appeal
An X5 as a first car? If you've got the cash and don't mind the wait, then yes. In the real world, BMW's SUV is not for the faint hearted. There's its sizeable price tag and associated running costs for starters but, more importantly, its physical size will dissuade most novice drivers from signing on the dotted line. All variants boast more power than is absolutely necessary, which could prove problematic for anyone raised on a diet of superminis.
Quality and image
To gauge whether a car has become successful or not, you need look no further than the length of its waiting list. In the X5's case it stretches for many months. Part of the X5's success is down to its ability, but the other part has more to do with the attraction of the blue and white badge on its bonnet. As with so many BMWs past and present, the X5 commands a loyal following. Fit and finish is excellent, with the fascia a model of clarity and practicality. BMW may have been accused of cutting corners with its 5 Series, but there's little evidence of such practices in the X5.
Accessibility
As tall cars boasting an off-road-friendly ground clearance go, the X5 is little different from its main rivals. Entry and egress won't bother anyone with a modicum of flexibility, and once in there's enough space to rival that of a conventional premium estate - although rivals like the XC90 have the BMW licked for head and rear legroom. Things get tricky when loading and unloading the X5's vast boot, as reaching for objects at the rear can prove awkward unless you specify the (optional) sliding boot tray as the split tailgate's lower section can hinder access.
Stereo and ICE (In car entertainment)
Disappointingly for a car of this value, the X5 is equipped only with a basic audio unit as standard - albeit a high quality one. In contrast, the BMW options list contains a number of alternatives. Source options include a six-disc CD changer, while an audiophile-style amplifier can be selected for improved sound reproduction. In keeping with the car's executive appeal, satellite navigation either on its own or combined with a TV receiver and telephone is also available.
Colours and trim
As with all BMWs, the X5 looks its best when selected in the familiar silver hue that has become the car maker's trademark. The X5 is a large car and certain other light colour options can be less than flattering. And silver, despite its popularity, also does wonders for the car's resale value. Inside, SE variants gain 'Dark Poplar' wood trim. Sport models sacrifice this for a more technical-looking 'Graphite Metallic' scheme. Fabric covers the seats of all six-cylinder models; the V8 comes with leather as standard.
Parking
Not the smallest car in the world, the X5 will take some getting used to if your daily routine involves congested city streets and multi storey car parks. The car's lofty driving position improves matters, as does the car's large door mirrors. While both make manoeuvring easier, the standard fit parking sensors will prove invaluable when slotting the big 4x4 between parked cars.
Spare wheel
Same size as the main wheels, ensuring safe running when tyres have to be changed.
Range information
Four engine options - 3.0-litre (231bhp) petrol; 3.0-litre (218bhp) diesel, both with six-speed manual gearboxes; 4.4-litre (320bhp) petrol; 4.8-litre (360bhp) petrol with six-speed auto. Two trim levels - SE and Sport.
Alternative cars
VW Touareg  combines practicality and value for money with real on-road presence
Mercedes ML-Class  not the best behaved on road
Volvo XC90  affordable alternative boasting versatile seating arrangement
Jeep Grand Cherokee  great off road but lacks finesse on tarmac