May 2004
BMW X3 3.0i SE
Rugged looking X3 is not afraid of getting dirty
May 2004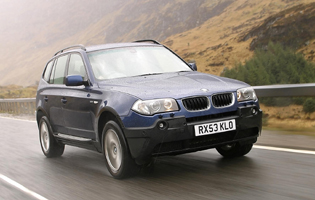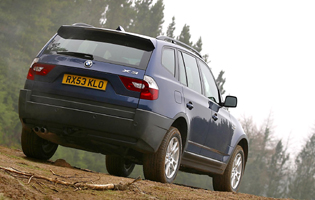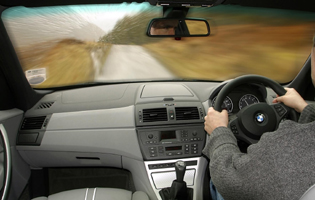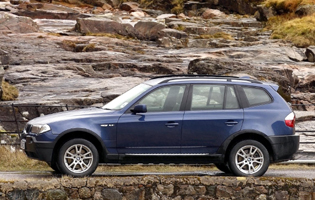 Overall rating

Likes:
Car-like on-road behaviour is a match for any conventional lifestyle estate
Despite a smaller footprint than the X5, the X3 offers plenty of cabin space
XDrive drivetrain is no gimmick and delivers security and performance in equal measure
High level of safety and electronic stability equipment as standard
Gripes:
With the car aimed at a youthful audience, the styling could be a touch more adventurous
While cabin design is modern, the quality of the materials used lags behind X5 and 3 Series
3.0i petrol engine can sound harsh when pushed hard
Fuel economy is a disappointment when compared with equivalent 3 Series Touring
Not content with offering one premium sport utility vehicle (SUV) with its universally praised X5, BMW's compact X3 fills the gap at a slightly lower price point. Although many buyers will, predictably, be drawn to the X3 for its image, company bosses are stressing that this 'soft-roader' is nothing of the sort and that it's not afraid to get dirty.
The rise in popularity of the mid-size off-roader shows no signs of abating. We all know that few cars in this sector ever get the chance to show off their mud-plugging skills, as the ability to ford streams is often secondary to how the car looks on the high street or outside the local school.
BMW scored a direct hit with the image conscious sector of the buying public with its X5, and it should come as no surprise that it has replicated this achievement with the smaller X3. Offering similar levels of performance as its bigger brother - both on and off-road - in a smaller package, the firm's foray into Land Rover Freelander territory is destined to generate the sort of demand that rivals would happily sell their company secrets for.
More than just a stopgap to divert demand away from the oversubscribed X5, the X3 claims to offer an even more involving driving experience and boasts greater agility thanks to its smaller footprint. Visually the car continues the conservative style themes of its bigger brother, but the designers have included a few bold cues in a bid to make the car appeal to a younger audience, such as rugged black bumpers and a cabin influenced more by the firm's racy Z4 than its conservative 3 Series.
Few off-roaders in this segment, with the exception of the Freelander, feel completely at ease away from the security of sealed roads. Thanks to some clever engineering first implemented in the X5, the X3 can be confidently mentioned in the same breath as that of the bestseller from Land Rover. Called XDrive, the car's electronically controlled drivetrain responds quickly to changes in grip, distributing power and braking to individual wheels in conjunction with BMW's familiar Dynamic Stability Control (DSC) system.
BMW's knack of spotting a niche and filling it before anyone else has put the firm in an enviable position. The car doesn't have any direct competition thanks to a pricing structure that puts it on a par with larger cars. Match the X3 in size terms and you're dealing with more everyday offerings from the likes of Toyota, Nissan and Mitsubishi, proving that, for the short term at least, the X3 is in a class of its own.
Our verdict on the BMW X3 3.0i SE
It's a shame that so few X3 owners will choose to explore the car's abilities, as the firm's baby X5 is not your average soft-roader. Equally at home wading through mud as it is pounding along the motorway, the combination of that blue and white badge and the car's clever XDrive mechanicals is one that no rival can match.
Costs
Assuming that you've managed to secure an X3 in a sensible amount of time, the car's popularity is unlikely to afford you any meaningful discount at the dealership. Full price will be the norm, and it's safe to say that more than the odd option will be ticked in a bid to add a few choice creature comforts. It's not all bad news, as once out the dealership door the experts predict the X3 will hold its value longer than most rivals. In this application the petrol engines will burn a substantial amount of fuel - especially so if much of your driving is concentrated around urban areas. Prospective company car buyers would be wise to check the X3's CO2 values as the petrol units hover under the 300g/km mark.
Space and practicality
As befits a car pitched at individuals aspiring to lead an active lifestyle, the X3 is not short of space or useful, practical touches. For many the X3 will perform the role of an estate car on stilts, while others will delight in the way it can swallow bicycles or other such outdoor kit with ease. Aside from the car's capacious boot - complete with split/fold rear seats, the cabin can easily accommodate four adults in comfort thanks to surprisingly generous levels of rear legroom. Although it lacks a split tailgate like some of its rivals, the X3 is not short of cubbyholes and strategically placed cup holders.
Controls and display
BMW may have taken some stick in the recent past over the subtle drop in quality of its cabin materials - check out the 5 Series and Z4 if you need convincing - but thankfully it hasn't forgotten how to make easy to read instruments. Neither has the firm lost the plot when it comes to ergonomics; every switch and control is where you'd expect it to be - not that there are many on the fascia. Technophobes will no doubt cheer knowing that BMW's controversial iDrive doesn't feature on the X3, although the car's multi-function steering wheel will require a moment of familiarisation.
Comfort
Even by BMW's own admission, the X3's suspension set-up is firm. That said, the car remains surprisingly civilised over all but the most poorly surfaced of roads. Given that the X3 has the difficult task of delivering a sporty drive on tarmac and be adaptable enough off road so as not to leave you stranded, ride quality and refinement is good. The same accomplished performance is true of the car's seats, which when trimmed in leather - sure to be a must-have option - offer excellent levels of support. A wide range of adjustments makes it easy for drivers of all sizes to get comfortable.
Car security
With BMW's X5 one of the must-haves in the criminal fraternity, it would be foolish to think that the X3 will escape the gaze of such undesirables. In the car's defence, it comes with remote central locking plus the obligatory Thatcham approved category one alarm and immobiliser. Acknowledging that such hardware is unlikely to stop someone who has stolen your keys, the X3's options list includes the popular Tracker system in three ascending levels of cost and protection.
Car safety
As befits a modern car, the X3 is not lacking in airbags or the usual plethora of electronic stability aids. Twin front and side airbags plus curtain airbags fore and aft are standard across the range, with side airbags for rear passengers a cost option. BMW's DSC is also part of the X3's list of standard kit, and comprises ABS plus a host of clever stability features and Hill Descent Control (HDC) for when you need to descend from a slope in a safe, controlled manner. Industry standard ISOFIX child seat mountings are also present, along with a tyre puncture warning system.
Driver appeal
Juggling with the need to deliver a car with enjoyable on-road handling and at the same time enough ground clearance and suspension travel to cope with modest off road excursions is never easy. Few cars manage to balance such needs as well as the X3. Given the BMW's tall stance, the car's lack of excessive roll and pitch when driving enthusiastically is excellent. A 3 Series Touring will always have the upper hand, but it's a testament to BMW's abilities that buyers of the X3 will rarely feel cheated. Good brakes, direct steering and the talents of the XDrive system all help make the X3 a fun yet safe car to drive. In real terms there's little to separate the two petrol motors. The 2.5i feels more willing than the 3.0i as it's not connected to an auto gearbox, but the former's manual gearshift and clutch action could be smoother.
Family car appeal
This is the category in which the X3 scores top marks in - and with good reason. The car's rugged appearance is very much in keeping with the 'active' lifestyle that so many families aspire to, while the X3 is more than capable of diving off the beaten track to accommodate all those adventure activities so popular with outdoor types. Inside, there's more than enough room for two adults and two (growing) children, the car's boot easily shades that of a conventional family hatch and the rear seats can fold to accommodate bicycles and other family paraphernalia.
First car appeal
In the unlikely event that you've won the lottery, the X3 could pass muster as a first car. Back in the real world, screen price, insurance and fuel costs are likely to put off most first time buyers. While there's no denying that the X3 is an easy car to drive, what with its lofty driving position and the added bonus of parking sensors, a 3 Series Compact is possibly a safer bet if you must have a BMW as your first car.
Quality and image
Say what you want about slipping cabin quality but with that blue and white roundel on its nose the X3 is a safe bet when it comes to generating sales. BMW's modest allocations have already led to a healthy wait for the car - something that's destined to continue for the life of the X3 and a situation that mirrors that of the X5 even to this day. BMW doesn't get away blame free though, as the drop in trim quality is noticeable - especially if you opt for the light materials. The more mature 3 Series would win hands down if put head-to-head against an X3, but this shouldn't come as a surprise as much of the X3's furniture is similar to that of the Z4 - itself a victim of some not so subtle cost cutting.
Accessibility
The step up to the X3's cabin is a modest one, and should pose no problem for all but the least mobile of drivers and passengers. With the doors opened wide, it's easy to gain access to either the front or rear cabin. Once inside, the front seats offer a decent range of manual adjustment and the steering wheel adjusts for both reach and rake. There's no doubt that the X3's boot will swallow all manner of items large and small, although shorter owners might find retrieving items in the far corners a stretch. On the plus side, the car's spare wheel is conveniently located under the boot floor.
Stereo and ICE (In car entertainment)
Gone are the days when BMW was the lone luxury advocate of the humble cassette deck. As with the X5, standard fit on the X3 is a single disc CD player and combined radio unit. Easy to use, it more than does the job, but you will have to pay extra for a CD changer - although it does live conveniently under the front armrest. The options list also details a number of audio upgrades plus sat-nav. The navigation unit comes in two levels of sophistication - the more expensive is compatible with an add-on TV tuner. Most basic audio functions can be controlled from the X3's steering wheel.
Colours and trim
German car makers are famous for offering their wares with dark, oppressive cabins. One look inside an X3 sporting lighter shades of leather and plastic and the traditional darker options suddenly look more attractive. It's true to say that lighter shades are not the most flattering as they tend to highlight the less than top-notch plastics used to trim the X3's fascia. In order to boost the car's resale value, opting for leather seats is a must, which should be no hardship as they do at least look the part. In place of wood trim - something BMW still does well - you can go for a more sporty 'scuffed' aluminium look, which works well with the darker cabin plastics.
Parking
From its lofty driving position, manoeuvring the X3 is no more difficult than piloting an MPV or similarly sized vehicle. The car's large glass areas and big mirrors make judging the gap to the kerb or adjacent car easy, and both experienced and nervous drivers will find the X3's parking sensors invaluable. In manual gearbox trim the car's slightly abrupt clutch requires some practice in order to be 100 per cent confident, but the car's light steering and surprisingly small turning circle makes up for any minor niggles.
Spare wheel
A space saver wheel is located under the boot floor and a tyre puncture warning system comes as standard
Range information
Launch engine range limited to 2.5 and 3.0-litre, six-cylinder petrol motors, producing 192bhp and 231bhp respectively. 2.0 and 3.0-litre diesel units to follow later. XDrive all-wheel drive system standard. 2.5i fitted with six-speed manual gearbox, 3.0i fitted with five-speed auto with manual override - optional on 2.5i. Standard trim level is SE, Sport adds sports suspension and seats, plus larger wheels.
Alternative cars
Land Rover Freelander Revised version of popular British lifestyle off-roader commands respect, but concerns remain over reliability and on-road refinement
Volvo XC90 A class size above the X3, the XC90 is practical, attractive and much in demand, although it lacks the off-roading abilities of the X3 and Freelander
Lexus RX300 Like the XC90, the RX300 is larger than the BMW. Like the Volvo, it also prefers tarmac to mud. That said, it's luxurious, well equipped and exceptionally refined
Volkswagen Touareg VW's first attempt at a premium 4x4 is a good one and, while no driver's car, is a good all rounder