Bentley Continental V8 S
Quiet, comfortable and well-appointed cabin
April 2016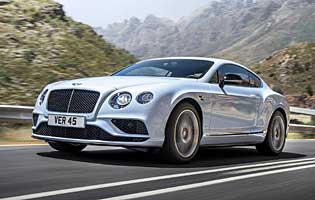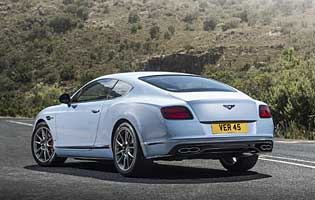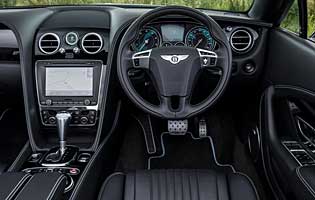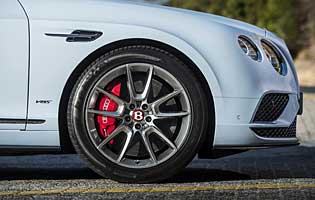 Overall rating

When the Continental GT was launched in 2003, it represented a colossal change in the way Bentley positioned itself. Compared to the British firm's previous offerings, the 'Conti' was veritably mass-market – indeed, thousands of Continental GTs have rolled off the production line each year since its introduction, compared to just hundreds of the company's previous efforts.
The Continental GT comes in two main derivatives: the V8, and the W12. The W12 engine – so named because its twelve cylinders are positioned in the shape of a 'W' – is an exercise in the company's heritage and technical might, but it hardly excels at reducing emissions. The V8 has the more modest power output and is arguably the more sensible car.
Engine type isn't the only decision you have to make when you order a Continental. Buyers' choices can fundamentally change the character of this grand tourer. The customer can specify a gentleman's cruiser, with a walnut dash and warm tan leather, or he can choose a darker interior, with carbon fibre style cladding on the main surfaces and criss-cross stitching on the seats. There are few cars that offer such customisation.
Bentley advertises the Continental as a '2+2'. This industry-standard term means that its two rear seats are restricted in terms of size or legroom, the latter being the case here, while front seat occupants suffer no such restrictions. The rear seats are only really usable by children or petite adults, so for genuine four- or five-seat practicality buyers should look elsewhere.
When used correctly, though, the Continental is an extremely accomplished long-distance vehicle. It's a two-tonne car that feels completely stable at all speeds thanks to a clever all-wheel-drive system and outstanding suspension. The only downside to using it on long journeys is the fuel economy. Buyers should expect an MPG figure in the low twenties on a high-speed European trip.
Our verdict on the Bentley Continental V8 S
The Bentley Continental GT V8 S is a staggeringly powerful and desirable car. If its hypermasculine image and weak fuel economy don't put you off, then your next hurdle is the price. At over GBP140,000, the V8 S remains a very expensive two-seater. But while there are cars for sale that go faster, and others with more practical layouts, few can match the GT V8 S's ability to take two people and their luggage across a continent at effortlessly high speeds.
---
Costs
The Bentley Continental V8S is unlikely to be a thrifty choice for any buyer. Improvements to fuel economy mean that the V8 engine is close to being a sensible choice, though, and real-world tests involving lots of high-speed cruising confirm that the official fuel economy is achievable; a manageable figure for a motorist who can afford a Continental in the first place. Servicing, repairs and insurance will all be inflated, and depreciation will run into the tens of thousands.
Space and practicality
It's one of the most practical two-seaters on sale at the moment, thanks to a cavernous 358-litre boot that delivers ample room for a week's worth of luggage, plus souvenirs, and with useful door bins and oddment boxes dotted around the cabin. The back seats are useful for throwing small bags and coats into, too. Buyers looking for enhanced everyday practicality from a Bentley product could consider the larger Bentayga SUV, as the Continental is optimised for long-distance leisure.
Controls and display
The physical controls are excellent. Bentley's trademark 'organ-stop' buttons are there to control the air flow, while all the other plastic and metal buttons have a reassuringly sturdy quality. The interface with the touchscreen is straightforward but the infotainment system in general is starting to feel dated – it doesn't even compete with the wider Volkswagen Group's best offerings. Buyers may be disappointed that the sat-nav and the small screen within the instrument binnacle falls short of what they expect from such an expensive car.
Comfort
The rear seats are virtually impossible to use in any meaningful way, but the front seats are very well designed and perfect for both long-distance cruising and spirited B-road drives. A good blend of support and softness results in a cosseting ride at speeds that would be unbearable in lesser cars. Heated seats are helpful, but cooled seats enhance comfort more on the kind of continental journeys that this car was designed for.
Car security
An alarm and immobiliser go some way to protect the Continental, but given its size and shape, it's likely to stick out in any car park. Whether it becomes a target for thieves and vandals will depend on where it is parked, but a tracking device would speed up its recovery should the worst happen. The lockable boot is more secure than the cabin, and the hard-top version is generally considered less vulnerable to theft and damage than the convertible.
Car safety
The full complement of safety features makes the Continental feel like an extremely secure place to sit. However, in a car designed to reach well over 100mph very quickly, it's the handling and stopping power that add more reassurance. The brakes will slow the car down from 130mph to 50mph with impressive alacrity, and the huge brake light across the rear windscreen will alert the drivers behind you to your sudden change in speed.
Driver appeal
The V8 engine will excite anyone who has even a passing interest in cars. As will the speed – accelerating from a standstill to autobahn velocities takes place swiftly and noisily, with one drawn-out snarl from under the bonnet. The handling can't beat a more focused driver's car, though. The weight over the front wheels, while less intrusive than that of the W12 version, is noticeable on twistier roads.
Family car appeal
No part of the Continental has been designed to accommodate a family group. This is a car designed for two people and their luggage, and will inevitably be a second car for a family or a primary vehicle for a bachelor. None of the interior options are likely to fare well under the constant abuse of young children, though the boot could accommodate a folded pushchair. The Bentayga is a far more suitable Bentley for families, though other manufacturers offer more compelling options.
First car appeal
There's no reason why any novice driver should set foot in a Continental GT. It's too large, too hard to park, and far too powerful for most learners. Insurance is likely to be impossible to procure for any beginner, and fuel costs and repair work will be prohibitively expensive to all but the wealthiest 17-year-olds. However, a very manageable throttle response, good safety features and high levels of grip make this a good entry-level supercar for those with wealthy and unwise parents.
Quality and image
Image-wise, it can be hard to place the Continental. A lot will depend on the options you choose and the colour you pick. A white V8 S with black interior comes across very differently to a green one with beige leather. Whatever you choose, though, the care and craftsmanship evident in the finished product is consistently high. What this car lacks in subtlety it makes up for in quality.
Accessibility
The huge door apertures make the car easier to get into than more old-fashioned tourers, but the seats are very low within the car and their deep shape can obstruct easy disembarkation. You will find yourself putting your feet in first and lazily throwing yourself into the seat to get in, and getting out is rarely an elegant manoeuvre. Getting into the back seats is even less dignified and should only be attempted by small, supple people.
Stereo and ICE (In car entertainment)
The sound quality of the Continental's audio system is excellent, and combined with the cabin's insulation will easily drown out the captivating V8 roar if you ask it to. The interface is outdated, though, and connecting a mobile phone is more complex than most other cars even at a tenth of the price. Speech commands are inconsistent in their accuracy and cannot be relied upon, but the satellite navigation system itself is generally trustworthy. Occupants can watch digital TV when the car is stationary.
Colours and trim
You can order your Continental in just about any colour, for a price. Off-the-peg colours are less interesting but are all well-thought-out options, apart from the white – driving any distance will turn it a grubby brown colour, as moisture and dirt collects around the car's sculpted haunches. The cabin is even more customisable, though again dark colours are better at hiding muck. The options list will please everyone from the country gent to the footballer's wife.
Parking
Navigating city centres and urban car parks in a Continental is more difficult than doing so in smaller cars, though the real challenge is in getting out when parked – huge doors make it hard to use European multi-storey bays. The car is van-like in dimensions and should be treated as such. The wing mirrors will fold automatically when you lock the car, though, slightly reducing the chances of an expensive ding.
Spare wheel
Emergency tyre repair kit supplied as standard.
Range information
Petrol engine options – 4.0-litre twin-turbocharged V8 (500bhp, 520bhp, 572bhp); 6.0-litre W12 (582bhp, 633bhp). Transmission options: nine-speed automatic gearbox only. Trim levels: GT, GT V8, GT V8 S, GT Speed, GT3-R.
---
Alternative cars
Mercedes-AMG GT AMG's muscle-sports car is more exciting to drive and costs less to buy
Porsche Panamera A more practical four-seater, but without the good looks of other Porsche cars
Audi RS6 Avant All the practicality of an Audi estate but with up to 597 bhp under the bonnet
Aston Martin DB9 The obvious GT choice, and with an equally historic British badge