Bentley Continental GTC review
Subtle but pleasing exterior changes
October 2011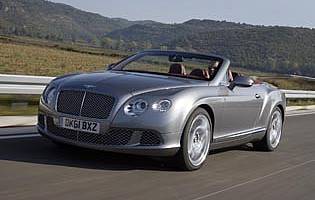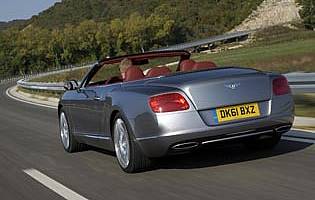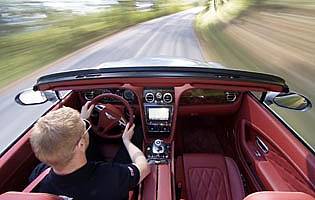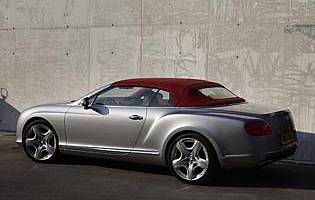 Overall rating

Likes:
Subtle but pleasing exterior changes
High quality interior is up to Bentley's usual standards
Roof-down refinement is impressive
Gutsy and appealing W12 engine
Gripes:
Rear room is still modest
Looks still a matter of taste
It's a large car and demands patience when driving around town
Running costs are supercar high
Since its launch the Continental GT coupe has been a runaway success for its maker, Bentley. It was only a matter of time before a drop-top version appeared, and it wasn't long before this was also a popular model. 2012 model year changes to both have brought the cars into line with the flagship Mulsanne style-wise, while numerous under the skin changes claim to have improved ride, handling and comfort.
At first glance the Continental GTC - that's 'C' for convertible - might not seem like a new model at all. Bentley has chosen to implement modest visual changes, although most of the exterior panels are new.. The modest changes also help to maintain the family 'look' too.
The revised Continental GTC benefits from revisions include a higher output engine, the ability run on an E85 as well as regular petrol plus a revised transmission that offers quicker shifts. The mighty W12 unit is also a little cleaner and more fuel efficient, too.
To please keen drivers, the four-wheel drive system has been changed from a 50:50 system to a 40:60 front/rear torque split which is designed to counter understeer and make the car a little more engaging when driven hard. A wider track both front and rear ensures greater stability. Completing the picture is an electronic stability programme that's been adjusted to allow greater freedom for the driver.
The inside of the GTC hasn't escaped, and is also substantially revised. The updated dashboard is more attractive and easier to read and there are new seats that offer increased support as well as more rear legroom. An updated range of infotainment systems also include a high specification Naim system plus a welcome overhaul of the car's sat-nav unit.
Our verdict on the Bentley Continental GTC
With all its obvious and hidden updates, Bentley's second-gen Continental GTC is a measured revision of the original car. It remains an engaging mix of luxury, performance and comfort unlike any of its rivals. It's possibly the most usable car in this price bracket and its roof down credentials are also unmatched in this sector.