October 2015
Bentley Continental GT W12
A smaller grille gives better proportions to the front end
October 2015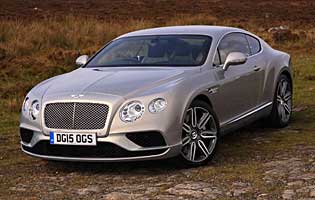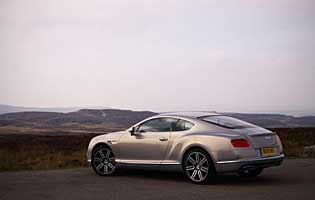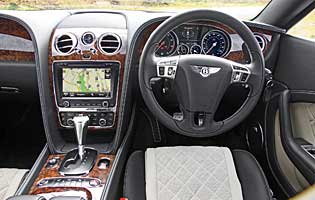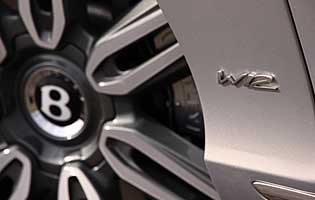 Overall rating

Likes:
Strong engine offers relaxed speed
Variable suspension settings allow comfort and control
Comfortable multi-way adjustable seats
Huge scope for personalisation
Gripes:
Heavy construction dents outright performance
Important technology is behind the times
Reversing camera resolution is quite poor
Interior storage options could be improved
The Continental GT is the model that revived the struggling Bentley brand. It is a car very much of and for modern times and tastes, and its success has allowed Bentley to expand its model ranges and even return to the race track. The W12 model uses a unique engine configuration that has been updated with new fuel-saving technology.
The W12 engine is effectively two V6s machined together side by side, although the full engineering truth is much more complicated. New to this Continental GT is a complex cylinder deactivation system that switches between both groups of six cylinders when under light loads for extended periods. Swapping between engine halves keeps all components hot.
The move helps cut fuel consumption significantly, although in this respect the W12 is still some way behind the smaller V8 engine also fitted to the GT. The 12-cylinder model is a flagship that this new version indicates will be maintained as long as possible.
Also new is a revised centre console and exterior revisions that include a smaller grille and new 'B' logos integrated into the front wing air vents. Small revisions are thought to be all the model needs. In such luxury markets too much or too regular change turns buyers off. They want their car to still look and feel current after years pass.
There are few direct rivals for the Continental. Most are either more overtly sporty or much cheaper and less luxurious, and its image is unique. As such it is likely to continue to be a strong seller in Europe, where the prestige of the W12 often holds greater weight than the extra efficiency and tax advantages of the V8.
Our verdict on the Bentley Continental GT W12
The continental GT was originally designed around this engine and its 12 cylinders still feel completely at home here. The V8 version is slightly sportier, but the W12 has a torque and charisma all of its own. It doesn't boast much cutting-edge technology even in relation to much cheaper executive cars, but it does have a sporting elegance that is hard to match.
Costs
The basic purchase price is always embellished with optional features, with everything from metal, wood and leather-trimmed paddle shifters to 'jewel' fuel and oil filler caps. The upper price limit is therefore based on personal preference and taste. The options are almost all extremely expensive by typical standards, too. The official fuel economy can easily be bettered on a reasonably gentle journey, even on country roads.
Space and practicality
There is a very large boot behind the rear seats, but it isn't the most evenly shaped. Custom cases are available but soft bags will give just as much flexibility. A week away for two should be no problem at all even for heavy packers. The car falls down slightly on practicality inside the cabin, with no cupholders in the centre console and precious few storage cupboards. There is, however, a very useful glasses holder.
Controls and display
A control layout that will be largely familiar to owners of any Volkswagen Group cars from the last decade is good news for owners who appreciate an intuitive cockpit. The main interface is less so, as it lacks either an effective touch-screen or dial-based system like some rival cars have. The central display screen is low-resolution by current industry standards and despite the high quality of finish all around it, it feels sub-par.
Comfort
The GT's adjustable suspension encompasses four settings from comfort to sport. The difference from one extreme to the other is significant, with much more vertical suspension movement in the most comfortable setting and much less body roll at the sportiest. Even when riding on optional 21-inch wheels, which look superb, the ride quality is excellent. The rear passenger area is a little cramped, though.
Car security
Bentley has not released any details of its security systems for fear of criminals being able to use them to their advantage, but there are some factors to consider nonetheless. The alarm has interior and exterior sensors, can be part-deactivated if the car is being towed or has people still inside, and there is an immobiliser.
Car safety
Bi-xenon headlights with LED main beam support functions give superlative illumination in all weathers. LED tail lights fire up faster, giving a warning to following traffic a split-second sooner than it otherwise would have. Huge brakes and wide, premium tyres ensure a brisk stop, but this is hampered by the sheer weight of the car. Stability control is part of an advanced active safety suite. Four-wheel drive provides greater safety in winter and in wet conditions.
Driver appeal
The W12 engine is a little heavier than the V8 and makes its presence felt upon entering corners quickly. This model is flattered by slower corner entry and faster exit, where its wide tyres and permanent four-wheel drive system achieve huge traction and maximise the impact of the large torque output. Peak torque arrives very low in the rev range so the W12 is both very fast and very relaxed. Its weight does hamper the overall experience, though.
Family car appeal
The only physical factors restricting family use are those of leg and headroom for rear passengers. Neither is especially impressive. From a practical perspective the car's opulent interior materials are not well suited to the rigours and impacts of life with children. Car seats can technically be fitted, if they can be slotted in within the seat bolsters. The Flying Spur is a more family-friendly four-door version of the same car.
First car appeal
It is perfectly plausible that a young driver might desperately want a Continental GT. An exotic engine formula, British attention to detail and the right badge may all appeal. However, this is a lot bigger than the cars the vast majority of learners have built up experience in, and would likely be intimidating to drive. The high purchase price and insurance costs rule it out completely.
Quality and image
Bentley is perhaps second only to fellow British brand Rolls-Royce in terms of its reputation for craftsmanship. Ultimately it is a complex machine and not immune to problems, many of which could prove to be expensive to fix despite their relative simplicity. This is unlikely to be a concern for buyers wealthy enough to own a new and warranted Continental GT, but could be relevant to second-hand buyers.
Accessibility
The long doors and low seats make it more difficult to get in and out than it could be. The seats' side bolsters, covered with soft leather, are also vulnerable to the necessary drop into place that the front occupants must adopt. Plenty of space must be left beside the car in order to get the doors open wide enough to allow anyone into the back. The powered seats take a little time to move forwards, too, which could be irritating to regular passengers.
Stereo and ICE (In car entertainment)
An optional Naim Audio stereo system offers some of the very best sound in the automotive industry. On both available systems, from a CD player to radio and Bluetooth inputs, the Continental GT has the important inputs covered. The compact cabin is mostly covered with dense structures and leather coverings, which helps with acoustics.
Colours and trim
Of 18 standard paint colour options most are quite low-key and fit with the car's gentlemanly air. There are a couple of brighter options, and popular colours like red, blue and green are all covered. For a price, though, the firm can mix any paint colour a buyer wishes for. Likewise there are plenty of interior leather and wood trim options, each matched to give a very different end result. The cabin is never short of beautiful.
Parking
The Bentley is wide so it's wise to avoid tight multi-storey car parks where high kerbs on the entries and exits can pose threats to the large wheels. As the coupe in Bentley's range it has very long doors that need plenty of adjacent space to open into. Bay spaces are best avoided unless they are chosen far away from the busy areas of the car park. Parking sensors and a reversing camera are standard, but the resolution of the camera is disappointing.
Spare wheel
Emergency tyre repair kit supplied as standard.
Range information
Petrol engine options - 4.0-litre (500bhp, 520bhp, 572bhp); 6.0-litre (582bhp, 626bhp). Transmission options: eight-speed automatic gearbox only. Trim levels: GT V8, GT V8 S, GT3-R, GT, GT S, GT Speed.
Alternative cars
Mercedes-Maybach S600 Supremely refined and luxurious with incredible rear legroom
Rolls-Royce Wraith Sporting two-door with the highest materials quality
Ferrari California T Relaxed V8 convertible sports car with comfortable ride
Jaguar F-Type Coupe Stunning design and British kudos in a much cheaper package